India might have hit headlines for wrong reasons on social, economic and political fronts, but India is shining bright in United States. The credit goes to the NRIs from different walks of life. They are waving the Indian flag through their glorious achievements and activities in various niches including art, science, entrepreneurship, education, technology and philanthropy. Indian Eagle pieced together the stories of a few Indian Americans to share with you.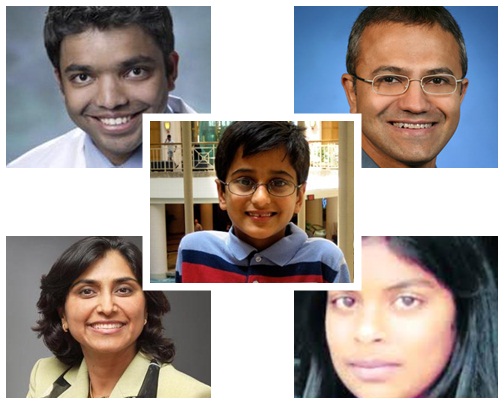 Indians have been known for their generosity and kindheartedness since the time when Chinese pilgrims, Fa-Hien and Hiuen Tsang had visited India. Of the NRIs in United States, the 12-year-old Sonali Ranaweera has held these Indian values high through her charitable efforts. Recently, she has been named among the ten winners for Kohl's Care Scholarship of $10,000, out of 35,000 nominees. A resident of San Jones, Sonali Ranaweera started the charity program, "Recycling4Smiles", out of her compassion towards children in need of money for cleft lip surgery. She collects unwanted items which are recyclable from neighboring houses, sells them and raises money to provide those children with finance for cleft lip surgeries. Mother India is proud of this young Indian American.
Being one of the White House Fellows is a prestigious honor that Kapil Parakh, an Indian American cardiologist, received last month. The White House selects worthy fellows from academics, professionals and entrepreneurs who are given opportunities to shape policies for the nation, utilizing their skills in respective niches. Known for his work on medical technology, Kapil Parakh serves as a cardiologist at Johns Hopkins in Washington, D.C. He has also cofounded a nonprofit organization Health of America that provides young volunteers with fellowships to improve physical wellbeing of the people in their communities.
NRI teens are ahead of others even in skill-based talent programs and competitions. Sriram Hathwar, a 13-year-old resident of New York, won the crown of National Champion in the finale of MetLife South Asian Spelling Bee 2013 last month. The runners-up were Indian American siblings from Texas. The National Champion title holder, Sriram Hathwar, has been rewarded with a prize of $10,000 by MetLife. Touchdown Media Inc., a South Asian advertising major organized the Spelling Bee program, and MetLife Insurance sponsored it.
Of the ten young student scientists on the list of finalists selected in Discovery Education 3M Young Scientist Challenge, are three Indian American teens. They are Anish Chaluvadi, a 14-year-old resident of Simpsonville; Srijay Kasturi, a 12-year-old resident of Reston and Aishani Sil, a 12-year-old resident of Planno in Texas, United States. The students of United States were challenged to come up with an innovative solution to any problem affecting day-to-day life and present it in a video with illustrations. These Indian American teens showcased their out-of-the-box thinking and scientific creativity.
A pride of the women population in India, Sheela Murthy is listed among the world's top international corporate lawyers in the Corporate Immigration directory 2013. It is a recognized directory of expert advocates like her. Sheela Murthy is an Indian American. She is a board member of several organizations – Stevenson University, the Indus Entrepreneurs and the Cancer Treatment Centers of America. She was awarded the title, the Philanthropist of the year 2009. She works for women's empowerment, children's education and immigrants' protection in the USA.
Azita Raji, a San Francisco based philanthropist, has been appointed to a key post in the White House Fellowship Commission of US President Barack Obama. She had raised fund for the President's reelection campaign in 2011-12. She is a member of the Trustee Board for Barnard College. She has membership of the Investment Committee and the Executive Committee as well. She is part of the Strategic Planning Advisory Group too, in the USA.
India held its head high when three Indian Americans were nominated as successors to Steve Ballmer, present CEO of Microsoft. Hyderabad-born Satya Nadella, a driving force behind the growth of mobile computing in Microsoft; Vivek 'Vic' Gundotra, the master brain behind Google +; and Sanjay Jha, former Motorola Chairman are in the list of nominees for the most prestigious designation with the tech giant.
These stories are inspiring slices of real life. Indian Eagle connects the NRIs with India through such stories, tourist destination posts and lowest airfare.