It has been three months since Hurricane Harvey hit the Gulf Coast of the United States in August 2017. It caused an irrecoverable loss to Houston and left many residents with traumatic memories of the devastation, which drove Indian American Rukmini Kalamangalam to pen a heart-touching poem "After Harvey."
A first-generation Indian American resident of Houston, Rukmini Kalamangalam captured the most disheartening moments of Hurricane Harvey, pictured struggles for survival, and narrated about the futility of life in the hands of ferocious nature in her poem "After Harvey." She has received Houston's Youth Poet Laureate title for her soul-stirring poem on Hurricane Harvey in Texas. (Read the poem below)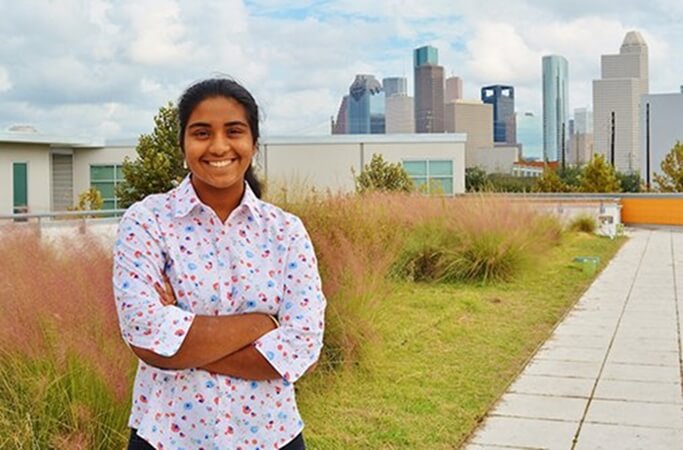 The first Indian American to be awarded Houston's Youth Poet Laureate title, Rukmini Kalamangalam studies at Carnegie Vanguard High School in Houston Independent School District. This prestigious honor from Houston Mayor's Office of Cultural Affairs, Houston Public Library, and Writers in the Schools entitles Rukmini to a number of benefits including a scholarship.
Being a poet laureate of Houston, she will act as Cultural Arts Advisor to Houston Mayor's Youth Council. Her work will be published in Houston Chronicle for one year. She is also eligible for one-year tenure of mentorship from Houston's Poet Laureate, Deborah D.E.E.P. Mouton.
Also Check: Role of Indian Americans in Hurricane Harvey Relief Work
Rukmini Kalamangalam applied for Houston's Youth Poet Laureate title several times earlier. She was required to submit five poems and three essays along with a resume to enter the competition every time. A board of experts interviews five finalists among the participants and selects only two every year. Houston Mayor Sylvester Turner selected Rukmini for Houston's Youth Poet Laureate 2017 title.
Rukmini does not want to rest on her laurels. Rather, she is all set to create a dedicated space for budding poets and young artists to share their creative work and experiences with each other. She does also plan to start a column in a local publication for students to get their poems published. Houston's Young Poet Laureate 2017, Rukmini Kalamangalam knows no full stop until she initiates poetry readings in public places.

Tried not to imagine what it would feel like to be drowning again
So soon after the taste of stolen air
Replaced the salty breathlessness of rising tides
The first rain after the hurricane
We were ready before the flash-flood warning, already watching as
Water lapped at the curb
Feasted on the rotted remains of gutted houses
Tried to wash away the evidence of its crimes
The first rain after the hurricane
We saw a pack of wild dogs at CVS
Snarling and slavering in red wellington boots
They watched us with hungry eyes
Snouts sniffing the air for threats from the sky & each other
The first rain after the hurricane,
The water washed away as quick as it had come
Leaving streets dark & empty &
Water still priced 3.99 a gallon
We scoured the clouds for signs of false promises
The first rain after the hurricane,
We tethered our homes together,
Waited to become chains of floating memories
Prayed for a second chance at survival,
Our heads still bowed as the rain evaporated, leaving only stillness behind.
This story is part of our continued effort at Indian Eagle to promote achievements of Indians in USA. We not only strive to make US to India travel cheaper but also cater inspiring stories, community news, and travel updates to Indian Americans through our free newsletters. If you have any story to tell or share, do feel free to write to us at share@blogbox.indianeagle.com.