More and more Indian American teens are hitting headlines for giving back to communities in India where their ancestral roots lie. Recently we covered an article on how 17-year-old Devika Chhipa Kumar from Texas is helping rural women improve their menstrual health in her father's native village in Rajasthan, India. Now Meera Vashisht, a 13-year-old Indian American girl from Texas, is the new face of the league of young philanthropists among the Indians in USA.
7th grader Meera Vashisht from Sugar Land in Texas brought light to the dark huts of the poorest people by donating energy-efficient 1800 LED bulbs to 600 families in India. She raised funds worth INR 1.4 lakh through crowd funding to purchase the LED bulbs for the underprivileged in India.
How Meera's philanthropic journey from USA to India happened is an inspirational story! While doing a school project in Texas, she came across an article about Indian government's plan to replace 77 crore incandescent bulbs with LED bulbs in the price range of INR 75 to 95 for energy saving in the economically weaker sections across 16 states. It piqued her interest in joining the initiative to change the lives of people.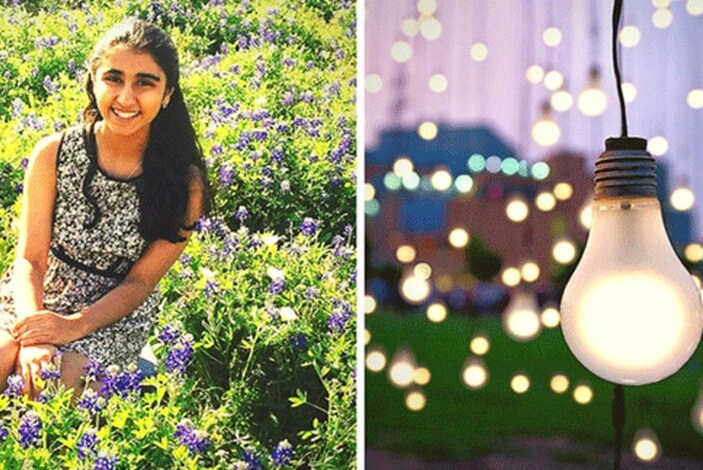 Meera first thought of contributing her monthly allowance to Indian government's project. She changed her mind when she found that many people are so poor in India that they couldn't afford LED bulbs even at subsidized prices, during a research on the demography of India and its socio-economic status. Then she hit upon the idea of distributing LED bulbs for free. Her parents supported the idea and encouraged her to raise funds.
She drafted a letter to seek contribution from her friends, relatives and acquaintances across USA. She was struck by the thought, "Why would anyone from the US take interest in helping the underprivileged in India?" Her mother Sunanda Vashisht, a writer and columnist, took up the challenge and helped Meera draft a touching letter elucidating how electricity could be empowerment for the underprivileged in rural India and how the LED revolution in India could save the planet.
Meera sent 500 letters and received the first cheque in a few days to her utter surprise. Thus she collected $2000 in a year and made it possible to brighten the gloomy world of those who needed LED bulbs the most. She not only distributed 1800 LED bulbs to 600 families in India but educated them on how the use of these energy-saving bulbs helps to reduce carbon footprint in environment.
13-year-old Meera Vashisht ancestrally belongs to Punjab in India. She is fond of Indian music and dance. She takes lessons on Hindustani classical music and Bharat Natyam. She is a budding philanthropist and environment enthusiast too.
May Meera Vashisht's story of determination, benevolence and humanitarianism continue to inspire the children of her generation! She connected with India and gave back to its people by means of such a noble philanthropic deed which made a difference. We at IndianEagle wish Meera the best of luck in all her future pursuits.