The capital city of India has come a long way. Delhi has been the political and cultural capital of several empires including the Mughals. On December 12, 1911, King George V announced the shifting of the capital from Calcutta to Delhi.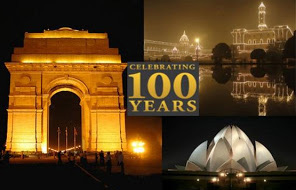 It's  glorious history is marked  with 100 years of its re-emergence as modern India's capital. Indian Eagle introduces the other side of Delhi with quick weekend getaways. While in Delhi the famous landmarks will definitely feature on your list. Meanwhile check out these getaways as fillers.
Alwar 
Just 160 kms from Delhi, Alwar has peaceful lakeside views, lush royal gardens and temples. A joyride by the 'Fairy Queen' the oldest engine in the world that runs from Delhi, will give you a window view along the trip.
Kasauli
Hrithik Roshan's "Koi Mil Gaya" was pictured at Kasauli, a 325 km drive from Delhi.The tiny haven is tucked away among chestnut trees, a solitude for the soul.
Nahan  Nahan's Suketi Fossil Park houses fossils of pre-historic animals dating to the Jurassic-era .Sprawling fruit orchard of Dhaula Kaun will make the 260 km drive worthwhile.
Bharatpur
Take that 180 km drive from Delhi to the 'Keoladeo-Ghana bird sanctuary'. A bird watchers delight, 350 species of birds are housed at the heritage site. Hosting one of finest heronry, Bharatpur will not be a disappointment.
Sariska
The Sariska wildlife sanctuary, 180 kms from Delhi is known for animal safari. Chitals, hyenas, neel gais, wild boars, leopards and sambars in their natural surroundings with placid lakes. Your weekend break will seem well deserved.
Booking with Indian Eagle will complete the celebration at Lowest Airfare to Delhi. Visit the capital of India at cheapest airfares possible