No other place on earth is as good as a spiritual retreat for cultural and mental wellbeing. Among the new places to visit in the United States is an upcoming Hindu spiritual retreat. Bowling Green in the US state of Virginia has reportedly been selected for the spiritual retreat which will be an interface between a Hindu temple and a cultural hub for Indians and other communities in the USA.
Named Devasya, the spiritual retreat in Virginia will sprawl over 500 acres of a serene and scenic site with an open-water lake. International Swaminarayan Satsang Organization (ISSO), a global charity group, is at the helm of the project and is said to spend over $7 million for it. A heavily wooded property on the site will also be improved.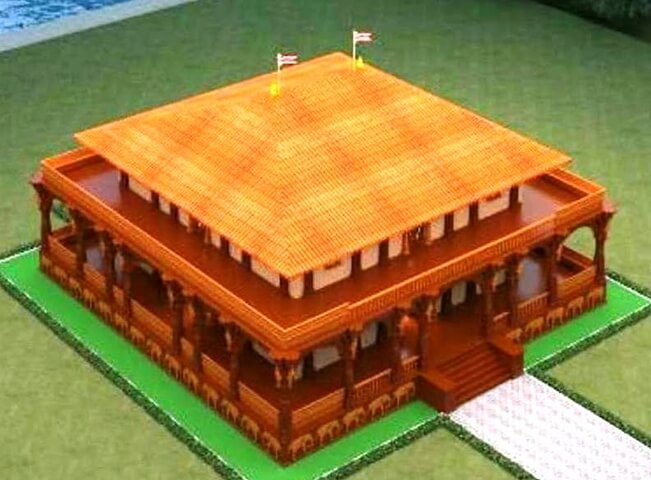 Described as "a modern retreat descended from the divine," Devasya near Bowling Green in Virginia will be home to a traditional Hindu temple where 150-year-old idols of Hari Krishna Maharaj and Shree Radhikaji will be worshiped daily. The main temple will be surrounded by smaller shrines for several other Hindu deities.
A restaurant serving satvik Indian food to devotees within the premises of Devasya is also on the agenda. Western vegetarian cuisines will also be served at the restaurant round the year. A few dozen cottages have also been planned as relaxation shelters for visitors.
Also Check: Largest Sai Temple in America
Devasya near Bowling Green in Virginia will have an agenda of festivities and programs for visitors, devotees and spiritual peace seekers. All major Hindu festivals including Diwali, Holi, Navaratri, Dussehra, Sankranti, and Ganesh Chaturthi will be celebrated with equal enthusiasm, to provide a spiritual passage for inner peace to Indians from Washington DC Metropolitan Area and other parts of the USA.
Since enlightenment is a stepping stone to spirituality, various cultural programs like conferences, seminars and musical concerts will be hosted alongside religious festivities at Devasya in Virginia. The planned spiritual retreat will also be a hub of cultural education for different age groups. Devasya will offer courses on yoga, meditation, Indian languages, sangeet (music), nritya (dance) and Indian vegetarian cooking.

Devasya in Bowling Green, Virginia will also provide space for weddings, social gatherings and community events. People will be educated on and provided traditional naturopathy and herbal treatments here. A Gaushala has also been planned to make opportunities of Gau Puja and Gau Daan available for Hindus. There will be provisions for water spots too.
Smoking and alcohol will be strictly prohibited on the premises. Located in Bowling Green between Richmond and Washington DC, Devasya will be easily accessible from anywhere in Washington DC Metropolitan Area.
Rajan Zed, President of Universal Society of Hinduism, commended the project in eloquent terms and said, "Hinduism and the spiritual philosophy of India are full of enlightenment. It is a pressing need of the time to pass on Indian cultural values and traditions to the coming generations amidst myriad distractions in the consumerist and materialistic society. Hope, the proposed temple at Devasya in Virginia will help in this direction."
We at Indian Eagle not only strive to make US to India flights cheaper but also cater the latest news about and interesting stories from Indian communities in the USA. Subscribe to our free newsletter for visa, immigration, air travel, and community event updates.