2017 will remain a memorable year for India Tourism! After Ahmedabad became India's first UNESCO World Heritage City early this year, Sri Ranganathaswamy Temple of Srirangam in Tamil Nadu has won the UNESCO Asia Pacific Award of Merit 2017 for cultural heritage conservation, much to the pleasure of Indians worldwide.
Sprawling 156 acres on an island in the Cauvery River, Tamil Nadu's Sri Ranganathaswamy Temple of Srirangam is the largest religious place in India and one of the largest religious temple complexes in the world (refer its Wikipedia page). The successful inspection of the centuries-old temple's renovation and beautification work worth INR 20 crore by a jury of nine international heritage conservationists earned Sri Ranganathaswamy Temple the prestigious Award of Merit from UNESCO. It stood out among the 43 applications from 10 countries including India in the Asia Pacific region for the UNESCO Award of Merit 2017.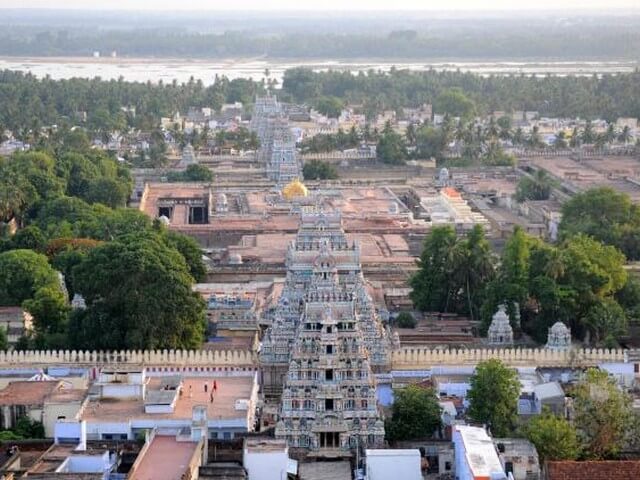 UNESCO has also selected the Royal Bombay Opera House and the Christ Church in Mumbai City for its Asia Pacific Award of Merit 2017.  
Dedicated to a reclining form of Lord Vishnu, Sri Ranganathaswamy Temple of Srirangam is one of the finest specimens of Dravidian architecture in the history of South India. One of the oldest Hind temples in India, it dates back somewhere between the 6th and the 9th centuries AD. The foremost of all 108 Divya Desams dedicated to Lord Vishnu, the temple has many historical and scriptural legends related to its origin, existence and evolution.
Like many other temples across India, Sri Ranganathaswamy Temple of Srirangam in Tiruchirappalli was a victim of Muslim invaders in the medieval era. It was looted and ravaged by Muslim invaders including Malik Kafur, a prominent general of Allauddin Khalji, early in the 14th century. Malik Kafur brought the idol to Delhi, but a group of devotees from Srirangam took it back as a gift from Allauddin Khalji by impressing him with their histrionics.
Also Check: Tirupati-like Hilltop Temple is Coming up near Hyderabad  
In the meantime, Allauddin Khalji's daughter Surathani fell in love with the presiding deity and began to worship the idol. She followed the devotees and reached Srirangam. Legend has it that the moment she prostrated in the sanctum sanctorum of Sri Ranganathaswamy Temple, she left her mortal body there for the heavenly abode far from earth. A shrine near the Arjuna Mandap in the temple complex features a painting of Surathani. The wedding of Lord Ranganathaswamy and Surathani, known as Kalyana Utsavam, is an annual ceremony at the temple. It is one of the most spectacular and popular festivals in South India.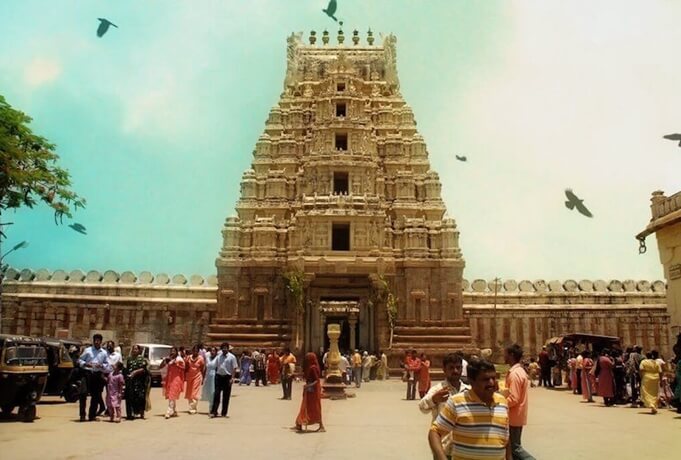 Known by several names such as Thiruvaranga Tirupati, Periyakoil, Bhoologa Vaikundam, Bhogamandabam, Tamil Nadu's Sri Ranganathaswamy Temple of Srirangam is associated with the Ramayana in its origin. The temple consists of seven prakaram or enclosures with a total length of 32,592 feet or over six miles, and each enclosure has three massive towers or gopurams. There are fifty shrines and a colossal hall of 1000 pillars within the temple complex. The main shrine is shaped like Omkara (Om symbol in Hinduism) and plated in gold.
Sri Ranganathaswamy Temple of Srirangam was rebuilt and renovated by prominent rulers and kings of various dynasties over centuries, including the Chola, the Pandya, the Hoysala, and the Vijayanagar.
The 25-crore renovation project restored the historic grandeur of the temple. Notably, nearly 60,000 tonnes of waste was cleared during the project, and several sculptures have been renovated by experts of Tamil architecture. Several halls with hundred and thousand pillars have been brought within the public view. The restoration work was done using traditional construction materials and techniques in compliance with ancient architectural principles.
How to Reach Srirangam in Trichy from Chennai and Bengaluru
Trichy or Tiruchirappalli is a historical city in Tamil Nadu. Srirangam where Sri Ranganathaswamy Temple is located in Trichy is a 6-hour drive from Chennai International Airport (MAA) and a 7-hour drive from Bengaluru. Many overseas Indians including Tamil NRIs book cheap flights to Chennai or purchase cheap airline tickets to Bengaluru from USA and other countries for an annual visit to the temple. Tiruchirappalli lies between Puducherry and Madurai, two popular tourist places in Tamil Nadu.