Temples – sacred places where faith in the divine flourishes and artistic creativity finds expression. Many Hindu temples in India are known to have existed since time immemorial, yet the genius of ancient Indians as evidenced in the design and architecture of these temples leaves us baffled to this day. Perhaps the fact that their painstaking perfection was unaided by any sort of advanced equipment known today, makes their creation even more charismatic.
Thousands of miles away from India, the country of great architectural heritage; Hawaii is home to a mighty Lord Shiva temple under construction on the serene islands of Kauai. Untouched by modern-age construction technology and akin to ancient stone temples of India, the San Marga Iraivan Temple of Hawaii is said to be the first temple in the Western hemisphere to be built only in white granite stone, and by hand.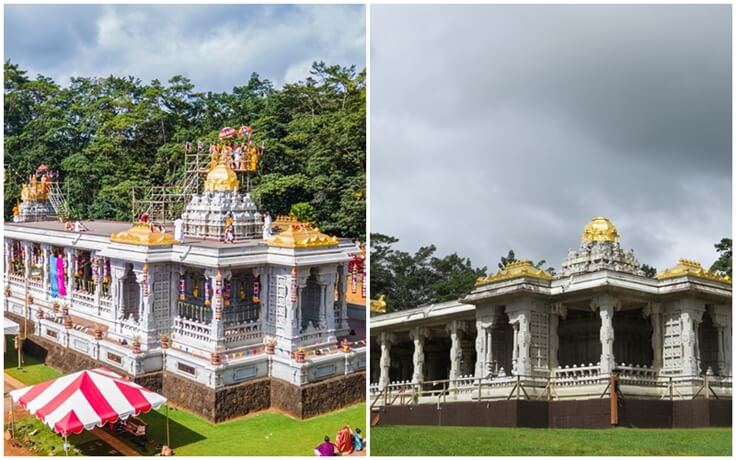 The construction, nearing completion, doesn't employ new-age machinery, and the artisans stick to traditional methods of stone carving using ancient chisels and tools. Recreating traditional architectural styles and preserving the ancient stone carving techniques in the process has been a long journey of more than two decades for Iraivan Temple in Hawaii, USA.
Iraivan Temple: Inspired by Millennia-old Chola Architecture and Designed to Last 1000 Years 
Iraivan Temple, whose foundation stone was laid in 1991, is taking the shape of a beautiful Chola-style temple with its characteristic architectural grandeur and intricate carvings. The 4-foot-thick foundation bearing this 3.2 million pound temple is made of a crack-free formula involving coal ash. The temple is designed with great precision of art, science and engineering such that it lasts one thousand years. Moreover, the spacing within the temple, as guided by Vastu Shastra, elevates the vibration of the place and one cannot help but feel mystified when here.
Musical Pillars & Other Architectural Highlights of Iraivan Temple, Hawaii
Elaborate carvings, sacred motifs, and amazing structures meet your eye at this temple. Two massive elephant carvings can be found at the entrance. As you go further, you can see a large stone bell, long stone chains, finely carved pillars, eight stone lion pillars that come with a rotatable stone ball in their mouth.
Huge sandalwood doors lead the way to the main sanctum, where 108 bronze statues of Nataraja in various dance positions are placed in softly lit shelves surrounding the main shiva lingam (yet to be installed). One of the many stunning features of Hawaii's Iraivan Temple is its two "musical pillars" encompassing 16 carved rods that produce classical Indian musical tones when gently struck with a mallet.
Satguru Sivaya Subramuniyaswami: The Man & His Vision is at Center of Iraivan Temple    
The seeds of Iraivan temple in Hawaii were sown back in 1975 when American Hindu guru Sivaya Subramuniyaswami visioned Lord Shiva walking along the place where the temple sits today. This vision inspired his decision to transform the place into a pilgrimage site for Hindus from across the world. He named the temple after an old Tamil word, Iraivan, meaning, "He who is worshiped."
Soon, the directions were in place: that the temple be hand-built following the traditional temple architecture principles mentioned in Agama Shastra (an ancient Sanskrit text with guidelines for temple construction, worship, etc) and that the temple be designed is such a way that it survives 1000 years. The design of San Marga Iraivan Temple, Hawaii, is credited to V. Ganapati Sthapati.
Also Read: This temple in USA to get 10 millions lingams from India
Construction began in the 1990s. Required amounts of stone were primarily quarried in Karnataka and Tamil Nadu regions and the handcrafting of white granite stones was done by 70 local sculptors in Bengaluru, the capital of Karnataka. More than 4000+ carved stones were transported from Bengaluru to USA's Kauai temple monastery, where craftsmen assembled them block by block.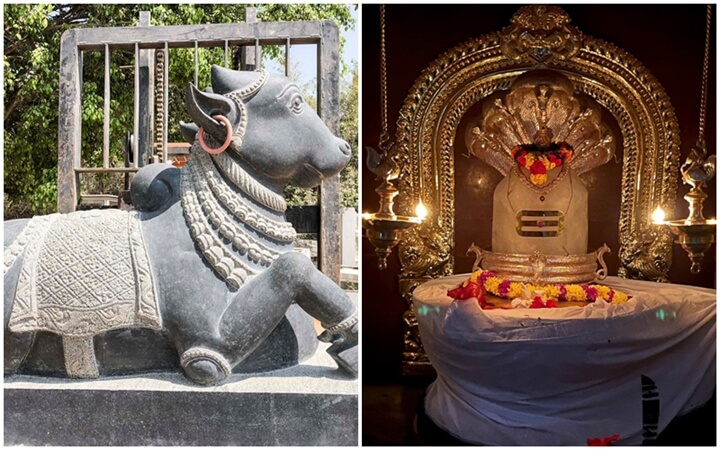 Legend of Iraivan Temple's 7000-pound Shiva Lingam, the World's Largest Single-Pointed Quartz Crystal
The Shiva lingam to be enshrined at Iraivan Temple (after completion) is a rare six-faced quartz crystal (spatika) weighing a massive 700 pounds. Estimated to be 50 million years old, this spatika Shiva lingam represents sky – one of the five elements called pancha bhuta. Legend has it that this sacred shiva lingam was found enclosed in mud, in its exact form and shape, by Sivaya Subramuniyaswami during his quest for it in Arkansas following his dream. This naturally formed lingam is anything unlike rock-cut structures created for worshiping purposes at temples.
Presently, Kadavul Temple houses this consecrated spatika lingam awaiting its installation in the Iraivan Temple.
Location of Iraivan Temple in Kauai Island
The temple is a part of Kauai Aadheenam (Hindu Monastery), a 458-acre temple-monastery complex located on Hawaii's Garden Island, i.e. Kauai. This vast property sprawls next to the serene Wailua River. As you approach the Wailua River, you can see the shimmering golden towers of Iraivan Temple rising against the backdrop of the lush green Mount Waialeale. The distance between this Hindu temple in Kauai and Mount Waialeale is around 8 km.
Hawaii's Iraivan Temple is considered one of the most elaborate Hindu temples ever created in USA. Travelers are allowed to take a tour of Kauai Aadheenam and its temple. You can walk along the serene trails weaving through the monastery's forests, unwind by a beautiful pond, and explore the architecture of this beautiful temple, which transports you back to the era when temple architecture flourished during the Chola reign.
This article is a part of the series – Hidden Gems of America – by Indian Eagle, a most trusted travel-booking partner of Indians in the US. Travel Beats, a subsidiary of Indian Eagle, is a one-stop portal for US-India aviation news, Indian Diaspora stories, and US visa and immigration updates. Subscribe to Travel Beats for more such stories.