"India on My Platter", a unique food travelogue by Chef Saransh Goila, depicts his epic journey in search of various nuances of local cuisines from rural backwaters to barren deserts to freezing mountains. 28-year-old Saransh Goila, who is a TV host, food consultant and chef, has not only shared recipes of the dishes that he discovered but also vividly described the places that he happened to visit on the 20,000km culinary trail, in the book. Published by Om Books International, "India on My Platter" is a rare cocktail of Saransh Goila's experiences from having steaming hot Murthal ke Paranthe to savoring street food in Delhi to using a bamboo hollow to cook dishes in Assam and cooking on a boat in Varanasi. Saransh is the face of two food and travel shows – The Spice Traveller and Health Challenge – where he shows how to make popular Indian dishes healthier. He discovered a food enthusiast in him the day he made the first jalebi for his family at the age of 12.  He tasted the first success as a chef when he won the FoodFood Maha Challenge in 2011, hosted by Chef Sanjeev Kapoor and actress Madhuri Dixit.
Indian Eagle catches up with Chef Saransh Goila to share with you his passion for cooking, his culinary innovations, his discoveries of Indian food, and what motivated him to set off on the 20,000km food journey across India, through a freewheeling chat below: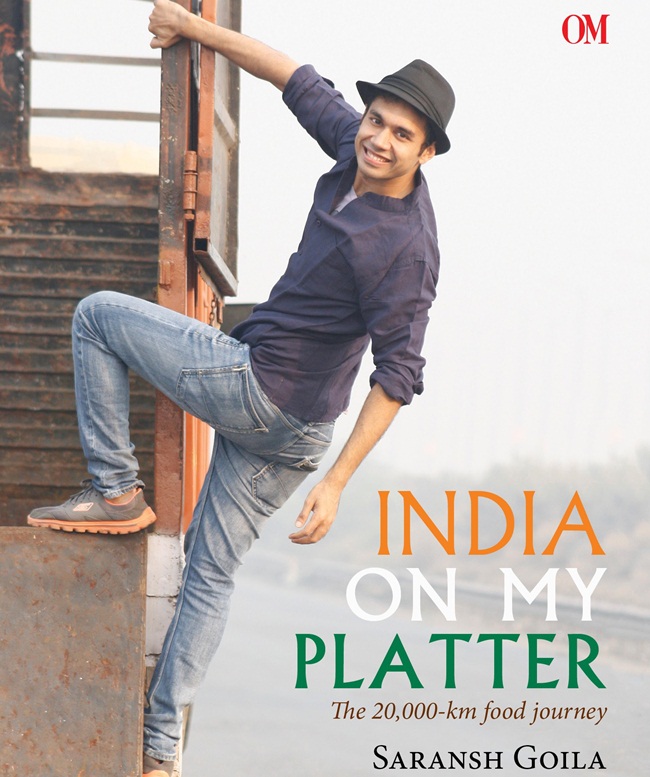 IE. India is described as "unity in diversity." Is there unity in the culinary diversity of India?
There is unity in the form of time we devote to plan our meals and cook them for sure. Also the amazing amount of love and dedication we cook, eat and feed with is pretty similar all across the country. So, yes there is unity in the culinary diversity of India.
IE. What motivated the chef in you to hold a pen and debut as author?
I felt there was a need in the market for fresh food content and a book that was not just about recipes by a chef. I wanted to express how I felt about food, travel and cooking as a Chef and hence came the idea of holding a pen and debuting as author. Also I love writing and reading as a hobby; so that helped!
IE. 20,000 km food journey across India is a real marathon which few chefs have undertaken till date. What set you on such an epic journey in quest of India's culinary richness?
The journey was undertaken for 'FoodFood' channel's Roti Rasta Aur India. I needed to find a way to get my friends to choose Varanasi over Venice and Gujarat over Geneva when they plan their next vacations. The idea was to connect the youth with the traditional Indian food. So, all thanks to FoodFood Channel that got me sponsors and made this dream journey possible! We strategically planned a 100 day nonstop road trip covering 25 states of India, to make a point that we were serious about documenting the culinary richness of India and showcasing it to the world.
This book captures the amazing experience I had while I travelled 60 cities in 100 days across 25 states. It is not just a chef's but a boy's spiritual journey. From a roadside truck stop to India's biggest omelette centre, to a kitchen in Kullu—this once-in-a-lifetime opportunity made me cover it all. – Saransh Goila
IE. What difficulties or challenges came your way during the journey?
The journey was not a cake walk. "Sometimes I had to work with just one saute-pan, over burning coal with blunt knives". Apart from production challenges, travelling 100 days straight by road was a physically daunting task. It takes a toll on your body. So the biggest challenge was to stay fit and happy and shiny for 100 days on the go. Also waking up every morning to a camera and travelling a distance of 200 kms every day is a crazy thing to do.
IE. Many Indian dishes owe their origin to the foreign invaders and rulers like the Turks, the Afghans, the Arabs, the Mughals, the Huns, and the Portuguese who left their culinary influences on the food culture of India. Which regional cuisine or cuisines are unique to Indian culture?
I would say there is a lot more to Indian cuisine apart from these origins. The culinary influences brought by the foreign invaders to India have added a lot to our regional cuisines like the cuisine of Lucknow, the cuisine of Mysore, the cuisine of Indore, and the cuisine of Agra over years. The Maharashtrian cuisine is definitely unique to Indian culture. Then you've communities like the Buniya and the Marwari who have retained the uniqueness of their cuisines. The country is filled with such local experiences right from Dogri cuisine in Jammu to Pahadi cuisine in Himachal to Andhra Thali in south.
IE. Each of the Indian states has its own cuisine and food culture. Even the taste of a single dish, to say Biryani, is different in different parts of India. What makes regional cuisines of India, according to you, unlike each other?
It depends on the way the people of different regions treat spices. Produce also varies from state to state but use of spices is what makes the real difference. For example, Panch Phoran is excessively used in Bengal just like garam masala is added to every curry in North Indian kitchens. That defines different tastes of a dish in different regions (even if it is similar to the other). Also the kind of rituals and festivals every culture has leads to different food preparations and eating styles in every Indian state.
"India on My Platter"is not merely about food and recipes. It gives us a rare glimpse into the psyche of the people, the region and the story behind a dish. The book shows us how vast a country we live in and how varied a culinary treasure we possess. It is a fitting tribute to the unsung culinary geniuses. – Chef Sanjeev Kapoor     
IE. Most foreign tourists sniff at street food of India for hygiene issues. Indian street food is a big market in itself. What do you think of it (your view)? How would you like to popularize our street foods among foreign tourists and convince them about the mouth-watering taste?
Well! I am known as #SadakChef. For me our street food is a matter of pride. It is one of the most amazing parts of the traditional Indian food culture. Foreign tourists also have street food culture in their own countries and they eat street food without questions (and anything on streets is not as hygienic as in restaurants no matter whichever country is). So I think the similar thought is true about our street food too. I can assure that Indian street food has evolved in the way it used to be served. You won't see good street vendors serving food in an unclean surrounding these days. In Delhi, you'll see many panipuri walas using gloves and using RO water. I would like to organize lots of food walks across India and promote them on YouTube. It is on my ideas of attracting foreigners towards Indian street food.
IE. Which Indian delicacies of your choice would you like to promote across the globe?
I am popular for my version of Butter Chicken which is called #GoilaButterChicken on Twitter. I would like to promote this signature recipe of mine across the globe along with a few of my versions of various Indian Street food dishes.
IE. You have achieved the distinction of hosting India's biggest food travelogue show "Roti, Rasta aur India", which made its way to the Limca Book of Records. Would you ever like to host such a show for Indian Americans in the United States?
Definitely! I have a few Indian American friends who just love visiting India every now and then to eat good food and they usually look for references. So there is a scope in the United States too. Also the Indian cuisine being served in America has improved a lot over the years. So if a Web or TV show falls in place, I would love to host and spread the food love among Indian Americans.
IE. "India on My Platter" is a rare book. It is equally endearing to foodies as well as travelers. How did you blend food writing and travel writing – two different styles – in the book?   
Thanks for asking this question! It was tough. My publisher Ajay Mago (Om Books International) and I brainstormed a lot how we would shape up a book with travel writing, pictures of food and recipes, which would appeal to both foodies and travelers, and that too at a mere 295 INR. The structuring was very important. We decided to blend recipes, travel writing and descriptions of culinary landscapes into what would come out in form of a unique food travelogue. Thus the idea of connecting food connoisseurs with not just recipes but different situations, places and facts that I experienced was actualized.
We congratulate Chef Saransh Goila on his newly earned stardom in the world of culinary literature and thank him for the open-hearted interview. We wish he would explore India's hidden food landscapes and tell the world offbeat stories of Indian food culture in the coming days.  – Indian Eagle
About Indian Eagle
Indian Eagle is a trusted name in online booking of international flights from the US to India at the guaranteed lowest fares. Indian Eagle celebrates everything about India through interesting stories on Travel Beats.