Can you name a festival of art in the backdrop of art? It is Taj Mahotsav in India. The Taj Mahotsav is a ride on the time machine back to the bygone historic era when there used to be a bustling market of handicrafts outside the Taj Mahal. If the ethnically dressed craftsmen dealing in beautiful items of art, in the shadow of the Taj Mahal, captures your imagination, the Taj Mahotsav is a must visit. It recreates the ambiance and aura of the then handicraft bazaar which was the pride of Agra, once upon a time.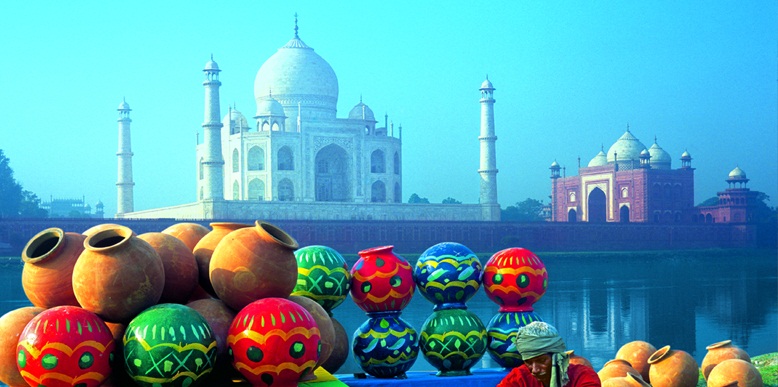 The biggest draw is the venue of the festival in the area surrounding the Taj Mahal, an immortal work of art which has witnessed the evolution and transformation of Indian culture from the Mughal rule till date. It stands tall overlooking the fairground, the celebration and the crowd for 10 days. The Taj Mahotsav is the numero uno celebration of India's rural artistry and regional arts in different niches. It is organized by the Tourism Ministry of Uttar Pradesh.
The merchandise of handicraft items for home décor, dressing and gifting from different corners of the country is so rich and diverse that it is difficult to measure the opulence of Indian art & culture. Shop for wooden artifacts from Tamil Nadu, blue pottery from Rajasthan, terracotta pieces from West Bengal, cane furniture from the North East, bandhni fabric from Gujarat, silk fabric from South India, sandal items from Karnataka, winter clothes from Kashmir, Banarasi saree from Varanasi, etc., here.
What to do besides going on a shopping spree during the Taj Mahotsav? Go on a photography spree across the fairground. Capturing the colors of merchandise, the beauty of arts, the intricacy of fabrics and the delicacy of sculptures is akin to sensuous indulgence. You may not be able to visit the fair every year. So, photography is the only medium to click moments on the fairground and preserve them as memories in an album.
In India, fairs and food go hand in hand. The Taj Mahotsav is no exception. Indian food is a tempting art, which is evident in this cultural festival of Agra. Among the vast spread of popular Mughal dishes from cities and little-known items from rural hinterlands, the most delicious taste of Agra is Petha. Going on a gastronomic spree must be on your agenda of things to do in the Taj Mahotsav which is scheduled to continue from February 18 to 27 this year.
Visit to the Taj Mahotsav is an opportunity to see the tourist attractions of Agra other than the Taj Mahal. You might have seen this Mughal architecture on a moonlit night. But, have you ever visited any cultural festival in the backdrop of the Taj Mahal? IndianEagle makes it possible for you by booking the cheapest flight to Delhi, India.