If you search Google for Delhi attractions, you will be flooded with information about Red Fort, Humayun's Tomb, Jantar Mantar, Lotus Temple, Birla Temple, and many such beautiful structures. The same happens when one searches online for the places to visit in Delhi or the things to do in Delhi. The unusual things to see in the bylanes of Delhi are overshadowed by cafes, clubs, art galleries, malls and fashion streets across the urban landscape of the city. The lesser-known things and hidden heritage structures in those bylanes of old times reveal many interesting facts about Delhi, which are missing from most India travel guides. Indian Eagle explores the bylanes of Old Delhi to make you see the hidden heritage of the city, which never fails to impress foreign tourists.
Khooni Darwaza: A Witness to Bloodshed in Delhi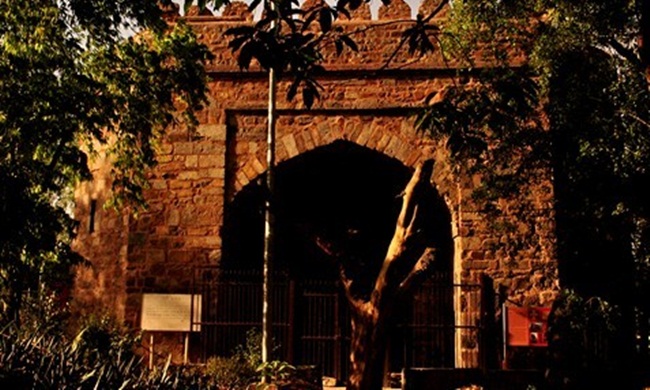 Exploring the grim stories of bloodshed related to Khooni Darwaza is one of the unusual things to do in Delhi. One of the 13 historic gates in Old Delhi, it was built in Sher Shah Suri's regime and structured after the Mughal architecture of those times. Among the offbeat places in Old Delhi, this piece of heritage has several myths and real stories to its fame. It is said that Sher Shah Suri used to hang the heads of slain offenders from the archway of the gate. Khooni Darwaza is believed to be the spot where two sons of Rahim-I-Khana, one of the nine jewels in Akbar's court, were murdered following an order by Jahangir because they were not happy with Jahangir's coronation as emperor. Khooni Darwaza is a witness to the bloodshed caused by Nadir Shah's invasion of Delhi. The haunting story of three Mughal princes, sons of Bahadur Shah Zafar, who were shot dead at the orders of British Major Hudson during the 1857 Revolt, is an unpleasant account of this Delhi monument. Delhi's Khooni Darwaza witnessed bloodshed during the Partition of India in 1947 too.
Adham Khan's Tomb: A Convoluted Labyrinth
Some of the amazing facts about Delhi are buried in the labyrinthine corridors of Adham Khan's Tomb, one of the hidden monuments in India. A timeless marvel of the Lodhi architecture, the tomb is nicknamed Bhool Bhulaiya (labyrinth) because of its convoluted structure. Built in 1562 AD, the tomb was consecrated to Adham Khan and his mother, Maham Anga, who was Emperor Akbar's minister as well as wet nurse. Maham Anga, an influential figure in not only the Mughal court but also Akbar's life, broke down mentally after his son was punished to death for his heinous act of killing Ataga Khan, a principal advisor in the Agra Fort's court. Though Adham Khan's Tomb is listed among the lesser-known Delhi attractions, it is a must visit. There is a legend that once a bridegroom party took shelter in the tomb on the way to the wedding venue and got lost in the night.
Chor Minar: The Tower of Beheading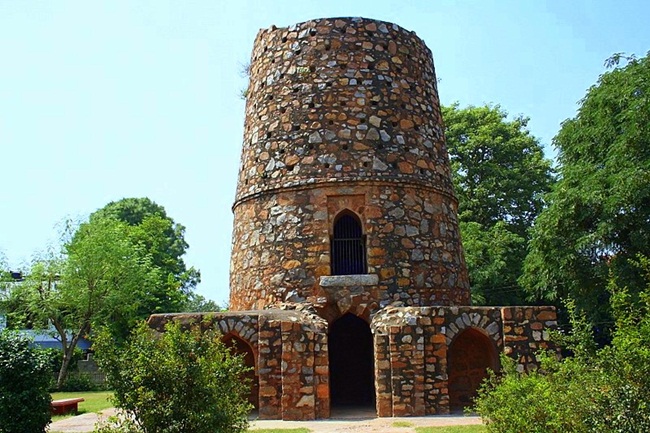 Some of the unknown facts about India are hidden in the holes on the Tower of Beheading, which is locally known as Chor Minar in Delhi. The slaughtered heads of thieves used to be hanging from the holes on the tower, giving a lesson to 'aspiring robbers'. Of all Delhi attractions, the Chor Minar is often mistaken for an architectural wonder for its holes. The holes were made to support spears with heads of beheaded human bodies, in the regime of Alauddin Khilji, a ruthless sultan of Delhi, who was responsible for the death of Mewar's Rani Padmini in Chittorgarh. Such a cruelty was his way of dealing with the Mongols, who were a potential threat to the Delhi Sultanate. The Chor Minar is located in Houz Khas, Delhi.
READ ALSO 10 Best Road Trips from Delhi
Hazrat Nizamuddin Dargah: A Sufi Music Hub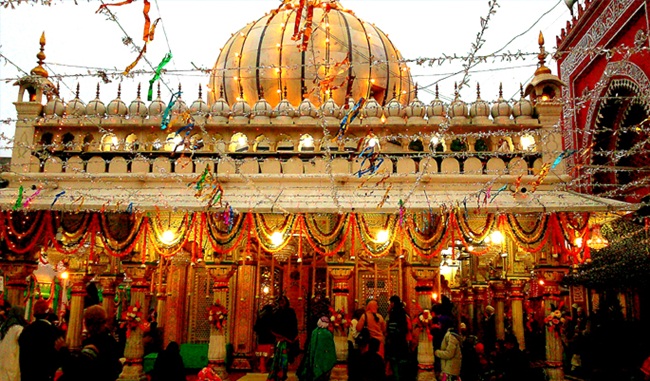 Your experience of Old Delhi would remain incomplete without a visit to Hazrat Nizamuddin Dargah. The mausoleum is dedicated to the famous Chisti Saint Nizamuddin Auliya. It also houses the tombs of Amir Khusru, Mirza Ghalib and Shah Jahan's daughter Jahanara. Though located in a bustling area, the Hazrat Nizamuddin Dargah in Old Delhi is a serene place with musical atmosphere on Thursday evenings. Both men and women are required to cover their heads inside the dargah complex. Women are not allowed to enter the place where the Nizamuddin's Tomb is. The death anniversaries of Saint Hazrat Nizamuddin Auliya and poet Amir Khusru are commemorated through the 'Urs' festivity in April and October. Listening to the Sufi music at the dargah is one of the interesting things to do in Delhi.
Mirza Ghalib ki Haveli: Ghazals in Chandi Chowk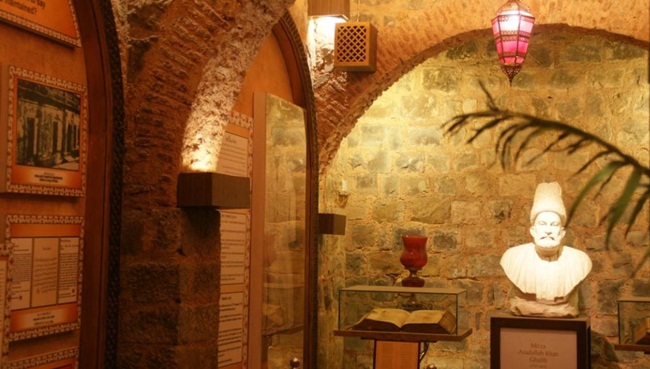 Located in a narrow lane of Chandni Chowk in Old Delhi, Mirza Galib Ki Haveli was the residence of Mirza Asadullah Baig, a noted Urdu and Persian poet who used to write ghazals (poetry) under such pen names as Ghalib and Asad. The heartbeats of Old Delhi are felt in the silence of the haveli where Mirza Ghalib took his last breath in 1869. One of the eminent poets in British India, he is said to have lived a tragic life, which gave birth to most of his melancholic poems and songs. He was infamous as the 'Ladies' Man' in the Mughal court of his time, but such derogatory remarks never offended him. There were a few shops inside Mirza Ghalib ki Haveli in Chandni Chowk until the building was renovated and restored to its old world charm in 1999. It got a new lease of life with bricks of sandstone and a wooden entrance. Visit to this place among Old Delhi's lesser-known attractions is one of the things to do in Delhi.
Manju Ka Tila: Little Tibet in Delhi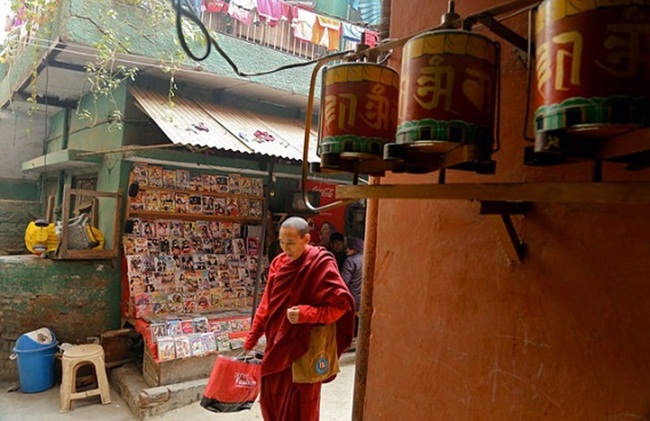 Manju Ka Tila is one of the most overlooked places to visit in Delhi. Popularly known as Mini Tibet, it is a small Tibetan settlement which came to exist around 1960 when some Tibetan refugees entered India and found shelter in Delhi after Dalai Lama was exiled to Dharamshala. Manju Ka Tila market is popular with students and tourists alike for the Tibetan street food. The second generation of the first Tibetan settlers currently lives in Manju Ka Tila Colony where street-side stalls sell inexpensive junk jewellery and clothes. Some aspects of the Tibetan life and culture have crept into the day-to-day life of Delhites. Some Tibetan dishes such as Momo, Thukpa, Tingmo and Phing Sha have made their way to the popular street food of Delhi. Potala House, Tee Dee and Coffee House in Manju Ka Tila Colony are the most-frequented hangouts for Tibetan food lovers. CD cassettes of Tibetan films and songs are also found here.
Delhi is an ever-evolving cosmopolitan city. If Old Delhi is the place for offbeat travel, New Delhi is suitable for business travel. Even several trips may not get you rare facts about Delhi attractions and heritage. That's why we book cheap Economy flights from USA to Delhi at any time of the year. Click below to book your cheapest Delhi flights from New York, Chicago, San Francisco, Los Angeles, Newark, Washington, Atlanta, Houston, Seattle and Detroit. – Indian Eagle