There is no dearth of excellence and quality in India! It has been proven once again. The 2016 Gates Cambridge Scholarship winners include three Indian students. 55 students from 68 universities across 30 countries have won the Gates Cambridge Scholarship this year for their academic excellence and social commitment. Sagnik Dutta, Sampurna Chakrabarti and Malavika Nair are the Indians among the scholars.
The Gates Cambridge Scholarship winners including three Indian students will study in 39 departments across 24 colleges under the University of Cambridge in the United Kingdom. This new batch of scholars will join the batch of 35 students selected from across the US in January this year. The scholarship will commence in October this year.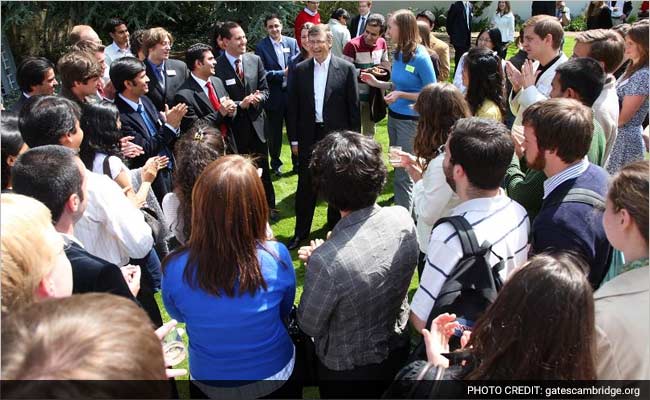 Of the three Indian students among the 2016 Gates Cambridge Scholarship winners, Sagnik Dutta represents the University of Calcutta in Kolkata. He has been a journalist for six years in India. The scholarship has made him eligible a PhD in politics and international studies at Corpus Christi College affiliated to the University of Cambridge.
In his PhD thesis, Sagnik Dutta has proposed to study on the relationship between religion and constitutionalism with regards to Muslim personal law reform in India. "I propose to combine a discourse analysis of the judgments of the Supreme Court with an ethnographic study of sharia courts run by women in Mumbai to examine the discursive constitution of religion and a liberal 'rights' regime," he says.
Sampurna Chakrabarti has chosen to do PhD in Pharmacology at Corpus Christi College. Currently she is an undergraduate student. She is studying Bachelor of Science in Biological Science and Bachelor of Arts in Psychology from the State University of New York in Buffalo.
Studying drugs and pathologies for arthritis, which affect millions of people across the world, is her interest. She will do the research in the lab of Dr Ewan St John Smith at Corpus Christi College's Department of Pharmacology. Sampurna Chakrabarti is equally passionate about educational equality which, she thinks, needs to be improved in developing countries like India. She wishes to work with global organizations to level the field in education for all.
Among the 2016 Gates Cambridge Scholarship winners, Malavika Nair is a graduate and post graduate in Material Science and Metallurgy from the University of Cambridge itself. With the scholarship, she will pursue PhD in the same discipline at Churchill College. A self-confessed coffee and music enthusiast, Malavika Nair is looking to do research on tissue regeneration through experimental and computational techniques. Hiking is one of her hobbies.
The Gates Cambridge Foundation selected 55 scholars from a pool of 3730 applicants on the basis of their intelligence quotient, academic excellence, leadership traits, and commitment to serving others for bigger interests. Various departments of Cambridge University shortlisted 242 applicants, out of which 101 were interviewed for the Gates Cambridge Scholarship 2016.
Travel Beats is a fast-growing news portal for Indians and NRIs by IndianEagle, a leading international travel organization. It publishes the latest news about travel, aviation, culture, humanity and entertainment from India and USA.