One of the most awaited New York City events in May; New York Indian Film Festival 2016 has unveiled its list of Indian films along with the schedule of screenings from May 7 to May 14. The festival celebrates regional cinemas of India including Bengali, Hindi, Marathi, Assamese, Telugu, Kannada, Malayalam and English through screening of short films, documentaries and feature films from different genres of cinema like independent, art house, offbeat and alternate.
Interestingly, the schedule of NYIFF 2016 features six Bengali films by National Film Award winners including Aparna Sen, Kaushik Ganguly, Srijit Mukherjee and Sumon Ghosh from Kolkata. Here is why these Bengali films are worth watching:
Cinemawala by Kaushik Ganguly
Cinemawala on the NYIFF 2016 schedule of screenings is one of the few films awaited by Indians in New York. Kaushik Ganguly depicts the changing world of a retired film exhibitor from a small town in Bengal and his unhappy relationship with his only son who sells pirated DVDs of films. The protagonist owns a movie theatre which stops operating due to lack of digital technology and does not like his son's aberrant business.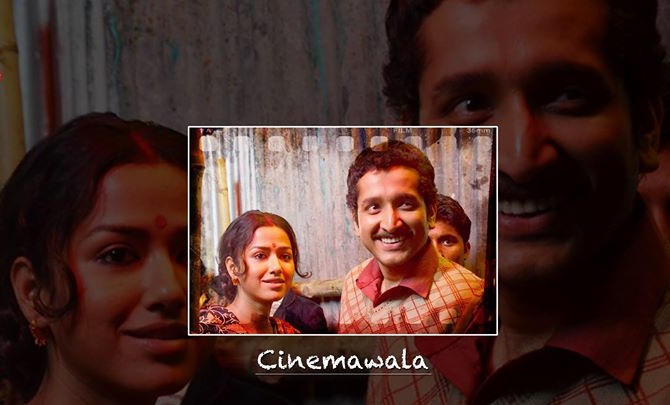 One of the finest Indian filmmakers, Kaushik Ganguly is known for his award-winning unconventional movies like Shabdo, Arekti Premer Galpo and Chotoder Chobi.
Date: May 9
Time: 9:30 PM
Venue: Village East Cinema
 Arshinagar by Aparna Sen
Bengalis in New York will also watch Arshinagar by Aparna Sen at the 16th New York Indian Film Festival. The film depicts a rivalry-ridden world of two real estate business enemies from two different communities. They are at loggerheads over their interest in Arshinagar Slum which they want to evacuate to make space for luxury apartments and shopping malls. Their business battle gradually becomes a personal tragedy for them. Arshinagar by Aparna Sen has a stellar cast of Waheeda Rehman, Kaushik Sen, Roopa Ganguly, Jisshu Sengupta, Kamaleswar Mukherjee and Paran Bandhyopadhyay.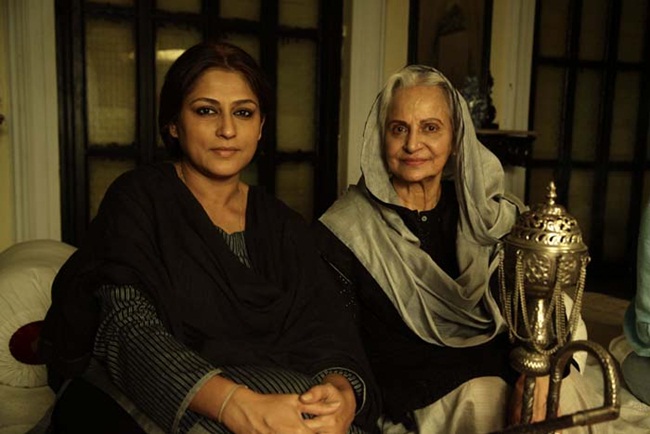 Aparna Sen who started her acting career with Oscar-winning filmmaker Satyajit Ray shot to fame in filmmaking when her Mr. and Mrs. Iyer won the National Film Award. She was felicitated with a Special Achievement Award at Washington DC South Asian Film Festival in 2015.
Date: May 11
Time: 6:15 PM
Venue: Village East Cinema
Rajkahini by Srijit Mukherjee
Rajkahini tells how the border between Bengal and East Pakistan affects the lives of inmates of a brothel during the partition of India in 1947. When the sex workers are forced to vacate the building since it falls on the boundary between India and East Pakistan, they take up guns to fight back for the sake of their existence. Finally, the house becomes an inferno engulfing the brave women fighters under their own roof and in their own land, while the story of Rani Padmini of Chittorgarh is narrated in background. The cast of Rajkahini includes leading Bengali actors like Rituparna Sengupta, Koushik Sen, Saswata Chatterjee and Abir Chatterjee.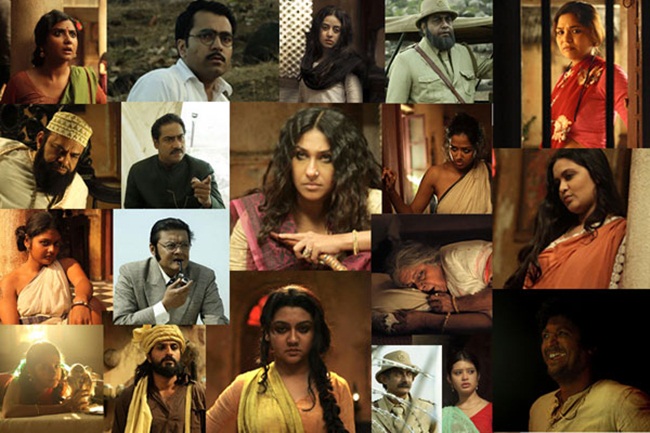 Srijit Mukherjee is one of the eminent Bengali filmmakers in Indian Cinema. His directorial debut Autograph was a critical and commercial success (2010). He has won six National Film Awards.
Date: May 11
Time: 9:15 PM
Venue: Village East Cinema
Peace Haven by Sumon Ghosh
Among the Bengali films on the lineup of screenings for New York Indian Film Festival 2016, Peace Heaven is an unconventional story of three septuagenarian friends who decide to build their own mortuaries. The cremation of a friend in his son's friend moves them to build proper mortuaries for themselves in their hometown so that their dead bodies can be preserved for last rites by their children who live abroad. They contemplate a morgue "Peace Haven" for themselves. The film casts veteran actor Soumitra Chatterjee in one of the lead roles.
Suman Ghosh is one of the National Film Award winning directors in Bengali Cinema. A graduate of Cornell University from New York, he debuted into filmmaking with Footsteps which won two National Film Awards in 2012.
Date: May 13
Time: 9 PM
Venue: Village East Cinema
Shaheb Bibi Golaam by Pratim Dasgupta 
The list of films for New York Indian film Festival 2016 include another Bengali film Shaheb Bibi Golaam by Pratim Dasgupta. It is a poignant story of a middle-class Hindu housewife, a middle-aged Anglo-Indian man, and a Muslim taxi driver. They live in different worlds, which collide on a winder afternoon in Kolkata.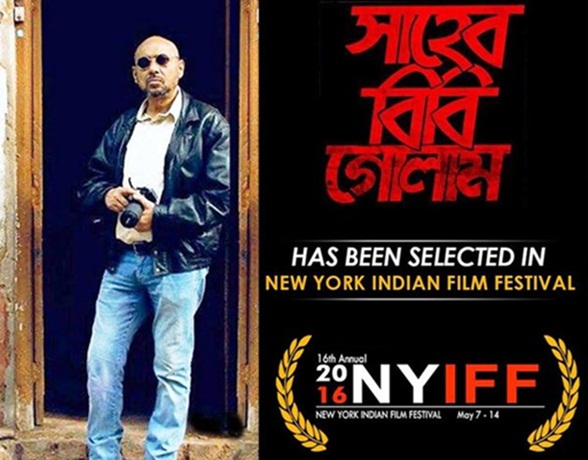 Pratim Dasgupta, a journalist critic, debuted as a filmmaker with Paanch Adhyay which was premiered at New York's South Asian International Film Festival (SAIFF). Shaheb Bibi Golam stars Anjan Dutt, Swastika Mukherjee and Ritwick Chakrabarty.
Date: May 9
Time: 6 PM
Venue: Village East Cinema
City of Dark by Spandan Banerjee
One of the Bengali films on the lineup of screenings at NYIFF 2016, City of Dark tells the story of two car journeys for six days and six nights in the city of Delhi. It shows how two characters – one is a struggling actor and the other is lonesome – fall in love due to accidental meetings during their journeys, which unfolds the dark side of the city.
Spandan Banerjee is a National Award winning filmmaker and founder of Overdose Films. Some of his films like Beware Dogs, To-Let, You Don't Belong and English India have traveled to international film festivals. City of Dark stars Sabyasachi Chakrabarty, an eminent Bengali actor.
Date: May 8
Time: 9:30 PM
Venue: Village East Cinema
The NYIFF 2016 schedule features screening of Bardroy Baretto's Nachom-ia Kumpasar as the opening film, Umesh Vinayak Kulkarni's Highway as the centerpiece film and Hansal Mehta's Aligarh as the closing film. Check Details of Opening, Centerpiece and Closing Films.    
Travel Beats is a digital portal for Indians and NRIs by IndianEagle, a leading travel organization. Travel Beats publishes interesting stories and news about travel, culture, entertainment, lifestyle and aviation from India and the US.