Breathless waiting for the Washington DC South Asian Film Festival (DCSAFF) will come to an end this September 25. DCSAFF is one of the popular South Asian film festivals in North America. One of the most exciting Washington DC events for Indian Americans, the film fest screens some of the best thought-provoking films in alternative cinema from India, Bangladesh, Pakistan, Sri Lanka and Nepal. Held annually in the heart of America's Capitol, DCSAFF has a lineup of full-length feature films and short films on contemporary subjects by Indian and Indian American filmmakers this year.
The Washington DC South Asian Film Festival will hold a special screening of Chitrangada by the late director Rituparno Ghosh, and Das Capital by the late cinematographer Rajan Kothari as a tribute to them, on the opening day. The who's who of the film fest includes director Aparna Sen, director Suman Ghosh, actor Konkona Sen Sharma, and actor Raima Sen from the Bengali film industry of Kolkata. Indian-American filmmakers such as Ravi Kapoor, Rucha Humnabadkar and Nitin Adsul will be in attendance to make DCSAFF 2015 one of the most glittering events in Washing DC this weekend.
Indian Eagle handpicks seven films from the list of the DC South Asian Film Fest 2015 and reasons why each of them is a must watch for Indian Americans.
Saari Raat by Aparna Sen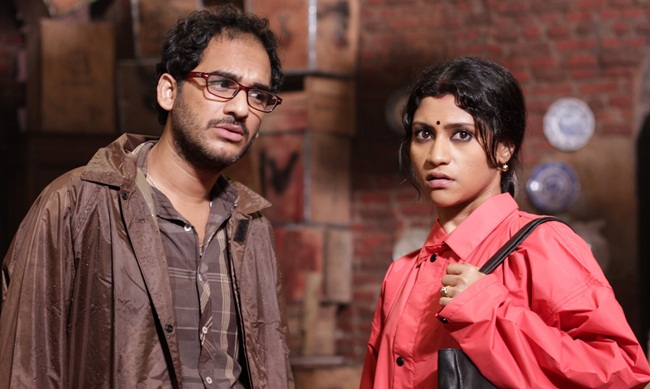 The opening night of the DC South Asian Film Festival will see the screening of Saari Raat (All Night Along), a Hindi feature film by Aparna Sen from Kolkata. Actor-director Aparna Sen adapted a three-act play by Badal Sarkar, a legendary Bengali playwright, into Saari Raat as a tribute to him. Starring Konkona Sen Sharma, Anjan Dutt and Rittwik Chakraborty, the film depicts the story of a couple who gets caught in a storm and seeks shelter in a stranger's house for the night during a vacation. Aparna Sen's Saari Raat was premiered at the New York Indian Film Festival in May 2015.
Date: September 25
Time: 7 PM
Venue: Rio, Theatre 10
Rough Book by Ananth Mahadevan
Rough Book by actor-director Ananth Mahadevan will be screened on the closing night of the Washington DC South Asian Film Festival. Rough Book is a critical take on the contemporary education system in modern India. The film pinpoints the gaps in the existing education system, which the protagonist who is a school teacher of Physics, protests against for the sake of her students. Rough Book stars Joy Sengupta, Ram Kapoor and Tannishtha Chatterjee, whose Parched and Angry Indian Goddesses were premiered at Toronto International Film Festival last week.
Date: September 27
Time: 3 PM
Venue: AMC
Partu by Nitin Adsul
Partu by Indian-American filmmaker Nitin Adsul is a must watch Marathi film with English subtitles, which makes the DC South Asian Film Festival 2015 one of the most promising Washington DC events this weekend. Partu is the soul-stirring story of a boy's journey in quest of his biological identity. The boy, a foundling, was picked from the streets of Midwest India and brought up by a poor family. When he grew up, he was gripped by a curiosity about his biological family, which set him on an endless journey to no destination. Filmmaker Nitin S. Adsul won the Best Director Award for his feature length documentary Kundalini at New York International Film Festival in 2010.
Date: September 26
Time: 6 PM
Venue: AMC
Miss India America by Ravi Kapoor
Miss India America is an English film by actor-director Ravi Kapoor based in Los Angeles. Miss India America is a hilarious take on the aspirations of an Indian-American girl in Orange County. When the protagonist steps into the world of Indian American beauty pageants, her drive to win takes her out of the cocoon and sets her on an eventful ride. Born in England, filmmaker Ravi Kapoor is a British American of Indian heritage.
Date: September 26
Time: 3 PM
Venue: Rio, AMC
For Here or To Go by Rucha Humnabadkar
For Here or To Go is a reality drama with comic overtones by Rucha Humnabadkar from the team of Many Cups of Chai Films in San Francisco. The film depicts a common story of many Indian Americans and their cultural displacement. According to the director, For Here or To Go is a contemporary urban comedy revolving around the loneliness and struggle of a white-collar immigrant in the Silicon Valley. It also reveals how ambitious young techies from India grapple with America's byzantine immigration process.
Date: September 26
Time: 12 PM
Venue: AMC
The Otherside by Venugopal Nakshathram
The Washington DC South Asian Film Festival will also screen The Otherside, a short film in Telugu with English subtitles, by Venugopal Nakshathram. A reason for the Telugu-speaking Indian Americans to cheer! The Otherside portrays the suffering of parents whose children live abroad. Based on one of the stories by Gaur Bairagi, a noted Bengali writer, the film sensitively depicts the mental agony of parents longing for the company of their children in the old age. A fulltime IT professional, Venugopal Nakshathram came into prominence when his documentary A Snake & Hidden Ladders on unemployment, an aftereffect of the recession, in northern VA USA, made a stir.
Date: September 26
Time: 12 PM
Venue: AMC
Interior Café Night by Adhiraj Bose
Interior Café Night, a Hindi short film starring Naseeruddin Shah, Shweta Basu Prasad and Shernaz Patel, is a must watch on the closing day of the South Asian Film Festival in Washington DC. Directed by Adhiraj Bose, Interior Café Night explores two different stories – one of an elderly couple and the other of a young couple – on one night at a café in Kolkata. The ageless affection of the elderly couple and the unfulfilled love of the impulsive young couple are delicately juxtaposed in the script. Adhiraj Bose is a 23-year old filmmaker and screenwriter from Kolkata, India.
Date: September 27
Time: 3 PM
Venue: AMC
The Friday and Saturday nights of the Washington DC South Asian Film Fest will rock with karaoke. Vijai Nathan, a well-known stand-up comedian, will bring the house down during the award ceremony on the closing night of the event. Besides screening of films, acting and script writing workshops will be held at the festival venue, Courtyard Marriott in Gaithersburg.
Indian Eagle is a trusted travel partner of Indian Americans, booking their flight tickets to India from Washington DC and other American cities at the guaranteed lowest fare.