Kolkata is famous not only for its colonial heritage like Victoria Memorial but also spiritual heritage like Dakshineswar Kali Temple, the seat of spiritual knowledge for Sri Ramakrishna Paramahamsa, and the beginning of Swami Vivekananda's cosmic journey towards a universal cause. Ma Dakshineswari Kali, as the goddess is popularly known to millions of devotees in Bengal and the rest of India, has another abode thousands of miles away from India. The other temple of Ma Bhavatarini Kali is in California.
Laguna Beach, a small coastal city of beautiful art galleries and beaches in California, is where Elizabeth Usha Hardinge brought Ma Bhavatarini Kali to from Kolkata in 1993 for divine blessing and spiritual enlightenment. The Laguna Beach Kali Mandir is an interface between a Kali temple and a Ramakrishna ashram.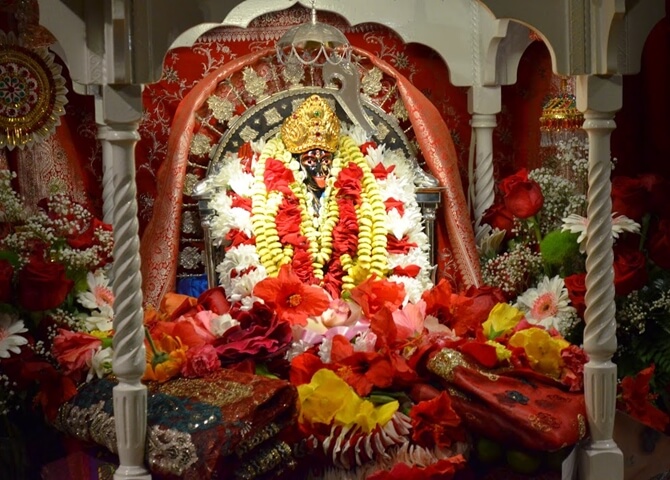 The Laguna Beach Kali Mandir is one of the few Hindu temples in California where not only the presiding deity is worshiped but also holy scriptures are studied, spiritual discussions are held and sacred slokas are chanted. Ma Bhavatarini is worshiped at the Laguna Beach Kali Temple in the same manner as that at the Dakshineswar Kali Temple in Kolkata, adhering to selfless devotion and spiritual ecstasy.
The Ma Dakshineswari Kali Temple in Laguna Beach is open to not only Indians in USA but people of different religious faiths from across the world, in observance of Sri Ramakrishna's words, "Different creeds are but different paths to reach the same God." The foundation of the temple is laid on the spiritual values and universal teachings of Sri Ramakrishna, Holy Mother Sarada Devi, and Swami Vivekananda.
How Ma Bhavatarini came to USA from India and got an abode in Laguna Beach is a very interesting story of Elizabeth Usha Hardinge's visit to the Dakshineswar Kali Temple in Kolkata in 1986.
Usha wholeheartedly felt clicking a photograph of the Goddess in the sanctum sanctorum during her visit to the Dakshineswar Kali Temple in Kolkata, but photography was strictly prohibited there. When Usha was sitting with a long face, an amiable lady came out from the inner shrine and gave some Prasad to her saying, "My Mother told me to feed you." The lady was none other than one of the descendants of Rani Rasmani, the founder of Kolkata's Dakshineswar Kali Temple.
Also Check: California Indian Girls Recite Gita Slokas Nonstop
Her pleasure knew no bounds when she got permission from Kalpana Biswas to take a photo of the Divine Mother, and her photo of Ma Dakshineswari Kali became very popular all over India. Usha felt a strong urge to write and publish a book on the mystic goddess standing on the chest of Lord Shiva. Encouraged by Swami Gambhirananda, the then President of the Ramakrishna Order, she wrote "Kali, the Black Goddess of Dakshineswar."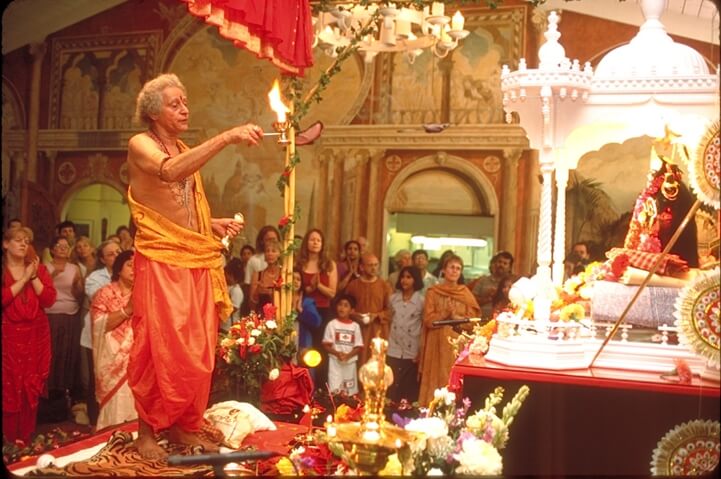 The demise of her mother in 1992 left Usha with a bereaved heart. In order to get over the grief, she pledged to hold a Kali Puja festival the next year. Several obstacles came her way, but they were blessings in disguise. She found space for the puja at Anneliese's School in Laguna Beach. She managed to bring Sri Haradhan Chakrabarty, the then chief priest of the Dakshineswar Kali Temple in Kolkata, and his assistant Sri Pranab Ghohsal to perform the puja ceremonially.
The first Kali puja festival in Laguna Beach was followed by a chain of events leading to the formation of the Laguna Beach Kali Mandir in Orange County, California. The idol of Ma Bhavatarini for Laguna Beach was commissioned in Kolkata by Sri Pranab Ghohsal. Sri Haradhan Chakrabarty traveled to California to awaken the idol through changing of holy slokas in 1993. The presiding deity of the Laguna Beach Kali Temple was named "Sri Ma Dakshineswari Kali."
Why Laguna Beach is called the second abode of Dakshineswari Kali has many a reason, including a surprising incident to Anuradha Paudwal, an eminent Indian playback and bhajan singer. Years later, she revealed that she had heard Ma Bhavatarini say, "I am going to California," when she was sitting in the sanctum sanctorum of the Dakshineswar Temple and meditating on Her.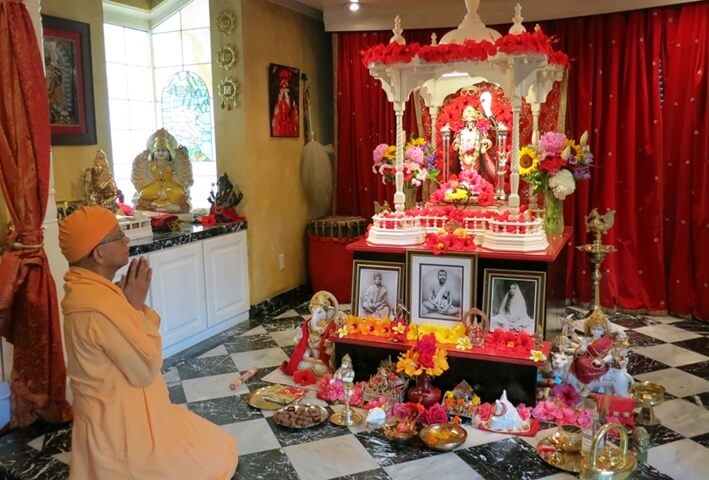 Sri Haradhan Chakrabarty and her assistant performed the maha puja at the Laguna Beach Kali Mandir every summer for 17 years. Today, the Kali Puja festival is an annual event there. Elizabeth Usha Hardinge had been bearing expenses of the festivity from her savings until devotees began to contribute.
Devotees frequent the Laguna Beach Kali Mandir not only to stay blessed but also to drink to spiritual ecstasy emanating from devotional music played at the temple. Musician Rampriya Das known for his numinous compositions made the temple his home until his marriage in 2013 and penned several devotional songs during his stay there. The current musician of the temple is Kamalakanta, who studied Indian classical music and specialized in Shyama Sangeet. Trained in the rituals of Kali puja by Swami Bhajanananda, Kamalakanta transports devotees to an ethereal world of bliss with his soul-stirring songs.
Subscribe to Latest Indian Community News and Events
Sweeping the courtyard of the Laguna Beach Kali Temple has become a significant ritual for devotees. When one broom gets out of use, someone brings a new broom as it is widely believed that sweeping the temple courtyard is a sure way to get blessed by Ma Bhavatarini. Even if the courtyard is clean, devotees come and shake the tree to make leaves fall so that they can sweep the courtyard to seek divine blessings.
Born in Vienna, the capital of Austria, Elizabeth Usha Hardinge dedicates her full time in service to Ma Bhavatarini at the Laguna Beach Kali Mandir post retirement from profession. She is on a mission to bridge between the East and the West with spiritual culture. Usha made California home to Indians including Bengalis away from home (India) by giving them a place like Laguna Beach Kali Mandir to socialize, pursue their cultural traditions and bask in their spiritual heritage. (Click here to see more pictures of daily worship and annual festivities at the temple)
Travel Beats is a dedicated Indian Community portal by Indian Eagle, a leading international travel organization. Travel Beats publishes the latest tourism, visa, immigration and aviation news apart from sharing interesting stories of overseas Indians.