"She is our own, the darling, of our hearts, Santiniketan
Our dreams are rocked in her arms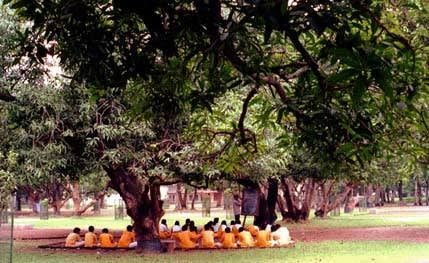 Her face is a fresh wonder of love every time we see her
For she is our own, the darling of our hearts"
–      Rabindranath Tagore
Poet, Lyricist, Composer- Ironically, words fall short to describe Nobel Laureate Rabindranath Tagore and his contribution to literature. "Santiniketan" meaning abode (niketan) of peace (shanti)  embodies the ideology of  Tagore.
Open Classrooms under the sky, Tagore upheld the ideology that if a student's mind has to wander, let it dwells on the cosmos. Santiniketan follows the traditional Indian gurukul system of education, where the guru (teacher) imparts knowledge to disciples, while individual attention is being paid towards every student.
Tagore instituted the "Path Bhavan" a school, with no code of rigid rules, Education becomes a source of mental refinement. Later on, the school upgraded to a university known as Visva-Bharati, meaning communion of the world with India.
Indira Gandhi, renowned film director Satyajit Ray and Nobel Laureate Amartya Sen are among its illustrious students who received education at the Santiniketan.
Plan a tour to this university town, tune into Tagore's dream of seeking wisdom that will make a lasting impact and shape the mind. Serene classrooms without walls, the perfect milieu where the mind is in sync with the universe, amidst the greenery and clear blue skies.
West Bengal is what Indian Eagle recommends for a change of scene, from mundane activities of day to day life. Book a vacation to the tourist attraction where Tagore penned many of his literary classics.
China Bhavan (with Chinese faculty), Kala Bhavan (College of arts and crafts) Sangeet Bhavan (School of dance and music) are the various departments that have been attracting students across the globe.
Gain an insight into the vision of Tagore, visit the Uttarayana Complex where Tagore lived. Tour the Rabindra Bhavan and Vichitra Museum with memorabilia from the poet's life. Sketches made in the margin of Tagore's notes for his literary compositions are developed into paintings.  Rabindra Sangeet can also be heard on the campus during the evenings.
A special mention has to be made of the Poush Mela, a 3-day fair celebrated during the last week of December that attracts artisans, folk singers, dancers, patrons of literature and tourists from all walks of life. Check our prices at Indian Eagle for Lowest Online Airfare to West Bengal. We assure the Lowest Airfare Guaranteed.