Ever wondered what it would be like to have an abode within the tangle of trees branches, to Live without a care in the World. If you have experienced playing in a Tree houses,it is time  to revive those childhood memories.Vythiri is the place to take a walk down memory lane, All over!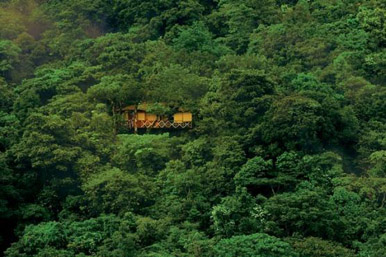 Indian Eagle recommends you visit the Tree houses in Vythiri,Kerala. Experience living amidst nature in a studio space, cool breeze blowing  across through ventilation.
Rich in a bio-diversity of Flora and fauna, these trees houses are an ideal getaway for the weekend. Nestled in the lap of Nature, Vythiri is a nature Photographer's delight.Capture nature in its finest glory at a panaromic view.
The rich greenery will enchant and steal one, far away from the maddening crowd. The ambience one experiences is scented with blossoms, ferns amidst moss, multi- colored butterflies fluttering in close proximity, which only heightens the beauty to a higher level.
Now conjure up that image in your mind's eye and back your bags, as Nature beckons. Hidden from the humdrum of daily pressures, escape into the thick rainforests of Wayanad in Kerala, pamper yourself with nature's gifts of organic living.
Armed with all the basic amenities, these Tree houses, built at 86 feet can be accessed by a cane lift. Some Luxury Tree Houses come equipped with a Jacuzzi, at an altitude of 70ft.
Indian Eagle recommends a vacation amidst nature.Wake up to smell the Roses, retract your steps back to nature. Treat yourself to a rejuvenating experience in the idyllic surroundings. Book at the Lowest Airfares to Kerala, enjoy nature in its purest form.