Endless sand Dunes, towering Fortress and parched desert with a beauty of its own.The Golden City of Jaisalmer in close proximity with the Thar Desert has emerged as a hotspot for tourists. A popular locale for Ad films and Movies, it has the film fraternity thronging the place to capture song sequence against its backdrop.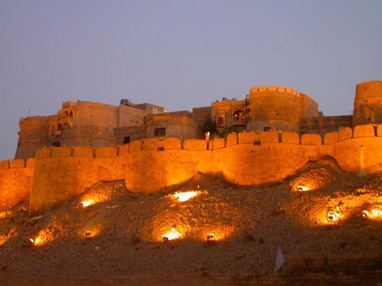 The Jaisalmer Fort which is a major landmark is referred to as a "living Fort".It  has people living within the premises eking out a living.Shops are set up for commercial purpose, selling local made products like handicrafts.The Fort is forever bustling with activity as it  also accommodates hotels and age old haveli.
Built in 1156 AD by the Bhati Rajput ruler Rao Jaisal, after whom it was named, the Jaisalmer Fort stands tall on the Trikuta Hill.It has witnessed many epic battles that are inscribed on its walls.
At Dawn, the massive yellow sandstone walls are bathed in honey colored yellow sheen. The golden sun rays cast a camouflage on the Fort, making it invisible against the expanse of the yellow desert.
The locals address it as the 'Sonar quila' with the yellow sand dunes surrounding the Fort.The ambience is just perfect for desert safari, camel rides and jeep safari. The cascading grains of sand weave a magical illusion, creating ripples in the sand making sand surfing a thrilling adventure.
Satyajit Ray, the famous Indian film director wrote a detective novel based on the Fort and later turned it into a film – Sonar Kella (The Golden Fortress).
A photographer's delight, the locales spell austere beauty in stark contrast to the desolate landscape.The Fort has other attractions inside like the Raj Mahal (Royal palace), Jain temples and Laxminath temple.
Indian Eagle offers pleasing airfares to Rajasthan. Come to the land of sand dunes at the Lowest Airfare Guaranteed.www.indianeagle.com