Rohtang Pass literally in Tibetan language translates into "Pile of dead bodies" or "The Heap of Skeletons" as people die owing to the bad weather, in their attempt to cross the pass. At an altitude of 3,978 m or 13,051 ft, it is a high mountain pass on the eastern Pir Panjal Range of the Himalayas.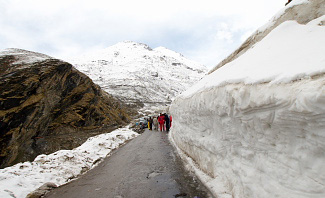 51 km from Manali, the Rohtang Pass connects the Kullu Valley with the Lahaul and Spiti Valleys of Himachal Pradesh,India.The beautiful glaciers, peaks and Chandra river flowing down the Lahaul valley with the twin peaks of the Geypan, the panoramic view offered is a visual delight.
Backpackers and Trekkers mark their calendars during the months of June to October to scale the mountain peaks.The ascent up the terrain snakes all the way up to the snow point.
The icy air will hit one as being thin and piercing. A mule is often hired to cover the 3-4 kms of distance as the task uphill is tedious and rough. Snow blankets roads, homes and all areas.
Rohtang Pass is known as the world's highest off-roader route. The unpredictable occurrence of snow storms and high winds has not dissuaded adventure seekers. Skiing and trekking activities are most enjoyed in the snowcapped mountains.Trekking along the Shimla – Jalori Pass – Rohtang Pass on a horseback can be an memorable adventure.The other trekking routes in Rohtang pass is 14 kms along Gulaba – Bhrigu Lake.
The Indian Army clears the pathway for vehicles to commute.To withstand the weather, tourists are dressed in colorful attire complete with gumboots and a cap.The favorite take home gifts are Yak skin blankets which are exclusive to Rohtang Pass alone.
Indian Eagle offers Fares to Himachal Pradesh that will surprise you. Check our Lowest Airfare Guaranteedto visit Rohtang Pass.