Music is known to have the power to ignite passion and inspire. The Patriotic song 'Ae Mere Watan Ke Logon' literally meaning "Oh, the People of My Country" has a special place in Indian History.The song, revered next to the National Anthem and the National Song (Vande Mataram) has turned 50.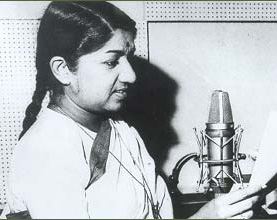 On 27 January, 1963 the song rendered in the immortal voice of Lata Mangeshkar, was sung as a part of the Republic Day celebrations.
The illustrious audience comprised of President S Radhakrishnan, Prime Minister Jawaharlal Nehru and Indira Gandhi. The other distinguished guests from the film fraternity were actors Dilip Kumar, Dev Anand, Raj Kapoor, Rajendra Kumar, Mohammed Rafi and Hemant Kumar.
Kavi Pradeep wrote the song in 1962 after the Indo-China war. Composed by C. Ramchandra, the morale-boosting words provided solace to a nation agonized by defeat. The song inspired the masses not to be disheartened by the defeat, at the hands of the enemy.
It was planned to be a part of the fundraiser, for the army in Delhi at the National stadium. The immortal classic invokes vivid images of jawans, laying down their lives for the country. The lyrics ""Jai Hind! Jai Hind ki sena" resonated in the hearts of every Indian present, which also moved Pandit Nehru to tears.
A tribute to the war heroes and martyrs, its popularity remains till date. The patriotic song is played during all the major national celebrations and events.