A thing of beauty is a joy forever- John Keats
Indian landmark monument, the Taj Mahal needs no introduction. UNESCO certified World Heritage site, the Taj is one of the Seven Wonders of the World. An amalgamation of Persian, Turkish and Indian architectural styles, The Taj is recognized as an epitome of Love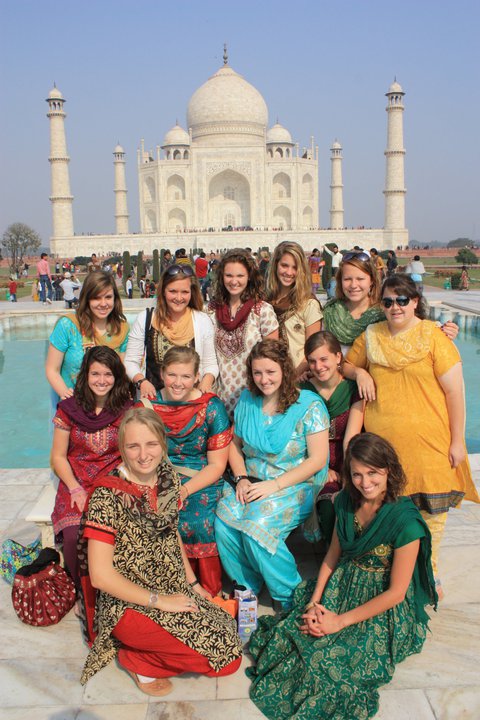 , Worldwide.
The influx of visitors, come half way across the globe to fathom the brokenness of a King, who built the magnificent tomb, to immortalize the memory of his dead wife. Laura-Beth Rimmer from England visited the Taj to see the universally admired creation that has pure love as the quintessential element.
Laura enthralled by the architecture says, "I am astonished to see the white marvel, integrated into a complex of structures. Highly skilled artisans, masons, marble workers, mosaicists, decorators and craftsmen, under the aegis of a board of architects, made it possible, when technology did not exist".
Built on the bank of the Yamuna, the Taj is bound by four isolated minarets, boasts of a perfect elevation.
Brittany Grace Jones from USA describes the Taj as "A graphic delight set within a lyrical décor". Brittany is taken in by the floral arabesques, decorative bands, and calligraphic inscriptions incrusted in polychromatic pietra dural imported from central Asia. The white Makrana marble from Jodhpur, Precious stones from Baghdad, Punjab, Egypt, Russia, Golconda, China, Afghanistan, Ceylon, Indian Ocean and Persia speak volumes of the Emperor's love who will have nothing but the best for his Queen.
The Bageecha or ornamental gardens reflect the classical Mughal char bagh style. Brittany says, "The two marble canals with fountains, pool in the centre of the garden, in perfect symmetry and the Taj reflected in the water. I am glad to experience what the postcard has printed on it. I have picked up the Hindi expression Wah! Taj.The exclamation alone sums it all".
Spellbinding, Pure white marble shimmering like silver in the moonlight, the Taj was a source of comfort where Shah Jahan spent his last days as a prisoner gazing at the tomb of his beloved Mumtaz.
Emperor Shah Jahan expressed his grief in these words:
Should guilty seek asylum here,
Like one pardoned, he becomes free from sin.
Should a sinner make his way to this mansion,
All his past sins are to be washed away.
The sight of this mansion creates sorrowing sighs;
And the sun and the moon shed tears from their eyes.
In this world this edifice has been made;
To display thereby the creator's glory
Indian Eagle offers Lowest Online Airfare to India. Make booking to see one of the Wonders of the World, at the Lowest Airfare Guaranteed.