"The plane gained speed, left the ground, took a leap and began to fly high making its way through clouds in the blue domain. Some loving faces, left behind at the airport, became invisible. The things on ground appeared to be tiny specs. The earth seemed to be the surface of a grand football. I was looking out of the window, with teary eyes and the mind full of hopes. I was carrying luggage and the memories of my childhood, school days, bicycle, the banyan tree in the courtyard, the riverside playground, the festival food and….the best friend in the neighborhood." Such slices of real life are the stories of many NRIs who were born and brought up in India. They left their childhood friends, caring and loving, while going abroad. The moments of playing, flying kites and prancing around with them are now haunting memories in the album of the mind.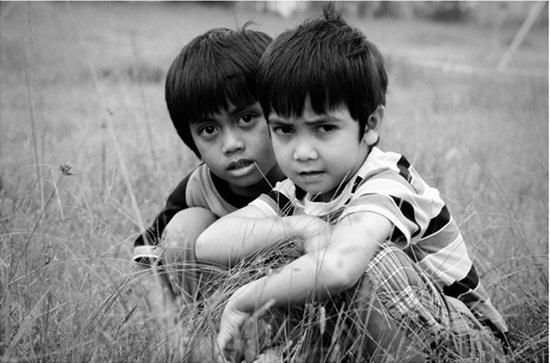 Let's recount the tale of an NRI and his best friend in India, on the eve of Friendship Day this August 4. The story of Veeru and Jai who are very close friends is traced back to a village in India. Veeru is the youngest son of a farmer, and Jai is the only child of a well-heeled land owner in the same village.
They read in the same village school. They go to school and come back holding each other's hand. Jai brings delicious tiffin which he shares with Veeru. On the way back from school, they stop at the riverside, for some time, sit with their legs playing with the flowing water of the stream and sing together, "Yeh dosti hum nahi torenge, torenge dam magar teraa sath na chhorenge". They go back their homes by sunset.
Veeru skips school off and on as he needs to assist his father in the field. Jai feels lonely and gets bored on those days. Jai helps Veeru with his books, notes and study materials. Jai stands first in the class every year but Veeru lags behind in performance. Thus, time wheels on day by day. They reach the stage of youth and complete their higher secondary (10+2) education. They plan to go to a nearby town and get admitted to a college together.
But, the fate has something else in store for them and their friendship. Jai's father wants Jai to leave for the US with his uncle and pursue higher studies at a good college there. But Jai is not happy at this prospect and does not want to leave Veeru behind. Jai's father requests Veeru to get Jai ready for the US. Veeru keeps the request.
On his birthday, Veeru asks Jai to promise that he will go to the US and make it big in life. Jai reluctantly promises him this birthday gift and says, "Teri dosti ke lie main jaan tak de sakta hu". Jai leaves for the airport with a picture of his friend standing helplessly and bidding goodbye, on his mind. He promises to come back and take Veeru with him one day.
A stream of time flows between them. Jai joins a prestigious college and studies Economics in the University of Texas. Then, he qualifies MBA in banking and becomes an investment banker. He makes new friends and builds a new world there. His well-paying job, luxurious lifestyle and the glitz & glam around blur the image of the village and Veeru. He strives to achieve more in life.
But, time stands still for his friend in India. Veeru cannot make much of his life with little means after his father's untimely demise. On completion of graduation in Arts, he cannot manage a decent job in town. So, he takes to working in the field. He hardly spends a day without remembering his childhood friend. At times, he feels a strong urge to reach out to Jai but he is not sure if Jai feels the same for him.
One evening, Jai passes through downtown. Two little boys sharing one ice cream catch his attention and remind him of the school days when he used to share his tiffin with Veeru. His heart misses a beat. He feels lonely despite the crowd around him and finds something lost despite many achievements. He remembers his promise to Veeru and feels restless to get in touch with him. His conscience bites him.
He flies back to India and reaches the native village. When he passes by the school and the riverside, the memories of childhood resurface on his mind. Veeru notices him from a distance and runs breathlessly towards him. They hug each other. Both stand still and speechless for a while. Jai is overjoyed, and tears begin to twinkle in Veeru's eyes.
Jai takes two flight tickets out of his pocket – one for himself and another for Veeru. He says to him, "Tu mere sath chal" (Come along with me).
This is the story of Jai and Veeru – an NRI and an Indian. Indian Eagle wishes you very Happy Friendship Day.