"India is the festival capital of the world." Bearing out to this distinction of the country is the Pushkar Fair in Rajasthan. The Pushkar Fair is not only India's biggest cattle fair but also the world's largest camel carnival. The rural beauty, cultural richness, colorful glimpses and ethnic flavors of Rajasthan are best captured during this desert festival. Indian Eagle explores what makes the Pushkar Fair one of the most incredible events.
Pushkar, the City of Temples in Rajasthan, fetches travelers to the fair on strength of its location on the edge of Thar Desert where warm days and cold nights create an amazing atmosphere in the month of November that heralds the arrival of winter season in India.
The camel fair highlights the sensory appeals of Thar Desert through the colorfulness of makeshift bazaars on the sand, the reflection of the sunrays by golden sand dunes, the glittering of sand grains in the silvery beams of the budding moon, the enchanting music of folk musicians and the irresistible flavors of local delicacies. To sum up, the Pushkar Fair is a sensory extravaganza!
The Pushkar Fair is a kaleidoscope of visual joys which promise a nice time to travelers and photographers. The embellishment of camels, the flutes of snake charmers, the multi-colored costumes of musicians, the twisted mustaches of tribal men, the golden beauty of sands at daytime, the silvery shine of sands at night, motley costumes of folk dancers, and the bight hues of turbans.
What endears the camel carnival of Pushkar to visitors of all age groups is a number of fun activities including competitions such as the longest mustache contest, camel race, desert dance performance, folk music, hot air ballooning, holy bathing ritual at Pushkar Lake, snake dance, tying of turbans, breaking of pitchers, etc. Shopping for handicraft items, and sightseeing in Pushkar add to the entertainment quotient of the Pushkar Fair.
The Pushkar Fair is a meeting ground of people from different walks of life. Nomads, camel traders, camel buyers, snake charmers, folk dancers, rural musicians, acrobats, fortune tellers, pilgrims and handicraft artists make a lively gathering which is why photographers visit this fair to capture the inexplicable expressions of these professionals at their respective works.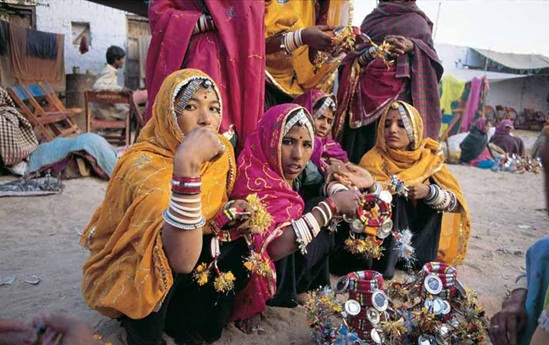 The Pushkar Fair, one of the most interesting photogenic tales of life in rural Rajasthan, is scheduled to be held from November 9 to 17 this year. Pushkar is a 131-km long drive from Jaipur Airport and at a distance of 392 kms from Indira Gandhi International Airport in New Delhi.
IndianEagle.com will book your cheapest flight to India in no time so that you can enjoy the twilight beauty of Thar Desert, the camel beauty contest and the colorfulness of Pushkar during the camel festival.