"Indian festivals are the festivals of colors." Bearing evidence to this statement is the Elephant Festival of Jaipur in Rajasthan. An annual event in the calendar of Jaipur, the Elephant Festival reflects the colorful beauty of Rajasthan. The embellishment of elephants is the prime attraction of the event. The celebration takes place at Jaipur Polo Ground near Sawai Man Singh Stadium, on the eve of Holi festival. Jaipur Elephant Festival will be held on March 21 in 2019.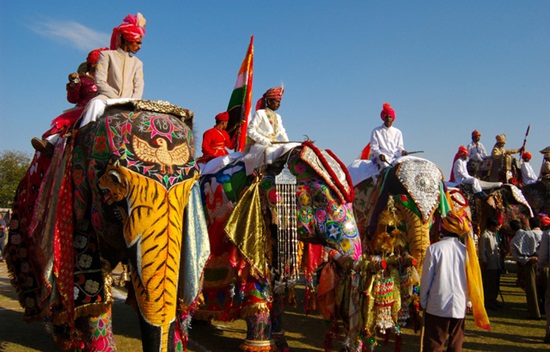 This Indian festival, celebrated with much of pomp, gives a glimpse into the royalty of Rajasthan. Tourists from across the globe visit the city of Jaipur to witness this ceremonious carnival. The celebration begins with a grand parade of elephants with decorated backs, trunks and tusks. The beauty of colorfully decorated elephants on this festive day is a spectacular show to catch on. One of the highlights of the carnival is that only female elephants are selected for the parade.
The participating elephants are adorned with chunky jewelry like anklets, bracelets, rings, ear danglers and head plates. The jewelry is made of silver and gold. Their backs are embellished with intricately embroidered velvet rugs, and their ears are embellished with brightly colored scarfs. Various motifs from Indian culture and tradition are painted on their bodies. Even the mahouts look their best in splendidly embroidered jackets and colorful turbans. The most beautifully decorated elephant is given a prize, in the festival.
The spectacular parade of elephants is accompanied by the playing of traditional instruments such as Nagaras and Bankiyas. Decorated horses, chariots and camels follow the marching elephants. Adding to the splendor of the carnival are beautiful palanquins, carried by porters with colorful turbans on their heads. Folk dance performance during the parade makes the Elephant Festival of Jaipur a cultural extravaganza.
You might wonder why only elephants are the center of attraction in the Jaipur Elephant Festival. Elephant is considered a divine being, in the Hindu Mythology of India. It is a symbol of royalty and majesty in the traditional Indian culture as well. There are mythical legends about the importance of elephants in India.
Book the cheapest air tickets to Jaipur on IndianEagle.com and explore the most interesting legends of Jaipur Elephant Festival. The lowest airfare is guaranteed for your travel to the Pink City of India.