Rajasthan is a palette of colors, a collage of festivals, a blend of cultures, a land of celebrations and a canvas of royal splendors. The desert beauty, colorful panorama, cultural diversity, unmatched royalty and historic palaces of Rajasthan have been connecting tourists, travelers and explorers around the world to India. These highlights distinguish the state of Rajputs as an incredible destination in Incredible India. What to say more about Rajasthan in brief?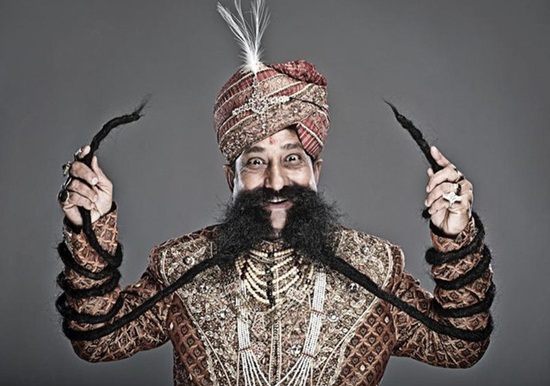 Recently, with a surprising discovery by the Guinness Book of World Records, Rajasthan has reemerged to the limelight across the globe. The discovery is a man with an incredibly long moustache. You might have seen and photographed many turbaned men folks with heavy, twisted moustaches during your previous tours of Udaipur, Jodhpur, Bikaner, Jaisalmer, Amer and Mewar. Ram Singh Chauhan whose 14-ft long moustache made it to the Guinness Book of World Records is the latest find.
Yes, Ram Singh Chauhan from Rajasthan is the proud owner of the longest moustache in the world. The length of his moustache is 14 feet, to the utter amazement of everyone at home and abroad. The 58-year old Ram Singh Chauhan lives in the capital city Jaipur. He showcases the moustache without hesitation and describes it as the most cherished possession. How long was his journey to the Guinness Book of World Records?
The construction of the Taj Mahal, the most famous icon of India, was completed in 21-22 years (1632-1653 AD). It took Ram Singh Chauhan as many as 32 years to cultivate the 14 feet long moustache with a couple of whiskers which requires 2 hours to be groomed once a day. He admits that growing a moustache is like nurturing a baby. He reveals that he has neither shaved nor trimmed it since he started growing it in 1970.
In ancient India, moustache used to be treated as a masculine identity, manly appearance and communal pride of the male folks in Rajasthan. He shares that his moustache earns him attention and respect in public wherever he goes. Tourists and travelers wish to be photographed with him. He says in no uncertain terms that he is happy with his moustache which had bagged a cameo for him in Octopussy, a James Bond movie (released in 1983).
Won't you like to be photographed with Ram Singh Chauhan during your upcoming or next trip to Jaipur in Rajasthan? Book the cheapest flight on IndianEagle.com for your travel to India.