In Hinduism, the river Ganga is a manifestation of the Divine. An inseparable part of the religious life and faith in India, this holy river has been nourishing the cultural being and contributing to the agricultural prosperity of the country for ages. To say in brief, the Ganga symbolizes spirituality, purity, enlightenment, enrichment and fertility. Those who read English literature might have found a mention of the river in the Paradise Lost, an epic poem by John Milton.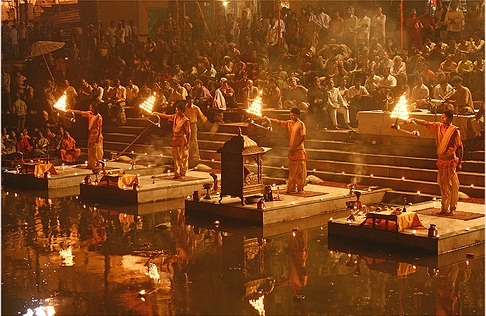 No wonder, why some of the festivals in North India are dedicated to religious ceremonies for the Ganga. One such festivity celebrating the glory of the river is Ganga Dussehra which is held on the banks of the river in the holy cities: Rishikesh, Haridwar, Prayag and Varanasi. Gangavataran is another name of the festival held for 10 days in the month of June. The last day of the festival witnesses a grand ceremony, crowds of devotees, chanting of the Vedic shlokas and several religious practices.
The word "Gangavataran" means the descent of the Ganga. As per the Hindu Mythology, the river Ganga had descended on earth from the heaven, the abode of gods and goddesses. From this perspective, Ganga Dussehra is supposed to be a festive celebration of the river's birthday. However, the festival is observed with much enthusiasm and fervor. It is preceded by grand preparations.
You might wonder what the biggest draw of this North Indian festival is. It is the glittering spectacle of the Ganga aarti on the ghats (concretized river banks) in the evening when thousands of diyas (earthen lamps) are lit, the bells of temples are rung and the shlokas (hymns) are chanted in chorus. Though the Ganga aarti is part of the daily worshiping of the river, it is a marvelous sight to catch on the festive days of Ganga Dussehra.
The ambiance of the ghats of Rishikesh, Varanasi and Haridwar, overflows with spells of enchantment. A numinous air floods the entire environment. The ghats are illumined with lamps in the dark, and the banging sound of conch shells is echoed all over. It seems that the divine blessings are showered over devotees.
Ganga Dussehra is scheduled on June 18 this year.
Visit either of Rishikesh, Haridwar and Varanasi on the occasion of Ganga Dussehra, see the divine India and get blessed. IndianEagle will book your trip to Haridwar, Rishikesh and Varanasi at the lowest airfare. Cheap air tickets are available on IndianEagle.com.