The magic and mirth of monsoon are in harmony with the beauty of nature in different forms at most tourist destinations crisscrossing India. Some of these Indian monsoon getaways are splendidly captured in the visual frames of a few Bollywood songs of the rain. Monsoon is lately arrived in India. Like the previous year, we are recommending to you four Indian tourist destinations for monsoon travel, which have been ideal shooting locations for some of the most romantic Bollywood numbers.
Chamba Valley – shooting location of Taal se taal mila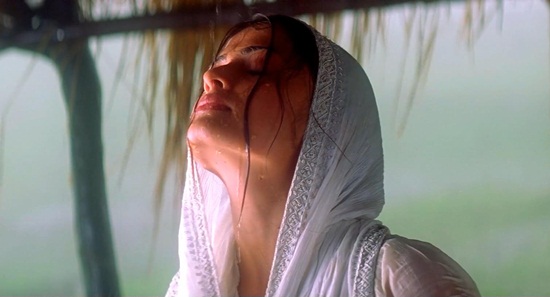 Himachal Pradesh, a Himalayan state of India, is home to several picturesque valleys where nature is deeply felt in every nook and corner. Chamba, one of the most beautiful Himachal valleys with lush green landscape, was the shooting location of "Taal se taal mila", the title song in the music album of Taal directed by Subhash Ghai. The song features Aishwarya Rai romancing nature in the rains. Dressed in white, she seems to feel the monsoon bliss of nature with all her senses, in Chamba Valley. Visit to the valley is an ideal escapade during monsoon travel in India.
READ MORE Best Monsoon Snacks of India
Munnar – shooting location of Bann ke titli dil uda uda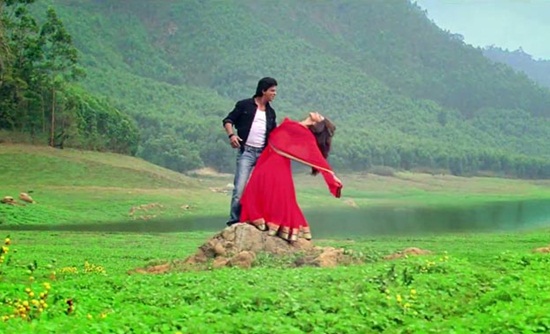 Munnar is an all-time must-visit destination in Kerala. Blessed with the green beauty of nature, Munnar sightseeing is a breathtaking experience. The panorama of Munnar with luxuriant meadows and verdant hills is candidly featured in the romantic song "Bann ke titli dil uda uda", a most popular number in the music album of Chennai Express starring Shah Rukh Khan and Deepika Padukone in the lead. Those who have not visited Munnar yet will feel a strong urge to live some moments of romance amidst soothing sights of Munnar, on seeing the video of this song.
READ MORE  Monsoon Flower Markets of India
Athirapally – shooting location of Barso re megha megha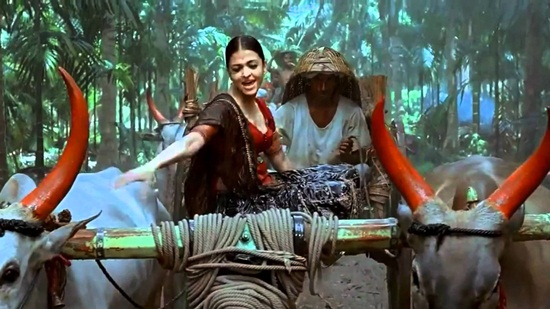 The visual frames of the song "Barso re megha megha" splendidly capture the magic of rains in Athirapally, a stretch of green forest with waterfalls in Kerala. The song featuring Aishwarya Rai as a beautiful damsel enjoying herself during rains in the backdrop of panoramic greenery is a celebration of monsoon, in the movie Guru directed by Mani Ratnam. The scenic splendors of Athirapally Falls, a monsoon attraction of Athirapally in Kerala, are harmoniously blended with the energetic notes of the song. Kerala has several monsoon travel destinations.
READ MORE Monsoon Travel in Hyderabad
Jodhpur – shooting location of Mhare hiwda mein naache mor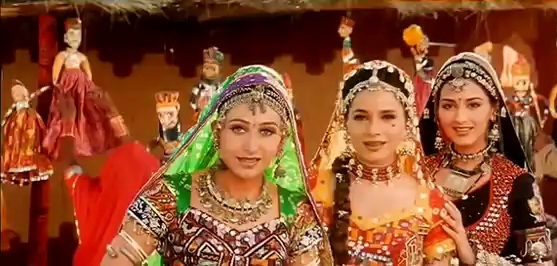 The picturization of the Bollywood romantic number "Mhare hiwda mein naache mor" in the music album of Hum Saath Saath Hain makes it clear that a heritage tourist destination looks amazing in the rains. A bevy of Bollywood divas dressed in traditional outfits of Rajasthan dance heartily to the music of rains at Mehrangarh Fort and Jaswant Thada in Jodhpur. The monsoon beauty of Jodhpur, a hub of heritage tourism in Rajasthan, can woo travelers though there is no waterfall or lake to overwhelm the senses.
Book your trips to Indian monsoon getaways at the cheapest airfare of the season on IndianEagle.com. Monsoon travel in India promises to be a wonderful memoir!