In the 1970s when Mumbai was Bombay; when Lijjat Papad was catching up with Indian taste buds; when Premier Padmini taxis hit the roads of Bombay; when taking Air India flights was a matter of prestige; when Bombay was greener than Mumbai; when Amitabh Bachchan was the new poster boy of Bollywood, a simple Gujarati homemaker from a one-room chawl in South Bombay took the first step towards becoming India's Bhel Queen. Nila Mehta, who became a household name for her homemade Gujarati delicacies and a brand abroad, lived her passion until she breathed her last on October 15, 2019.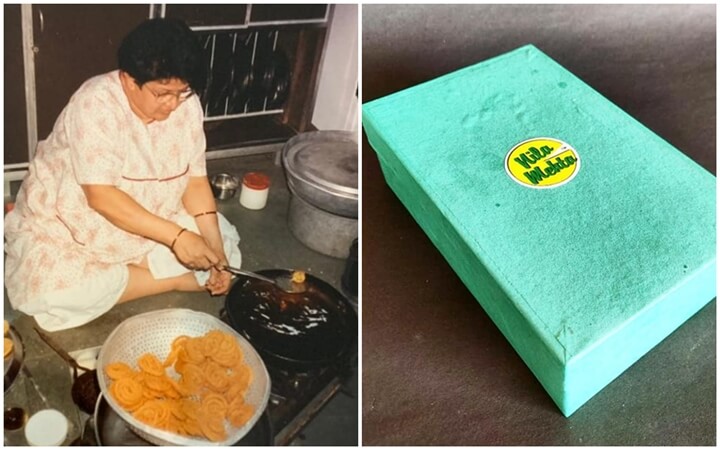 Nila Mehta's journey from selling dhokla door-to-door to becoming the Bhel Queen of Mumbai City to being popular among overseas Indians is not just a rags-to-riches story, but an inspiring story of India's women power. Before Google, Microsoft, Apple, and Amazon were born in a garage in the US, "Nita Mehta snacks" started making its way from the tiny chawl on Napean Sea Road to rule the taste buds of Bombayites.
Nila Mehta, who shifted to Bombay from Gujarat, took to stitching clothes to make the ends meet for a household of six before she turned her passion for cooking into a profession. Unhappy with the petty income from her ordeal of stitching garments, she decided to explore her versatility and expertise in cooking. One day she cooked some twenty packets of dhokla for the local women's association where women from the upper reaches of society took fancy to her delicacy – which made her homemade dhokla a hot cake in South Bombay.
Orders of her delicious dhokla started pouring in despite no delivery mechanism from her end. At times, she would send her son to make the delivery to remote parts of the city. Before two decades of India's IT boom, her newly found success as a home-based businesswoman was fraught with difficulties and challenges.
Being a wonder woman, Nila Mehta managed to take orders over the phone though her one-room apartment was on the fourth floor, there was no elevator and the building had only one telephone (on the ground floor). The chawl dwellers including her family had to manage with one-hour of water supply every day due to acute water crisis in South Bombay. Braving all odds, she used to complete the orders on time.
Her dhokla being a staple on the menu for local celebrations, religious events and illustrious weddings, Nila Mehta was the unrivaled 'Dhokla Queen of Bombay' from 1980 to 1995. Alongside dhokla – the key to her success, other popular Gujarati sweets and snacks from her repertoire were making their way to hundreds of households and shops in the non-social media era.

As dhokla is a fast perishable item, she was not able to venture out beyond Bombay. To make way for her business into other markets of the country, she took fancy to Mumbai's new gastronomic fascination – bhel in the second half of the 1990s (Bombay was renamed Mumbai in 1995). Since it was possible to export bhel in airtight packets to any corner of the country, she started taking orders from other metro cities. It made her the 'Bhel Queen of India', a few levels up from the "Dhokla Queen of Bombay".
Over time "Nila Mehta snacks" including mouth-watering bhel found space at Indian stores in the USA, the UK, Australia, Singapore and other countries, and became a hit with NRIs there. The offshore revenue helped Nila Mehta open brand outlets across Mumbai and in other parts of Maharashtra.
Her demise is not an end to the brand "Nila Mehta Snacks". May this wonder woman of India continue to inspire generations with her entrepreneurial journey and rags-to-riches story!
This story is brought to you by Travel Beats as part of the continued series, "Explore India with Indian Eagle". Travel Beats is a leading overseas Indian community portal by Indian Eagle, a trusted travel-booking partner of Indians abroad.