"When I see Lydian, it gives me hope. He should be the answer to Chinese pianist Lang Lang. I think he will be India's music ambassador," Academy Awards-winning A R Rahman said once about one of his disciples, Lydian Nadhaswaram, a 13-year-old prodigious pianist from Tamil Nadu.
What the Mozart of Madras prophesized about the budding piano maestro of Chennai seems to become true soon as Lydian Nadhaswaram won the first season of CBS' 'The World's Best' talent show on the American soil and walked away with the $1 million grand prize.
The BAFTA and Grammy Awards-winning music director of 'Slumdog Millionaire' fame, Rahman lauded Lydian's success as the global Indian community's success and hailed it as a precious achievement in his treasure. Lydian's moment of winning CBS' The World Best is worth praising since walking away with the top prize from the show, which is often described as the Olympics for entertainment, is a colossal milestone, according to Mark Burnett, an executive producer of the American TV show which has participants from over 150 countries.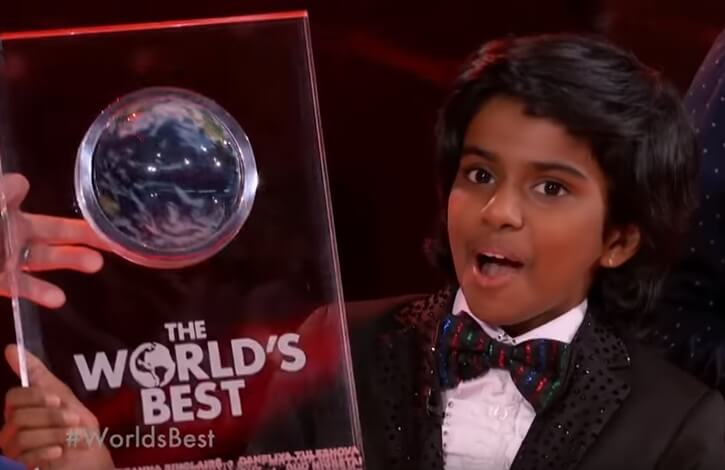 The 'Mini Maestro' of India, Lydian beat South Korea's Kukkiwon, in the championship rounds of the finale episode of the first season, to be crowned the winner of CBS's The World Best. In the finals, he performed two medleys at an effortless speed of 325 beats per minute and earned a big round of applause from the judges, including eminent Indian American choreographer Nakul Dev Mahajan.
In the semifinal itself, he emerged to a potential champion by playing Moonlight Sonata impeccably and performing an outstanding complimentary drum track echoing his piano track. On top of that, he gave a momentary blindfolded performance during his interview on the popular, The Ellen DeGeneres Show, and became a household name during his journey from a standing ovation in the semifinal to the crowning moment.
Yes, Chennai-born Lydian Nadhaswaram can play blindfolded on two pianos simultaneously and at an electrifying speed.
The winner of CBS' The World's Best, Lydian, who aspires to play music on the moon, exclaimed that he was not nervous at all in his first global competition. He wishes to become an international music composer and record independent albums. He also dreams of joining the crew of musicians on Elon Musk's Space X mission to the moon in 2023.
"Indian talent is galore across geographies. While Indian-origin students in America are making it big in science and technology; for instance, Kavya Kopparapu recently won National STEM Award, children back at home (India) are shining in different forms of art. Lydian Nadhaswaram won not only one million dollars but also millions of hearts across the globe," said the editor of Travel Beats, a popular Indian Diaspora portal by Indian Eagle, a leading international travel organization.