I just returned from the Diwali celebration with my friends in a neighborhood in Johns Creek, Georgia. It was nearly midnight. I was a bit tired and badly needed to get asleep. When I entered home, I felt something was off. The air was calm, and my parents' room was unusually quiet. I couldn't make out why.
Though my eyes were heavy with sleep, the uneasy feeling did not let me go to bed. I quietly walked out of my room and sneaked into my parents' room. I found my mom with tears rolling down her cheeks to my surprise. My dad was sitting with a long face and a laptop was open in his lap. I approached him and looked at the laptop's screen. He was booking a flight to India. I couldn't say anything.
I still could not understand what was going on. Curiosity was pressing me hard but I was too scared to ask him anything. So I didn't. I silently went back to my bed. A few hours later or so, dad stood up and said, "Get dressed.  We will leave for airport soon." Obediently, I put on a green Nike shirt and a pair of jeans (I honestly don't know how I still remember all of this) and went downstairs.
My mom was ready with four bags. My dad was holding the keys and told me to get into the car. I was still wondering why we were going to India all of a sudden. As we were riding the car, I didn't pay much attention to what was going on outside of the car. I was engrossed with the thoughts, "What happened to make mom cry?" "Why are we heading out to the airport in the wee hours?" I couldn't help messing up with these feelings of anxiety. I did not even realize myself drifting asleep in the car.
Suddenly I heard someone calling my name, "Kavin! Kavin!" I woke up with a start. I found dad calling me to get out of the car and walk into the airport. Everything seemed surreal to me. We finally went past the metal detectors and check-in kiosks. We sat in a waiting room in the boarding area. In a few minutes, we heard an announcement requesting all to board the plane. My parents felt relieved as if they were in a tremendous hurry. We entered a tunnel that led us to the plane.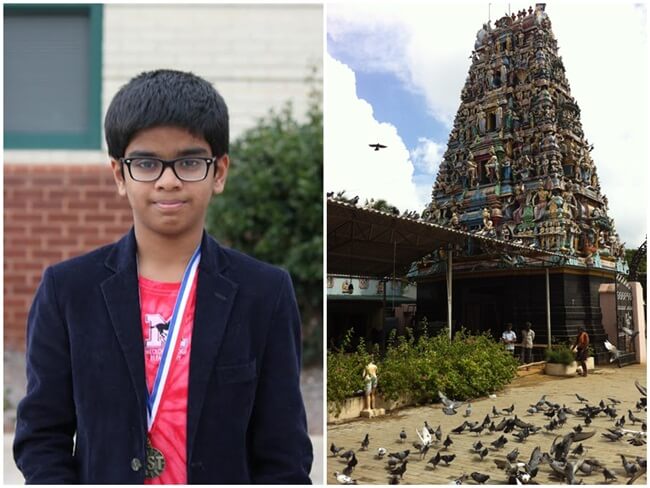 In the plane, I found everything perfect: seating, movies and especially the food. I was watching movies on a seatback monitor until dad told me to stop straining my eyes. I turned off the entertainment screen and directed my attention to the world outside. Since I got the window seat, I began to look at nomadic clouds through the window. I had thought that I could see the whole world from the plane. How silly I was! (I was only four the last time I was on a plane, so I didn't remember a lot).
After a while I got bored of the drifting clouds and took a nap. I shut my eyelids and dreamed. In a subconscious state, I knew I was dreaming. But I could not recall what the dream was about. However, I just felt that it was not a pleasant dream. When my eyes opened, I looked out the window. The Sun glared right in to my face. It was day already! I asked my dad why we were going to India. He kept mum. Finally we landed at the airport. As I got off the plane, a lot of things were swirling in my mind.
A few minutes later, we got into a bus and headed to my dad's house in Anthiyur, Tamil Nadu. The bus was crowded with people, and it was very hot.  The streets were crawling with vehicles and pedestrians. So many people! I found everything strange around me. As we reached our house, there was a gathering of people in the sprawling courtyard.
I wondered for a while what it could be. Then I found it a burial ceremony to my utter surprise. "But, for whom?" I asked myself. When I neared the body, my heart missed a beat. A gush of sorrow overwhelmed with me. Tears flooded my eyes and rolled down my cheeks. It was my grandma.
The very next moment, my mind went down the memory lane and recalled the days I was with grandma. My dad gripped me tighter as I was crying. Then I gulped back the rest of the tears and stepped back from the mourning crowd around grandma lying inert, inactive, immobile…
I went inside the house and sheltered myself in a corner. I did not bother to care if I was all alone in such a big house. After sometime, my parents walked in and told me to go to sleep. I climbed the bed and rested my head on a pillow. My eyes that throbbed with crying took no time to fall asleep.
It was dawn when I woke up. As usual, I took reluctant steps towards the bathroom and grudgingly brushed my teeth. Then I remembered what happened in last two days. I remembered the packing, the airport, the flight, the crowd and the consolation. Having nothing to do, I started exploring the house. (I was four during my previous visit to this house). I went to a spacious room filled with different objects. I saw there was someone sleeping on bed. When I went closer, I realized it was my cousin Eshwanth, who is a year younger than me but he is very smart.
I woke him up. When he saw me, he reacted as if he hated me for waking him up at six o clock in the morning. Just as I was about to leave the room, he excitedly started talking to me in Tamil (my native language and one of the most popular Indian languages). His face was tired and his eyes were gloomy. I instantly realized what he was thinking about.
Eshwanth is who liked my grandma more than I did. I tried to console him, "Don't worry! Everything will be all right." Suddenly my dad entered the room and hugged Eshwanth. He told us to play outside. Wherever I ran inside the house and whatever I looked at, it reminded me of grandma and made me miss her.
It had been several days since the incident. My cousin and I were playing a complicated game of chess. The winner was to challenge my grandpa who was undefeated between the three of us. While we were buys playing, I heard my dad's footsteps approaching us. Dad stood near us with a sad face but a happy expression. He grinned and said to me, "Get ready we're going back tomorrow."
My last trip to India was a trip of loss, a trip of nostalgia, a trip down the memory lane…
In USA, I often feel nostalgic recalling  how Eshwanth and I always loved trolling his sister by hiding her stuff, how smartly my grandpa played chess, how exuberantly my aunt showed me around the farm, how my uncle and I fished together in a nearby lake….  I do wish to go back to India but for a happy occasion the next time.
Georgia-based Kavin Jayavel Kumaresan's story is one of the four selected entries in Travel Beats Short Story Writing Contest 2016 hosted by Indian Eagle, a leading travel partner of Indians in USA. A 6th grader of Autrey Mill Middle School, Kavin aspires to be a chess master like his grandfather who is unbeatable in chess. Soccer and drawing are his other interests. His favorite Indian dishes are naan and chicken 65. He traces his parental roots to Tamil Nadu.