Both India and the United States have talent galore. There are child prodigies at home and abroad too. 8-year-old Gandham Bhuvan Jai from India became the world's youngest person to scale Europe's highest peak, whereas America's youngest biomedical engineer is vying for the global student prize worth $100,000. The top 50 finalists, including Indian American Tanishq Abraham, are shortlisted from more than 3500 applicants from 94 countries. The winner will be selected by the Global Student Prize Academy and announced during an awards ceremony in Paris in November 2021.
At 15, California-based Tanishq Abraham added a new feather to his cap by graduating in biomedical engineering from the University of California, Davis with 'summa cum laude' – an academic level of distinction which is considered the highest honor by most educational institutions across the world. Now 18, he is pursuing PhD. He also plans to complete Doctor of Medicine (MD) studies by 2022 or 2023. During the hearing of a petition over denial of college admission to a 16-year-old, the Madras High Court judge referred to Tanishq Abraham and quoted his TEDx talk that he gave when he was only 9.
The judge said, "People should go to university and college when they are ready, not when they are old enough to go".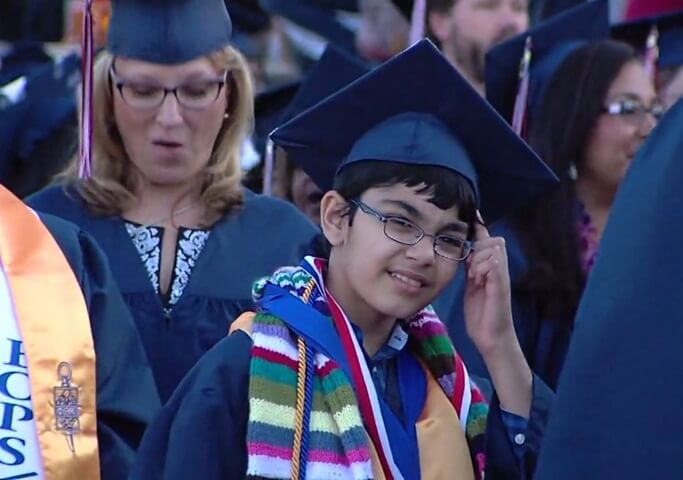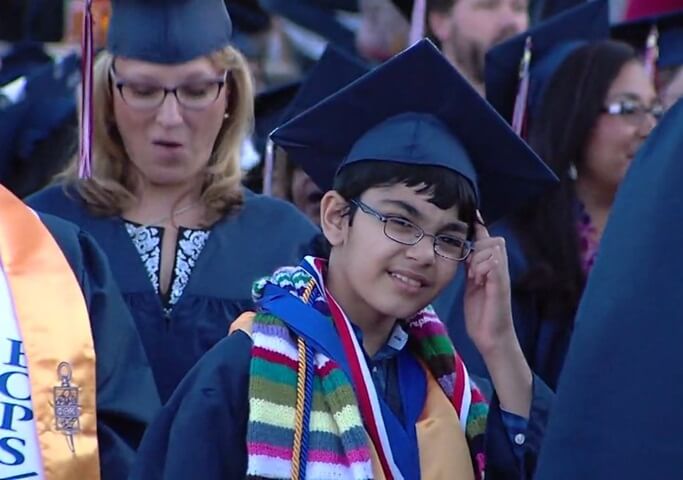 One of the Indian-origin child prodigies in the United States, Tanishq Abraham aspires to be a doctor, research on new cancer treatments, win a Nobel Prize and run for the hot seat of US President. Recently, he has created a unique device to help measure the heartbeats of burnt patients without touching the body.
Born in Sacramento to an immigrant couple from Kerala, Tanishq has been a brilliant student and an outstanding achiever since his kindergarten days. He started making achievements at the age of 4 when he became a member of Mensa, an international society of meritorious students by scoring 99.9% in the Mensa IQ test. His sister, Tiara Abraham scored 99% in the same test. Since then, his educational adventure has been running high.
At the age of 7, Child genius Tanishq Abraham joined the American River College, Sacramento to pursue the geology and astronomy courses. He scored 'A' grades in both the courses. Impressed with his merit and his interest in astronomy, the astronomy professor set up an astronomy club and made Tanishq its founding vice president.
Before that he enrolled for Stanford University's Education Program for Gifted Youth (EPGY) at the age of 5 and completed the math course within 6 months of the enrollment. When 6-year-old, he started studying various science streams, including chemistry, paleontology, biology, and geology. He passed a chemistry course with flying colors, that the University of California Berkley offers online.
Indian American Tanishq Abraham spoke at a NASA conference in 2012. At the age of 9, he was the youngest NASA speaker. Some of his essays were published on NASA's lunar science website. The opportunity to speak at a TEDx conclave in Sacramento came his way the same year.
In his first TEDx talk, he said, "People should go to university and college when they are ready, not when they are old enough to go."
Homeschooled by his parents, he qualified as a high school graduate with three associate degrees from the American River College in 2014 when he turned 11. His father, a software engineer and his mother, a veterinary doctor pushed Tanishq through the roadblocks on his way. They made sure that their prodigious child could pursue his passion for infinite learning and make achievements despite his young age.
The sky is the limit for the youngest biomedical engineer, Tanishq Abraham who loves playing the piano, chess, soccer and table tennis. Swimming is one of his interests.
This story about child prodigy Tanishq Abraham is part of our continued effort at Travel Beats, a community portal for Indians in USA to promote the achievements of young Indian Americans. Subscribe to our free newsletter for the latest community news, regular updates on US visa & immigration, India tourism news, and inspiring stories of Indian Americans.