The United States is all set to select the nation's Top Youngest Scientist from among the 10 finalists including five Indian American youngsters. The finalists of Discovery Education Network's 3M Young Scientist Challenge 2018 are promising innovators and inventors on a mission to ensure a better future for mankind.
The young Indian American finalists in the race for America's 'Top Young Scientist of 2018' title are Mehaa Amirthalingam of Texas, Sriram Bhimaraju of California, Krish Wadhwani of Georgia, Cameron Sharma of Virginia, and Rishab Jain of Oregon. They are gearing up for the grand finale of Discovery Education Network's 3M Young Scientist Challenge 2018, which will be held in October at 3M Innovation Center at St. Paul, Minneapolis.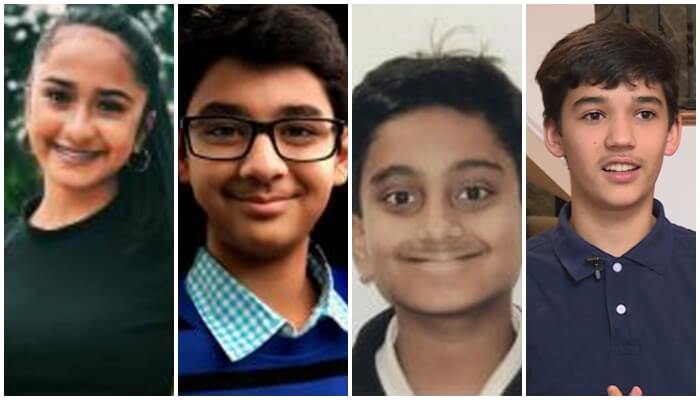 Mehaa Amirthalingam of Texas
A resident of Sugar Land in Texas, 13-year-old Mehaa Amirthalingam has invented a unique toilet flushing system which uses grey water and fresh water. She believes, "Innovation should not degrade humanity for the sake of personal gain." Her favorite invention of the last 100 years is smartphone which, she says, has made our day-to-day life incredibly easier. An 8th grader at Sartartia Middle School, Mehaa aspires to be a patent-holding engineer by the time she turns 30. Here's a video illustration of her invention:
Rishab Jain of Oregon
A resident of Portland in Oregon, 7th grader Rishab Jain is an aspiring biomedical engineer. One of the 3M Young Scientist Challenge 2018 finalists, Rishab has devised the Pancreatic Cancer Deep Learning System (PCDLS) tool which helps with accurate location of the pancreas during MRI radiotherapy using artificial intelligence. A 13-year-old student of Stoller Middle School, Rishab is confident that his tool will be instrumental in effective pancreas cancer treatment. He demonstrates his invention in the video below:
A resident of Cupertino in California, 12-year-old Sriram Bhimaraju aspires to be a Nobel Laureate in 15 years. His novel app named Archery Assistant is one of the entries in the final competition of Discovery Education's 3M Young Scientist Challenge 2018. The app helps improve an archer's aim at the target in real time using a Bluetooth sensor. A student of Harker Middle School, Sriram says, "People like me would not be able to make an impact on the world without the invention of the I.C. chip." Here's a brief demonstration of his invention:
Krish Wadhwani of Georgia
A resident of Alpharetta in Georgia, Krish Wadhwani has enhanced the possibility of developing a cure for Huntington's disease. His Synthetic Antibody Mimics helps locate cancerous cells and gets attached to a specific protein found on the surface of those cells responsible for Huntington's disease. The 14-year-old 8th grader at DeSana Middle School wants to be a cardiologist or neurosurgeon. Pacemaker is his favorite invention of the past 100 years. Do take a walk through his invention in the video below:
Cameron Sharma of

Virginia
A resident of Glen Allen in Virginia, Cameron Sharma has created uFlu, a unique computer model that uses artificial intelligence to calculate seasonal flu vaccines and identify the most effective vaccine for those affected by flu. His interest in engineering aspects of healthcare drove him to create uFlu leveraging his knowledge of immunology, computer programming, virology, math and genetics. One of the promising finalists of Discovery 3M Young Scientist Challenge 2018, Cameron Sharma aspires to be a biomedical engineer.
The finalists will take a summer internship program under the supervision of 3M scientists and transform their ideas or inventions into working solutions before the grand finale in October 2018. In the final competition, they will demonstrate the USP and usefulness of their tools and devices before a panel of judges including noted researchers and scientists. The winner of Discovery 3M Young Scientist Challenge 2018 will be declared America's Top Young Scientist and awarded a scholarship worth $25,000.