Bhakti Without Borders, a music album of Krishna bhajans (numinous songs or hymns), has challenged the widely prevailed notion that only India brims with devotion for Lord Krishna, a Hindu deity. This music album by a group of eleven musicians, better say Krishna devotees, from across the world is on the list of nominations for Grammy Awards 2016.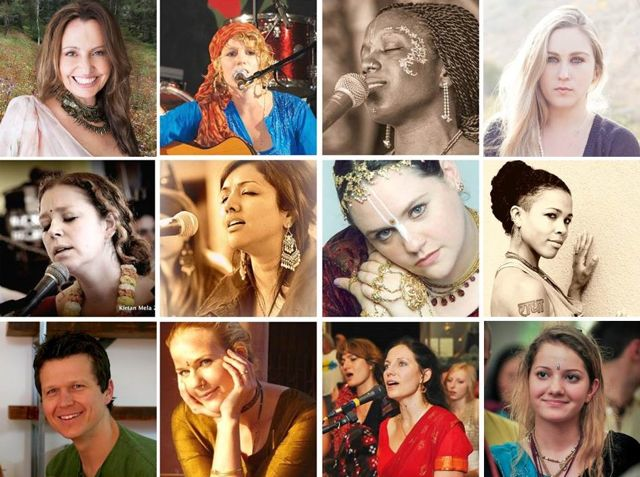 Bhakti Without Borders, an album of songs in eulogy of Lord Krishna, has been nominated for the 58th Grammy Awards in the 'Best New Age Album' category. The album is aptly named as eleven musicians or Krishna devotees from India, America, England, Australia and Germany composed the songs in collaboration beyond borders. Madi Das, the executive producer of Bhakti Without Borders, is an ISKCON follower born in Germany and brought up in Mayapur.
Mayapur is one of the most popular tourist places near Kolkata. An ISKCON Temple is the center of attraction in Mayapur. – Indian Eagle       
One of the eleven singers who came together in a true display of brotherhood, love, harmony and devotion is an Indian, Gaura Mani, from Vrindavan Mathura. In an interview, Gaura Mani was quoted saying, "As I continue to perform Kirtan around the world, I pray that the transcendental sound vibration of Lord Krishna's holy names will pour from my heart and I may continue to dive into the ocean of ecstatic bliss of my Lord Krishna."
Though born in America, Gaura Mani calls Vrindavan her home. She developed a passion for voicing soulful mantras, devotional songs, and meditative prayers at a tender age. She is known for her mellifluous, intoxicating voice which she claims to be blessed with by her Lord Krishna. Her spiritual journey began when she met her Param Das, a preacher, musician and bhajan singer of international repute, in Vrindavan, India.
Gaura Mani and Param Das formed a rocking kirtan band, Vrajavadhus Kirtan. The band is named after a group of cowherd damsels (popularly known as Gopis in Vrindavan and in the legends of Lord Krishna). The band performs blissful bhajans across the world. Golden Jewel is one of the popular albums by Gaura Mani and Param Das. Their performance was a hit at the Festival of Chariots in Chicago.
The Bhakti Without Borders album is a rare mélange of various folk music genres, Indian bhakti traditions, and traditional music of Armenia and Ireland. The concoction of different musical traditions and trends has resulted in a euphoria that strikes strings of the heart and touches depth of the soul. The education of girls in Vrindavan will be funded with the profits from this album.
The female vocalists in the group of musicians behind The Bhakti Without Borders album are all Krishna devotees, who have been singing bhajans since childhood. Executive producer Madi Das said that it is the first music album in the Gaudiya Vaishnava tradition to be nominated for Grammy Awards. Bhaja Gobindam, a famous Bengali bhajan, is one of the songs in the album.
Gaudiya Vaishnavism came into being during the Vaishnava religious movement founded by Sri Chaitanya Mahaprabhu, an incarnation of Lord Vishnu, in Bengal, India (1486-1534). – Indian Eagle
Sudevi Dasi, one of the singers from the USA, opines that Bhakti Without Borders also stands for the harmony of male and female voices across geographies as recording sessions took place in Los Angeles, London, Sydney and Germany. She says that some of the songs begin with male voice, while some pour out female voice. The nomination of Bhakti Without Borders for Grammy Awards bears out to women's role in devotion and spirituality, according to Sudevi Dasi.
Travel Beats is a culture and entertainment portal by IndianEagle for the Indian diaspora. It publishes the latest news and stories about India, USA, Canada and NRIs.