2022 is the year of Indian-origin kids in America. Since the beginning of the year, they have been on a winning spree, from the Jeopardy! National College Championship, the US Presidential Scholars program to the Regeneron Science Talent Search. Surya Kasibhatta, a special Indian-origin kid from Texas made his acting debut this year, and Ayan Shah from New Jersey made his Grammy debut as the youngest vocalist. Now 10 spellers from the Indian community in America are competing for the championship of 2022 Scripps National Spelling Bee, among the 12 finalists. The most coveted trophy of spelling bee competitions has been going to the Indian community for two decades.
BREAKING NEWS: 14-year-old Harini Logan of Indian origin from San Antonio, Texas won the 2022 Scripps National Spelling Bee trophy and $50K by spelling 21 words correctly in a 90-second speed round. 12-year-old Vikram Raju from Denver, Colorado finished second and won the cash prize $25K. Travel Beats, a leading community portal for Indians in USA by Indian Eagle, congratulates Harini and Vikram. Once again, the trophy came to the Indian Diaspora in America.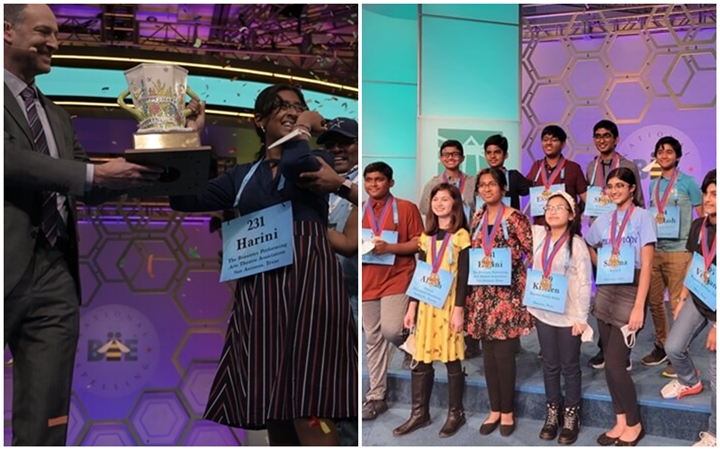 Sahasrad Sathish, Illinois 
13-year-old Sahasrad Sathish from Illinois is among the 10 Indian-origin finalists of the Scripps National Spelling Bee 2022 contest. He is an avid reader and music buff with a penchant for playing different musical instruments. Solving mind-boggling mathematical problems and practicing karate are his favorite pastimes. Sahasrad correctly spelled the word 'Augean' meaning extremely difficult and occasionally distasteful, and made his way into the finals.   
Ekansh Rastogi, Florida    
8th grader Ekansh Rastogi from Orlando is familiar with the challenges of Scripps National Spelling bee, as he had competed in the 2019 edition. A cricket and tennis enthusiast, Ekansh enjoys coding and cooking equally. 3-D designing is his favorite pastime when not busy spelling. Interestingly, he has been spelling since the fourth grade. He made it to the 2022 Scripps National Spelling Bee finals by spelling the word 'Kaiserin' correctly.
Vikram Raju, Colorado
12-year-old Vikram Raju from Denver has spelled his way into the Scripps National Spelling Bee 2022 finals by spelling the word 'Golilla' correctly. He advanced from the 21st place in the 2021 edition to the 2022 finals on strength of his diligence and determination. He plays the piano and basketball with equal enthusiasm, in addition of his interest in spelling and phonics. He is passionate about exploring geography and protecting environment. Hiking is his favorite adventure and unwinding in nature is his favorite pastime.
Abhilash Patel, New York 
Abhilash Patel, an Indian-origin New Yorker from the Hudson Valley, secured a place for himself among the 12 finalists of the Scripps National Spelling Bee 2022. Reading fantasy novels, solving mathematical paradoxes, exploring historical facts and computer programming are his interests. He gets busy programming in JavaScript, CSS, HTML and Python when not spelling words. Abhilash aspires to make it big in computer science. Coryza is the word that he spelled correctly to advance to the finals.
Sahana Srikanth, Ohio 
13-year-old Sahana from Cincinnati got a ticket to the finals of America's biggest spelling bee competition by correctly spelling the word 'Balaam' meaning an Old Testament prophet. She is equally enthusiastic about performing arts and STEM. She has been growing up playing piano and violin. She has been learning and performing Bharatanatyam for 7 years. A member of several robotics teams since 2017; Sahana Srikanth loves coding, specially for Android applications. She loves composing as well. Suspicion, one of her compositions, was a national finalist for the National Federation of Music Clubs in 2021.
Nitya Kathiravan, New Jersey 
13-year-old Nitya Kathiravan is one of the 10 Indian-origin spellers among the twelve finalists this year. She has been a book enthusiast from a tender age. Her passion for reading books piqued her interest in spelling at a young age. She loves ceramics, volleyball and swimming as well. Gardening is her favorite pastime in spring and summer. She harvests certain vegetables in her garden every year. A student of Rutgers Preparatory School, Nitya spelled the word 'Cymatium' correctly in the semi-final.
Vihaan Sibal, Texas 
Vihaan Sibal representing Central Texas in the 2022 Scripps National Spelling Bee has qualified for the finals for the fourth time. Often referred to as a spelling whiz, Vihaan started spelling as a second grader. He prefers listening to music or playing the cello when not busy studying words. Playing tennis or ping-pong is his favorite pastime. Having spelled the word 'Lipofuscin' correctly got him his ticket to the finals this year. A student of Midway Middle School, he admires Rafael Nadal. 
Saharsh Vuppala, Washington   
Saharsh, a resident of Seattle, made his way to the finals by spelling the word 'Acmonital' correctly. He is an avid reader and language enthusiast. French is one of his favorite languages. Mystery and thriller are his favorite genres in literature. He watches daily news to stay abreast of current affairs and interprets statistical information to keep facts at his fingertips. He not only searches for new words but also quizzes her sister on those words. Coding, programming and playing badminton are his interests.
Harini Logan, Texas 
The 2022 Scripps National Spelling Bee finalists include Indian-origin Harini Logan from San Antonio, Texas. She is a prolific reader and creative writer. Her first book will see the daylight soon. Driven by her love for reading, she started learning the art and science of spelling. Traveling, listening to music and watching movies are her favorite indulgences. She loves playing the piano in spare time. Once the finals are over, Harini Logan will set out on a much-awaited journey to explore a new place with her family. The correct spelling of the word 'quinquefoliolate' got her into the finals.
Shijay Sivakumar, Texas 
14-year-old Shijay Sivakumar is one of the three Indian-origin spellers from Texas among the 12 finalists. He correctly spelled the word 'Bandurria' and advanced to the finals. Binge watching the Scripps National Spelling Bee shows piqued his interest in learning the art and science of spelling. Reading and playing basketball are his hobbies.