Last week (June 22, 2017), NASA gave a global surprise by launching the world's lightest and smallest satellite into space. Indians at home and abroad couldn't help rejoicing in this historic moment since the tiny satellite was made by an 18-year-old young Indian from Tamil Nadu.
Named after India's eminent nuclear scientist and former President Dr. A P J Abdul Kalam, the satellite KalamSat is the brainchild of Rifath Sharook, an 18-year-old student in Tamil Nadu, and his team. Surprisingly the satellite weighs not more than 64 grams. Rifath Sharook designed and developed KalamSat without any help from professional space scientists and engineers.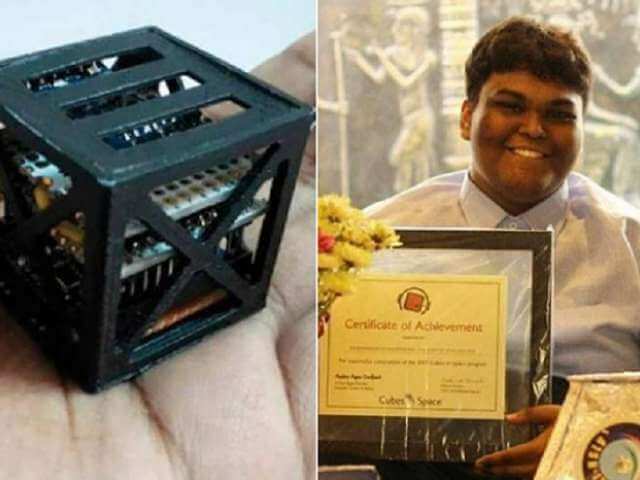 The world's lightest, smallest satellite, KalamSat is a 3.8 cm cube, which can be held on one's palm. Made of reinforced carbon fiber polymer, the satellite has a totally 3D-printed structure. Equipped with nano Geiger Muller counter, it is supposed to help measure the intensity of radiation in space.
NASA selected Rifath Sharook's KalamSat satellite through a global competition, 'Cubes in Space,' which NASA organized in collaboration with 'I Doodle Learning,' an international education company. The challenge was to design an innovative satellite model which could easily fit into a 4-cm cube of 64 grams.
NASA successfully launched KalamSat into space from its Wallop Island facility in Virginia. The total flight time of the rocket carrying the satellite was 240 minutes. Assembled in Chennai, KalamSat was in the micro-gravity environment of space for 125 minutes, and then it fell into the sea. NASA will recover it from the sea and decode the data.
Apart from selecting the world's lightest satellite KalamSat from India for an experiment, NASA recently awarded two innovative projects of Indian teenagers: Chennai-based student Sai Kiran P's model of elevator to connect earth with the moon for an interplanetary human settlement, and two Delhi-based students' underwater human settlement model.
Indian Eagle, a trusted travel partner of Indians in America for booking their cheap air tickets to India from USA, publishes stories of young Indian achievers, shares latest air travel news and lists upcoming Indian events in US cities on Travel Beats, a leading Indian community portal.