Cooking is often looked down upon as a mere household chore. Rather, cooking is an art, a talent, and an accomplishment. This is what 10-year-old Saanvi M Prajit, a budding chef from Kerala, believes with all her heart. Much to the surprise of everyone, she has secured a place in the Asian Book of Records and the India Book of Records for cooking as many as 33 dishes in just one hour. Unbelievable! She now holds a record for a maximum number of dishes cooked by a child.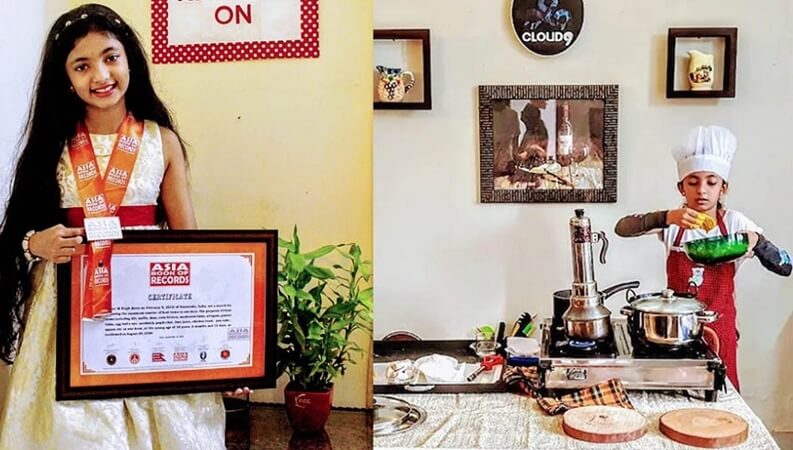 The platter she dished out in just 60 minutes is nothing short of a challenge to master chefs. Idli, appam, uttapam, fried rice, pancake, corn fritters, chicken roast, paneer tikka, mushroom tikka, sandwich, fried egg, and Papdi chaat are among the dishes Saanvi M Prajit cooked to achieve the feat that many adult cooks would envy. No wonder is she appears on MasterChef India someday.
Kerala's Ernakulum district seems like home to budding chefs, as Nihal Raj aka Kicha – who was only 6 years old in 2016 – was the youngest Indian chef to feature on the Ellen DeGeneres Show in the United States. He amazed the host and the audiences by cooking Puttu, a traditional Kerala breakfast recipe, live. His cooking expertise made him an internet sensation overnight back then. It was followed by Facebook's acquisition of his Mickey Mouse Mango ice-cream video for US$ 2000.
Daughter of a wing commander in the Indian Air Force, 10-year-old Saanvi M Prajit gave a demonstration of her cooking talent, in presence of two gazetted officers, at her residence in Visakhapatnam. The Asia Book of Records authorities watched the live recording of the demonstration. She credits her passion for cooking to his mother, a celebrity chef, and her grandmother. Cooking became her favorite pastime at an early age.
Besides running a YouTube channel, Saanvi M Prajit is a trained Bharatanatyam. Horse-riding is one of her hobbies other than cooking. Recently, Aadith Vishwanath Gourishetty, a 21-month-old prodigy from Hyderabad, made it to the World Book of Records for his extraordinary memory power.