Hyderabad reached a milestone in infrastructural development, with the spectacular inauguration of the much-awaited Hyderabad Metro Rail today (November 28, 2017). Prime Minister Narendra Modi and Telangana CM K. Chandrasekhar Rao inaugurated the 30km stretch of the total 72km Hyderabad Metro Rail network. The 30km stretch from Nagole to Miyapur via Secunderabad, Ameerpet and Begumpet will be open for public use from November 29 onwards.
The inauguration of Hyderabad Metro Rail is a heartening sigh of relief from traffic trails which choke the city life during peak hours of the day. 57 trains having three coaches each will be running along the 30km stretch from 6 am to 10 pm for initial days. The Hyderabad Metro Rail schedule would be changed to 5.30am-11pm following an increase in traffic and demand. Each of the metro train coaches can accommodate 330 passengers. More coaches would be added to each of the 57 trains if daily traffic increases.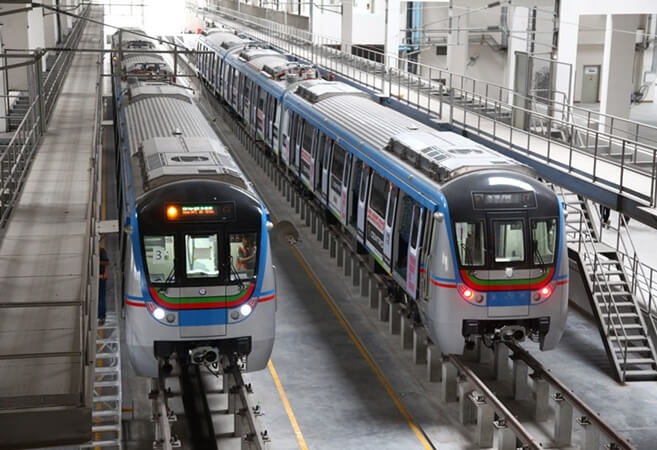 If you are a visitor or a daily commuter in the city, you should know certain rules and regulations before riding the metro. The following Hyderabad Metro Rail rules and regulations are to be strictly followed:
The permissible weight of luggage is up to 40 kg per passenger, but charges will apply if one passenger's luggage weight exceeds 10 kg. The allowance is one rupee per kg beyond 10kg of luggage. Gunny bags of rice or wheat are strictly not allowed at Hyderabad Metro Rail. Metro riders can carry proper travel bags measuring up to 65cm in length, 45cm in breadth and 25cm in height.
Hyderabad Metro Rail tokens (tickets) are valid for only 30 minutes from the time of purchase. If a passenger takes more than 30 minutes to be on the platform from the time he purchases a token, the token will be automatically cancelled without any refund. Entry to the metro train will be denied to the passenger without a new token. The premises including platforms are under surveillance 24 hours.
Only smart card users or token holders can stay up to 2 hours within the premises of Hyderabad Metro Rail (excluding the platform). Once a smartcard is swiped, the system will automatically detect how long the smartcard holder has been within the premises.  Non-passengers or mere visitors will not be allowed to hang out there. One having no smart card or token will be asked to leave the premises immediately or pay a fine.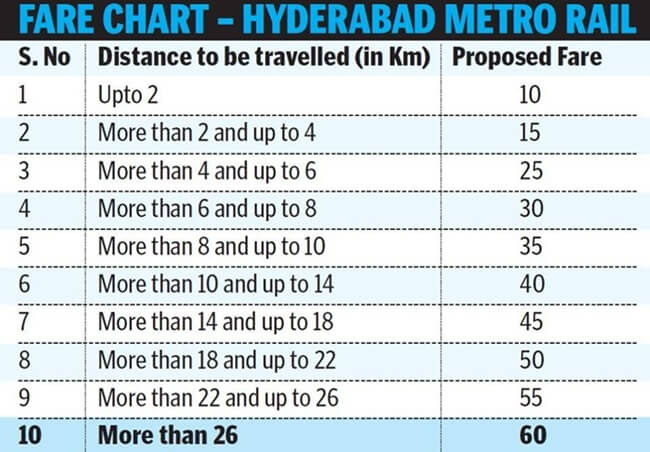 Those who are not daily commuters can avoid long queues to the ticket counters during peak hours. A metro staff member with a Portable Ticket Analyzer (PTA) machine will be there to issue tokens in hours of rush.
There are three areas – Platform, Private and Public – at each metro station. Public areas are accessible to all, but only Hyderabad Metro Rail smartcard users and token holders are allowed in private areas and on platforms.
Passengers can sit in the metro train compartments depending on seat availability during their journey. Or else, they have to stand while traveling. Those who do not get seats and are not eligible for the seats reserved for women, senior citizens and the handicapped must not sit on the floor of the compartment. Otherwise, the Hyderabad Metro Rail authority may levy a hefty fine on them.
Matchboxes, lighters, petrol, kerosene, gas cylinders, stoves, any kind of inflammable or explosives, knives, scissors, and any kind of objects with sharp edges are among the prohibited items at Hyderabad Metro Rail.

Some Interesting Facts about Hyderabad Metro Rail
The inaugural ride on Hyderabad Metro Rail for PM Narendra Modi, Telangana CM KCR and other delegates was operated by a woman loco pilot today. Over 35 women loco pilots have been employed to operate the metro trains, according to KT Rama Rao, Telangana's IT minister.
The Telangana State Road Transport Corporation (TSRTC) announced to introduce feeder services for Hyderabad Metro Rail. The Hyderabad Metro smartcard for daily passengers, which was launched last week, would be allowed in different modes of transport in the near future. People would also be equipped with a mobile app named "T Savari" to facilitate transportation for them.
Rajiv Gandhi International Airport may be brought within the Hyderabad Metro Rail network. The feasibility of linking the metro rail to the RGI airport is currently under review.
The second phase of the Hyderabad Metro Rail project includes construction of sky-walks between the metro stations and key public facilities like shopping malls, commercial complexes, government buildings and stadiums. The project may be completed by the end of 2018.
The Hyderabad Metro Rail authority has deployed as many as 546 security personnel from private agencies to man the metro stations along the inaugurated 30-km stretch.
Interesting Hyderabad News: