India is on an innovation spree! With back-to-back innovations, India makes headlines every other day. Such innovative ideas as umbrella for more than five persons, alerting system for bus drivers, gas stoves with passcode based locking system, watch with medicine delivery system, smart walking stick, soundproof hammer, solar-powered boats and likes are coming up to help the nation ensure a brighter future for its people. In addition to scientific and technological innovations, India is innovating ways for common people to help the needy in day-to-day life.
'Wall of Kindness' is the latest charity and welfare innovation enabling people to help the underprivileged with basic needs. Borrowed from Iran where it was first initiated, the Wall of Kindness is making ripple effects across India. It is neither a roofed institution nor a walled organization. The Wall of Kindness is a colorfully painted roadside place where people from neighborhoods can leave clothes, blankets, shoes, bed sheets, food, books and other useful things to be picked up by the needy. "Take what you need. Leave what you don't," is the official motto of this country charity phenomenon called "Neki ki Deewar" in Hindi.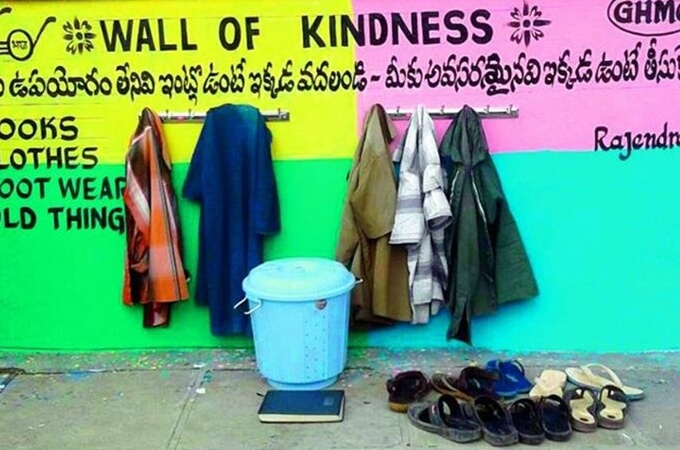 Walls of kindness inspire people to pursue acts of humanity and benevolence for the welfare of those in dire need of basic things. This sort of unconventional charity is a boon in a developing country like India where around 78 million people, including 11 million street children, are homeless as per the 2011 census. Approximately 20% of the total homeless population lives in urban India. The Wall of Kindness in India has been lauded as a wonderful gesture of compassion and social responsibility towards the destitute.
Widely known as 'Neki Ki Deewar' across north India, the Wall of Kindness is a covered with colorful graffiti, attention-grabbing motifs and hangars. With the help of youths, NGOs, social activists and municipal corporations, the Wall of Kindness in India has spread like wild fire to Delhi, Punjab, Haryana and Rajasthan. There are walls of kindness in Ahmadabad and Allahabad too. Bhopal in Madhya Pradesh and Kanpur in Uttar Pradesh have got walls of kindness.
Recently, Hyderabad City got the Wall of Kindness. Located at two places in Rajendranagar, one of the neighborhoods, the Wall of Kindness in Hyderabad has elicited a huge response from citizens. People keep visiting the walls of kindness in Hyderabad to donate things for the poor. The Greater Hyderabad Municipal Corporation is planning to build more walls of kindness across the city. Since it is monsoon in Hyderabad, the walls of kindness in the city are being protected with sheds, so that acts of generosity are not disrupted in rains.
The Wall of Kindness in India is not entirely an institutionalized initiative. Though NGOs came forward to introduce walls of kindness in some parts of the country, it is the citizens including social activists, youths and retired persons who enthusiastically popularized the Wall of Kindness in their neighborhoods. Rajesh Duragkar, a 63-year-old retired government employee in Mumbai, set up walls of kindness in his own neighborhood and the adjacent ones. He went extra miles to install the Wall of Kindness in Nagpur too.
Unlike the walls of economic divide, the Wall of Kindness bridges between the haves and the have-nots through compassion. It blesses those having spare things to donate, with the joy of giving.
Travel Beats by Indian Eagle is a digital publication for Indian Diaspora to keep up with news and stories of India. Subscribe to Travel Beats' free newsletter and receive exclusive stories to your email inbox.
Read More Inspirational Stories of India