Indian American women from different walks of life are hitting new heights of fame and success. Recently Indian American Neera Tanden, the President and CEO of the Center for American Progress, became one of the co-chairs of Hillary Clinton's presidential transition team. Now 61-year-old Indian American Renu Khator, who leads a major research university in the US, is the talk of Texas.
Renu Khator, the first foreign-born Chancellor and President of the University of Houston (UH), is all set to be inducted into the Texas Women's Hall of Fame for making immensely significant contribution to the academic progress of Texas, the second largest state in North America.
Born in the Indian state of Uttar Pradesh where eminent Indian American entrepreneur and philanthropist Frank Islam hails from, Dr Renu Khator will walk into the hall of fame at Texas Women's University of Denton on October 21 this year. A Doctor of Philosophy in political science and public administration, Renu Khator is highly credited for steering the University of Houston towards a prestigious position among the topnotch research universities in the United States.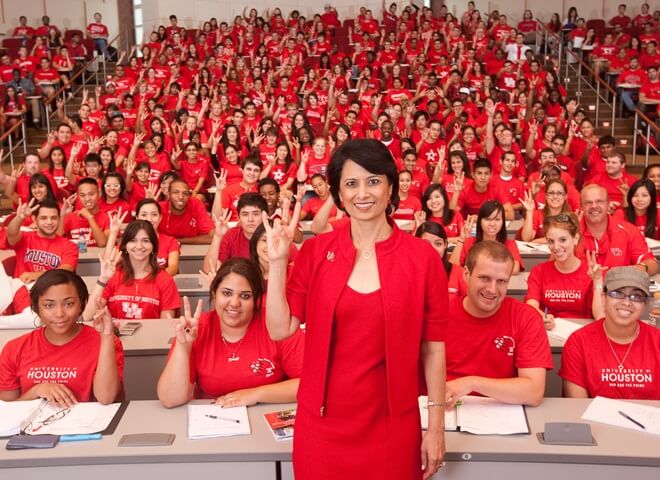 She is the first Indian immigrant to helm a comprehensive public research university in the US. Several members of the illustrious national academies in science and engineering have joined the University of Houston during her eight years of service. Undergraduates are scoring better grades to add to the academic excellence of the university. She along with other women leaders to be inducted into the Texas Hall of Fame have inspired generations of Texans to achieve new goals and reach new heights, according to the statement from Governor Greg Abbott. (Read stories of Indian American women's achievements in different fields)
Dr Renu Khator was senior vice president of the University of South Florida before her appointment for a dual position at the University of Houston in 2008. As Chancellor of the UH, she helms a system which is responsible for over 70K students and whose annual economic impact on the Greater Houston Area is worth approximately $3.8 billion. It is because of her leadership that the UH was declared a tier one university in 2011.
To be inducted into the Texas Hall of Fame is not Dr Renu Khator's first major achievement. She was appointed a member of the Federal Reserve Bank of Dallas' Board of Directors. She was elected chair of the Board of Directors of the American Council on Education (ACE), a major coordinating body for colleges and university in the US.
Indian American Renu Khator is a renowned scholar in the field of global environmental policy too. She is also a published author with several books and articles to her credit.
Travel Beats is a digital publication for Indian Diaspora by IndianEagle, a leading travel organization for Indians in America. Travel Beats publishes latest news and stories of Indians in USA.