Moments of pride dawned upon the Indian American community when it was announced "The 2016 Great Immigrants: The Pride of America Award goes to four Indian Americans" among the 42 winners representing 30 countries. They are Sundar Pichai, Bharati Mukherjee, Hari Sreenivasan and Vikram Malhotra.
The Carnegie Corporation of New York, founded by Scottish immigrant Andrew Carnegie, institutionalized the Pride of America Award in 2006 to felicitate eminent naturalized citizens of America for their notable contributions to the progress of society.
"The accomplished winners of 'The 2016 Great Immigrants: The Pride of America Award' represent millions of immigrants who have come to the United States for various reasons such as business, employment, education, politics, security and reunion with relatives or family. They, like all Americans, share a common faith in this country," says Vartan Gregorian, President of Carnegie Corporation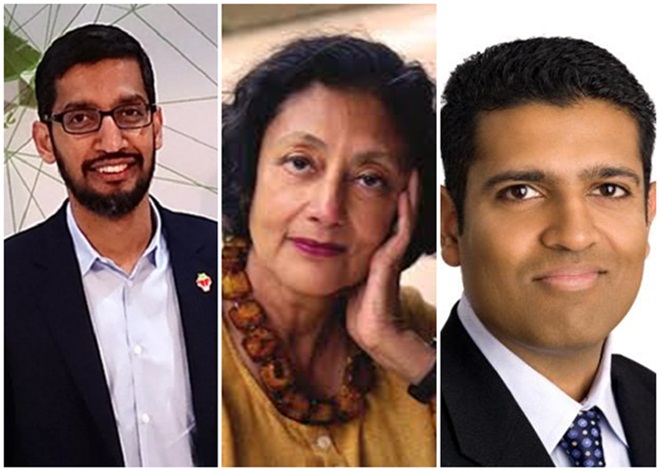 Google CEO Sundar Pichai needs no introduction! A Chennai-born IIT graduate from India, he earned an MS degree from Stanford University and pursued MBA at Wharton School. Since 2004 he has been a Google employee and worked on development of several Google products including Gmail, Chrome OS, Google Drive and Google Maps.
Among the Indian American winners of "The 2016 Great Immigrants: The Pride of America Award", Bharati Mukherjee is a professor and published author in USA. A graduate of Calcutta University in Kolkata, she did PhD at the University of Iowa. She has authored several novels, including "The Tiger's Daughter," "The Holder of the World," and "Wife."
Bharati Mukherjee is a professor of English at the University of California, Berkeley. Previously she had taught at the City University of New York, the University of Iowa, Queens College and McGill University. She won the 1988 National Book Critics Circle Award for "The Middleman and Other Stories."
Hari Sreenivasan, an anchor and senior journalist at PBS Newshour, received American citizenship in 2008. Born in Mumbai and schooled in Seattle, he graduated in politics and mass communication from the University of Puget Sound. Prior to joining PBS Newshour, Sreenivasan worked with ABC News in New York City and CBS News in Dallas.
It was Hari Sreenivasan who hosted a talk with Indian Prime Minister Narendra Modi at Madison Square in Midtown Manhattan during the latter's first visit to the United States in 2014.
Vikram Malhotra, Chairman of the Americas at McKinsey, is the fourth Indian American recipient of "The 2016 Great Immigrants: The Pride of America Award". He joined McKinsey in 1986 and currently serves the conglomerate's clients in the financial service sector. In his illustrious career, he has worked with major financial institutions in private banking, retail banking, asset management and consulting.
Outside McKinsey, Vikram Malhotra is a member of several nonprofit organizations including the Touch Foundation, the Asia Society and the Conference Board. He is also a trustee on the board of the Wharton School of Business at the University of Pennsylvania, where he earned his MBA from.
These four Indian American winners' journey from India to USA, professional accomplishments and contributions to society are full of inspiration.
Travel Beats is a digital portal for Indian Diaspora by IndianEagle, a leading international travel organization. It publishes latest news, interesting features, inspirational stories from USA and India.