Piya Mitra and Ray Mitra, the founders of Induz in California, were recently felicitated at the 9th annual Asia Pacific Islander American Heritage Leadership Awards in Fremont. This Indian American couple from the Alameda and Santa Clara counties belongs to the Asia Pacific Islander community. They are among the local community leaders who are distinguished from the rest by virtue of their contributions to the progress of society and the development of underprivileged sections.
Born and brought up in India, Ray Mitra and Piya Mitra relocated to the United States in the 90's. They founded Induz, a non-profit organization in San Francisco Bay Area in 2004, to make a difference with the power of arts and music. The founder duo has come a long way on their mission and enlightened many lives through cultural initiatives in California.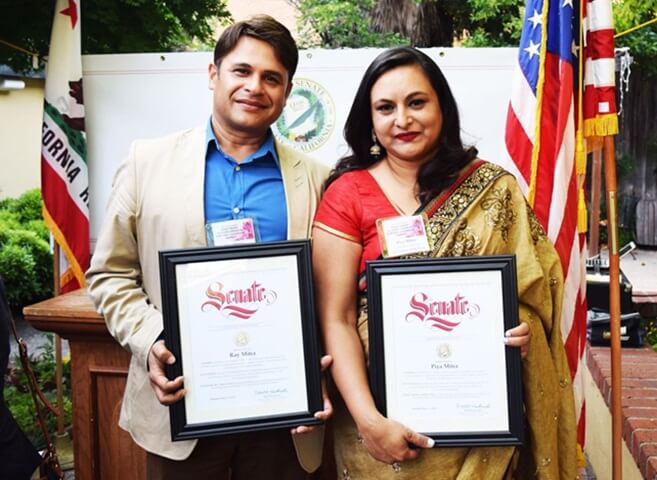 The noble mission of this Indian American couple has traveled back from the US to India. Induz has ignited the torch of culture education in India and Africa as well. The founder duo of Induz sponsors education of underprivileged children in arts and culture for their creative development at various places across India, including an orphanage in Bangalore.
One of the enlightening initiatives by Piya Mitra and Ray Mitra at Induz, the 'Passport to World Arts' has bridged the gap between culture education and schools in San Francisco Bay Area. Initiated in 2010, the program brought free arts education to the socio-economically weaker school districts in the USA. Indus has successfully managed to brighten the lives of several thousand children with the 'Passport to World Arts' program in more than 150 schools.
The 'Passport to World Arts' program is so successful today that it has been showcased at prestigious art museums such as the San Francisco Airport Museum and the Museum of Children's Art in Oakland.
The Mitras did not stop there. The success of the 'Passport to World Arts' program catapulted their mission to Kenya. Roo, a remote village in Kenya, is home to many HIV-positive children. The founders of Induz have stepped forward to provide counseling to those children through art and music therapies at an upcoming resource center in the village. They are looking to open a library in the village.
Piya Mitra and Ray Mitra, the founder duo of Induz, are among those Indians in USA, who believe in giving back to local communities in USA and connecting with their roots in India at the same time.
Travel Beats is a digital news portal for Indian Diaspora by IndianEagle, a leading international travel organization for Indians in USA. Subscribe to Travel Beats for the latest updates from the Indian Community in America.