"Gujarat is a land of captivating contrasts." The contrast of colors is best reflected by the state's textile handicraft that is rich, flamboyant, elegant, and ethnic. It is a cultural identity of the Gujarati folks who are known for their passion for colorfulness, aestheticism, ethnicity, and traditional fashion. The Gujarati textile handicraft is expressive of their artistic personality and cultural heritage, a legacy that is passed on from generation to generation. The Gujarati textile handicraft is distinctly identifiable in the multiregional milieu of Indian art and crafts. With Indian Eagle, take a tour of Gujarat's most ethnic handcrafted textiles.
Patola

– rich and flamboyant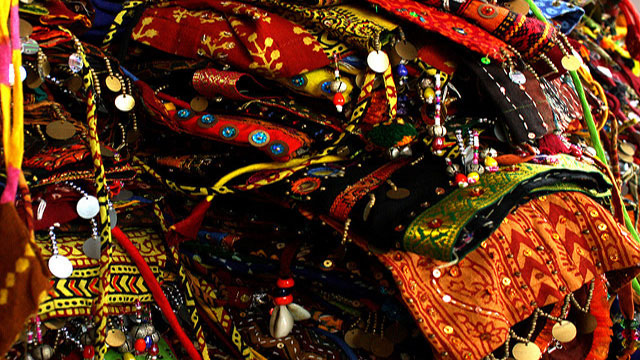 Bearing a testimony to the richness and flamboyance of Gujarati handicraft culture is Patola that means "Queen of Silks". Patola is a traditional silk-weaving art which was patronized by the Solanki Rajput rulers in the 12th century. This textile handicraft of Gujarat is believed to have originated and evolved from the age-old tradition of decorating mud-walled houses with murals and terracotta designs in the rural areas of Kutch. Patola silk sarees are woven in geometrical patterns and dyed in flaming colors. Folk motifs dominate the multicolored and delicate designs of Patola sarees with dazzling borders. High color durability is the mainstay of Patola silk sarees which are also available with zardosi embroidery and kundan work to be worn on festive occasions. Patola became a cultural symbol of Gujarat as well as a status symbol of the affluent people due to the efforts made by the Salvi weavers who migrated from Karnataka and Maharashtra.
Bandhani

– a riot of colors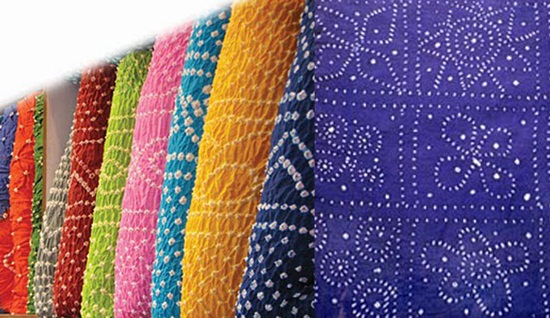 The riot of colors that is seen during the holi festival all over India is best captured on fabric through Bandhani, by the handicraft textile weavers of Gujarat. Attributing colorfulness of the ethnic fashion of the state is Bandhani handiwork, an age-old tie and dye technique. The craftsmen, who are mainly women, create a poetry of emotions through eloquent designs on the fabric woven from superfine cotton 'mulmul'. Bandhani with zari work is the secret to the unmatched beauty of gharchola odhni, worn by Gujarati as well as Marwari brides, and festive sarees. Interspersed with the lifestyle and culture of the Jat, Meman, Rabari, Kumhar, and Harijan communities, Bandhani is done in different styles in different parts of the state. Jamdani is one of the most popular Bandhani styles. Identified with the beauty of Indian brides, this traditional craft of Gujarat thrives in Bhuj, Mandvi, Mundra and Jamnagar.
READ MORE Village Life in Gujarat
Needlework – delicate and elegant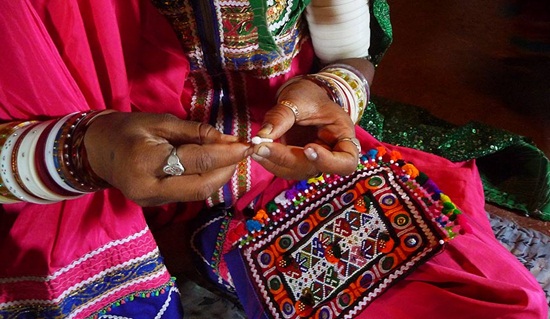 The most spectacular textile based handicraft of Gujarat is needlework or embroidery, a chief source of living for thousands of artisans in the state. A pride of Gujaratis, embroidery is a woman-based handiwork that is known for elegance, delicacy and splendor the world over. At least, one thing of embroidery is sure to be found in every household in this Indian state. Toran, Chakla, Bhitiya and Pachhitpatis are some of the embroidered items which are the best buys here. Toran is a hanging flap used for doorway decoration. Chakla is a square piece of embroidery to beautify the upholstery of furniture. Bhitiya is a wall hanging that does up the interior. The ethnicity of Gujarat is best reflected by the varieties of patchwork, a kind of needlework. Abhala and Ari Bharat are the most popular variations of Kutch embroidery. Ari Bharat is mainly the applique work, while Abhala is the blend of embroidery and mirror work. The popularity of Gujarati needlework is leveraged in a contemporary fashion by ethnic textile designers.
READ MORE [btn link="https://www.indianeagle.com/travelbeats/madhubani-painting-of-mithila-in-bihar/" color="grey" target=""]Rural Art & Craft of India[/btn]
Zari

– an ethnic fashion statement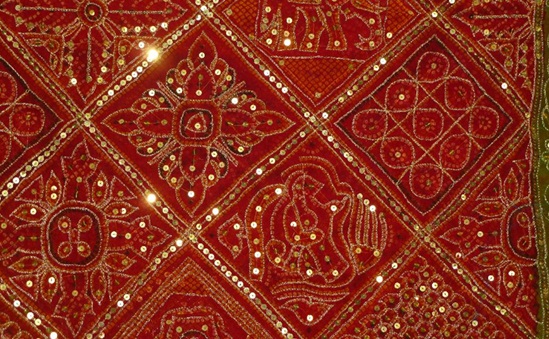 Zari refers to the silver or golden thread used in the weaving of chunri, turbans, and borders of sarees and lehengas. Surat is the hub of zari work or zardosi or gold embroidery in Gujarat. The origin of this Gujarati textile handiwork dates back to the Mughal era of India. Surat is known for manufacturing high quality zari which is exported aboard as well. Zari is the main material used in the making of wedding outfits for brides and grooms in the Gujarati and Rajasthani communities. Modern-day designers having obsession with ethnic fashion are blending zari and other materials into the making of chic handbags, cushions and kurtas.
Hand Painting – a timeless tradition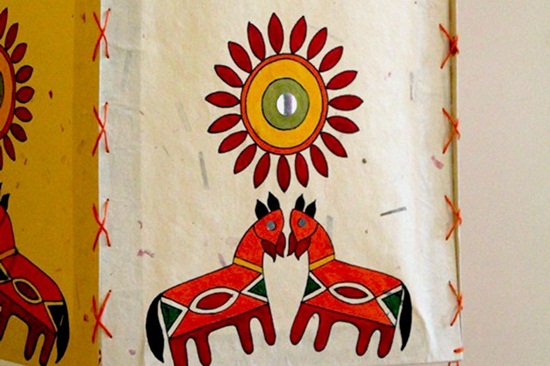 Hand painting on fabric is one of the timeless handicraft traditions of Gujarat. Hand-painted cloth is used for making home improvement items including upholstery such as cushion covers, bed sheets, table covers, wall hangings, window curtains, etc. The hand-painted designs of the cloth are tailored according to the items to be made. The motifs of design are mainly inspired by the mythology of India. The Vaghari Harijans of Ahmedabad are known for their unsurpassed skills in hand-painting of fabric. Tales from the Puranas are meticulously depicted on a large piece of cloth through hand-painting. Buy a piece of hand-painted item as a cherished memento of your travel to Gujarat.
Indian Eagle celebrates whatever is Indian to the core and offers the cheapest airfare to India from international airlines.