The Sun God is revered on the special occasion of Chhath Puja which is celebrated in North India, on a grand scale. Surya Shasthi or Chhath Puja is a worship ritual to acknowledge the importance of Sun, which prolongs life on Earth.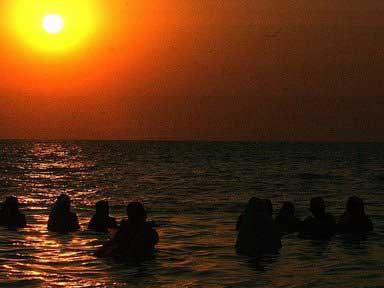 The date of the Puja which falls after Diwali, celebrates the Circle of Life that flows from Life into Death. This ritual has been passed down from the Vedic Age that follows a set of customs.
Abstinence from food is strictly followed.Holy bath, fasting by abstaining from drinking water (Vratta), standing in water for a long period of time, offering Prasad (prayer offerings) and aragh to the setting and rising sun.
Spread over four days, the Puja begins with a Holy dip in the River Ganges or any other water body. The holy water is brought Home to prepare offering or Prasad.
The belief is the Puja is performed to request the grant for certain wishes and seek blessings for long life of the Family members. The Rays of the Sun are supposed to cure diseases like leprosy. It is the only Vedic festival dedicated to the Sun God.
Chhath denotes the number 6 in Hindi, celebrated on the sixth day of the Hindu lunar month of KARTIKA. The word originates from the Prakrit derivation in Sanskrit, ṣaṣṭhi means sixth as this Puja is also known as "Surya Shashti".
Chhath Puja is observed in the following manner for four days.
Day 1: Nahay khay (literally, bathe and eat)
On the first day devotees take a dip, preferably in the holy river Ganges. The holy water is used to prepare offerings. The house is swept clean and food is cooked on an earthen stove, in new bronze or earthen utensils.
Day 2: Kharna or Lohanda (the day before Chhath)
Fast is observed for the entire day ending at sunset. The devotees separate themselves from their family members for four days by sleeping on the floor. On the next day, a fast is observed that ends at sunset. For the next 36 hours another fast is observed without water. Kheer Puri is specially prepared as  prasad for the ocassion.
Day 3: Chhath ( evening offerings)
The day is spent in the preparing of Prasad. Offerings are made with milk to the setting sun, by all the family members.
Day 4: Paarun (the day after Chhath)
On the final day of Chhath Puja, the devotees with family and friends make offerings at sunrise.
The festival ends with the breaking of the fast and distribution of Prasad. The chhath has so much significance that the rich also seek for the prasad at the Chhath ghat.
Witnessing Chhath celebrated at the crack of the dawn on a river bank is a beautiful, elating spiritual experience. Visit India to witness how age old traditions are upheld and preserved with reverence. Book cheapest flight tickets with Indianeagle.com