Are you looking for reasons to fly to India in the months of winter? Just eye through the calendar of events, and you will find out why travel to India during winter. This season of the year – the time for coffee break – comes with celebration of cultural festivals in different parts of the country. For instance, Puri, the abode of Lord Jagannath in Odisha, is busy preparing for the beach festival, to be held in the last week of this month. If the Chariot Festival (Rath Yatra) is popular with pilgrims, Puri Beach Festival appeals to the seaside loving tourists.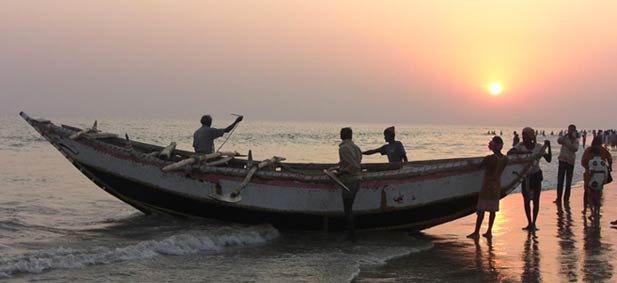 Puri Beach Festival falls in the category of popular modern Indian events which are held with great efforts to introduce tourists to the cultural heritage and traditions of India. This winter festival of Odisha was incepted in the year 1993, with the mission – the spectacular exhibition of the Oriya culture, art and life. Since then, it has come a long way with a huge fanfare. A distinct departure from religiosity, it upholds the cultural vibes of the state and the country in a unique milieu.
As the name goes, the festival is organized on the stretch of sands and in the open air. The warmth of the beach, the cool breeze, the playful waves, the cozy ambience and the local hues add to the fun and entertainment quotient of the festival. Art exhibitions, culinary fests and cultural programs hold attraction of the beach festival in Puri. It keeps tourists engaged with the place and its liveliness for five days.
The most colorful part of Puri Beach Festival is the catching display of handicraft items which steal the show with tourists having creative sensibilities. The other must-not-be-missed highlights are local cuisine, folk dance performance, and sand sculptures. The folk dance performance is a visual manifestation of the Oriya culture, and a mass entertainer. It promises the moments of absolute enchantment.
Puri Beach Festival rocks with the Gen Y too. Those who are not much interested in the conventional facets of the event can derive kicks out rock concerts, firework display and DJ shows on the beach. Wonderful sand sculptures leave visitors speechless in surprise. Thus, it caters to the taste of the people of all groups. The pervading fervor of the beach festival makes Puri a perfect winter holiday destination in India.
Book the cheapest flight to India with IndianEagle.com, for your winter vacation at Puri in Odisha. India Eagle is committed to offering the lowest airfare the year round.