The camel is known as the "Ship of the Desert". Every year in January the little known village of Ladera, 45 kilometers away from Bikaner, transforms into a riot of colors. The Bikaner Camel Festival wears the atmosphere of a carnival.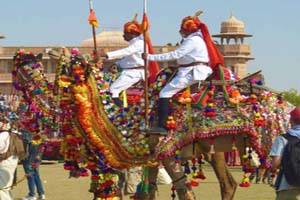 Rajasthani culture and tradition come to the foreground against the background of the sand dunes. A kaleidoscope within the perfect settings, sand, clear sky and music, the camel is celebrated.
The Department of Rajasthan Tourism ensures that Rajasthan is projected in its colorful glory. The Junagarh Fort is spruced up to match  the brightly bedecked camel covered is ornamented necks and tinkling anklets.The local folks perform the Ghoomar, dancing with swirling skirts against lively fireworks.
A pageant is planned with beauties walking down the ramp.For a change the model are Camels, decorated with utmost care by their owners. Some of the categories include best decorated camel, fur cutting design, camel beauty pageant and the best camel haircut.
The competition takes off with camels being paraded, making a bid to win the coveted title.
The celebration includes a long list of events, competitions and functions including best decorated camel, fur cutting design, camel beauty pageant and the best camel haircut.
The festival also showcases folk dance performances by the local artistes. The Lal Angi Dandiya Gir Nritya is a dance about valor. Dressed in red the dance sets the tempo for the celebration. The festival lasts from Dawn to dusk
The acrobatics by the camels take six months to perfect. Strutting, rolling on the ground, raising themselves high horse-style on just their hind legs, lifting money and tea kettles with their mouths and taking their owner's neck by their mouth.Freshly milked camel milk is given to visitors at random. The milk is believed to be highly nutritious and a cure for diabetes.
Next time you want to plan a splendid getaway, consider Rajasthan with its warmth and color.IndianEagle offers Lowest Prices to Rajasthan.