Is traveling by air while pregnant possible? Do international airlines permit flying during pregnancy? Is a "fitness or no complication" certificate from a doctor mandatory for international flights during pregnancy? There is a lot to know about airlines' policies for pregnant travelers before booking your flight. As different airlines have different policies for expectant women, you may end up being baffled about which airline is the best for flying during pregnancy, or which airlines have compliable rules for traveling during pregnancy. You may get tips on flying to India from US during pregnancy from different sources, but knowing nothing about US to India airlines' policy for pregnant women won't help. Below is our guide on how you can travel to India from US when you are pregnant, based on a compilation of regulations from some of the major airlines: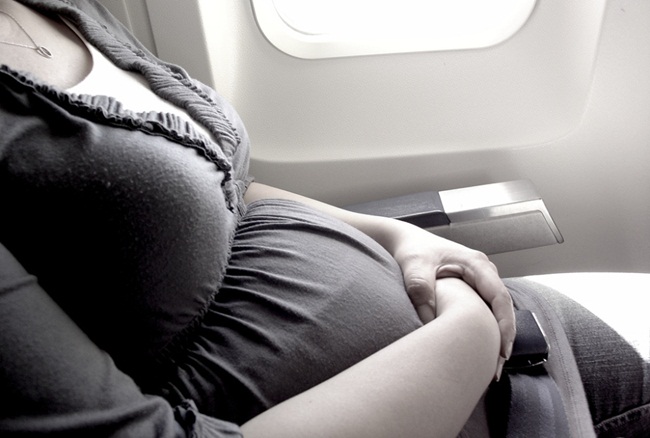 Different Airline Policies for Flying during Pregnancy
Air India's Policy for Pregnant Passengers
According to Air India's policy for pregnant travelers, expectant women in good health can fly till the 32nd week of pregnancy. Air India permits traveling during pregnancy to women with high possibility of normal delivery till the 35th week. In this case, a medical certificate ascertaining their fitness for flying on long-haul routes is essential. Flying during pregnancy beyond 35 weeks may be possible on grounds of urgency or compassion. Flying while pregnant till the actual delivery requires women travelers to sign an indemnity bond and be accompanied by a physician on Air India's international flights. Permission for traveling at the advanced stage of pregnancy should be sought from Air India's Chief Medical Officer.
READ MORE Air India's Baggage Policy for US to India Flights
British Airways' Policy for Expectant Women
British Airways' policy for air travel and pregnancy is stricter than Air India's. Expectant women cannot board British Airways' flights once the 36th week of pregnancy is over. If you are expecting more than one baby, you cannot fly with British Airways after the end of the 32nd week of pregnancy. Flying while pregnant for more than 28 weeks requires you to carry a confirmation letter from your doctor or midwife with regards to your fitness for air travel and the possible delivery date.
READ MORE British Airways Baggage Policy for US to India Travel
United Airlines' Policy for Pregnant Women
A medical certificate confirming your health and fitness is required for traveling on United Airlines in the ninth month of pregnancy. The certificate should not be dated before 72 hours of the scheduled departure. You need to carry the original certificate and its two copies as well. According to United Airlines' policy for pregnancy and air travel, the medical certificate from a doctor or midwife should carry an official statement about your physical wellness for flying. Make sure to carry the original certificate in your handbag because you need to produce it while checking in at the departure airport. Flight attendants may ask for copies of the certificate during air travel.
READ MORE United Airlines' Service Policy for Special Travelers
Lufthansa's Policy For Flying during Pregnancy
Lufthansa permits traveling during pregnancy in uncomplicated cases. Expectant women having no physical complicacy can board Lufthansa flights till 4 weeks before the possible delivery date or the end of the 36th week of pregnancy. It is not mandatory to carry a medical certificate. If you are expecting more than one baby in uncomplicated pregnancy, you can be flying while pregnant till the end of the 28th week. You need to undergo a health checkup and get a certificate from your physician or gynecologist confirming your medical fitness for air travel after the 36th week of pregnancy. The certificate should clearly state that flying while pregnant is not harmful for you.
READ MORE Lufthansa's Inflight Entertainment on Long-haul Flights
Emirates' Policy for Traveling during Pregnancy
Emirates Airlines' policy for flying pregnant makes it mandatory for expectant women to carry a genuine medical certificate or letter issued by a qualified doctor or midwife during air travel in the 29th week of pregnancy. The medical certificate should state the type of pregnancy: singleton or multiple, the stage of pregnancy, the possible delivery date, and the traveler's physical condition as well as fitness. If you forget to carry or fail to produce a duly signed medical certificate while checking in at the departure airport, you will be denied boarding. Emirates Airlines does not permit flying in case of multiple pregnancies after the 32nd week of gestation. Traveling on Emirates' flights is permitted for single pregnancies even after the 36th week of gestation, on the basis of prior clearance by the airline's medical department. You should fill a medical information form (MEDIF) and submit it to seek clearance.
READ MORE Emirates' Menu on US to India Flights
Etihad's Policy for Pregnant Travelers
On Etihad Airways, traveling while pregnant with one or two babies is possible without a medical certificate till the 28th week of gestation. However, Etihad Airways' "flying while pregnant" policy is rigid for the period from the beginning of the 29th week till the end of the 36th week. Women expecting one baby or two need to submit a medical certificate stating their physical fitness and estimated delivery date prior to flying with Etihad Airways after the 28th week of pregnancy. The airline does not permit traveling after the 36th week in case of 'single pregnancy' and after the 32nd week of gestation in case 'multiple pregnancy.' The airline accepts only clinical / hospital letterheads issued, signed and stamped by doctors or midwives as medical certificates within 7 days before the date of departure.
READ MORE Best Facilities in Etihad's Economy Class
Jet Airways' Policy for Pregnancy Travel
Jet Airways' 'travel during pregnancy' policy is more or less the same as that of other major international airlines. Traveling by air during pregnancy is permitted to expectant women till the end of the 28th week in complicated single pregnancy or uncomplicated multiple pregnancy cases. You need to get a medical fitness certificate from your treating doctor. Jet Airways' 'pregnancy travel' policy allows only expectant women with uncomplicated single pregnancy to fly till the 35th week if they carry a 'fit for air travel' certificate from their treating doctors. No flight with Jet Airways is booked for women with uncomplicated multiple pregnancy or complicated single pregnancy after the 32nd week. The airline's Medical Department clearance is a must.
*These airline policies for flying during pregnancy are applicable to most of international flights across the globe. The airlines may modify their policies for pregnant travelers at any time and without notification.
Get cheap airfare deals for US to India flights on IndianEagle.com. Indian Eagle offers the lowest airfare online from these airlines.