Is Air Vistara the next Air India (network wise, not service wise)? Is Vistara set to replace the national career of India in 2020? Such questions are arising out of Vistara's growing network of international codeshare partners. By the time Air India will be disinvested in 2020, Vistara will be operating both connecting and direct flights to India from USA, Europe, Singapore and other countries alongside ruling the Indian skies.
The deadline for the cash-strapped Air India's privatization having been further extended into 2020 is making way for Vistara to spread its wings overseas, in codeshare partnership with such bigwigs of global aviation as Lufthansa, British Airways, Delta Airlines, United Airlines, Singapore Airlines, and Japan Airlines.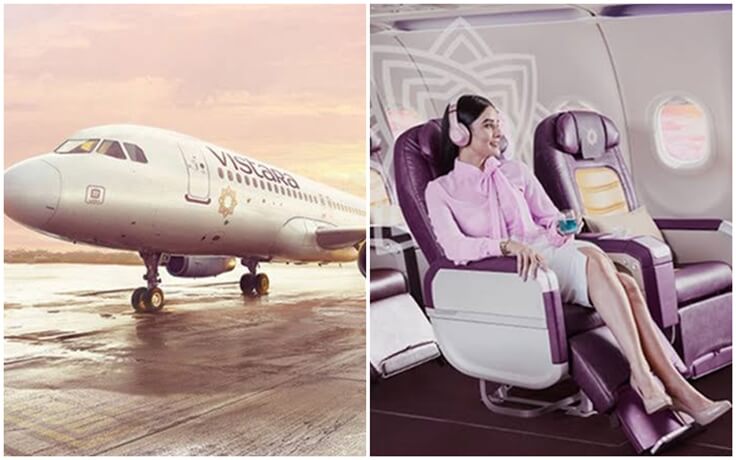 Air Vistara's codeshare agreement with Singapore Airlines, which took place in August 2019, has resulted in codesharing on SIA flights beyond Singapore to various cities in USA, Australia, New Zealand, Thailand and Malaysia. 2020 may see Vistara's codeshare with Singapore Airlines penetrate the US to India travel market via Singapore. Vistara flights will sooner or later be operated to and from New York, Seattle, Los Angeles and San Francisco.
With codeshares on Air Vistara, Singapore Airlines is looking to expand in India for its existing international flights from six US cities, Japan and other countries besides Singapore.
Early this month (December 2019), Lufthansa and Vistara inked a codeshare agreement, which made Netizens ponder over why Lufthansa chose Vistara over Air India. With its codeshare on Vistara-operated flights from the hub – New Delhi IGI Airport – to over 25 cities in India, Lufthansa is all set to enter more Indian destinations other than Delhi, Mumbai, Chennai and Bengaluru.
Lufthansa's agreement with Air Vistara will soon cover Kolkata, Ahmedabad, Hyderabad, Pune, Kochi and Goa. Booking of Lufthansa flights to India under the new codeshare agreement is available starting December 16.
The best of Lufthansa and Vistara is their thorough check-in agreement, which enables travelers to connect hassle-free between Vistara-operated routes in India and Lufthansa-operated international routes. Using the thorough check-in facility, travelers can check in their bags at the first point of departure through the layover to the final destination. It will help add to the present 56 weekly international flights of Lufthansa to and from India via Frankfurt and Munich.
Since its inception in 2013 as a full-service Indian airline, Air Vistara has gradually entered an interline agreement with some of the major players of global aviation – Delta Airlines, Air France, Emirates, KLM, Finnair, Qatar Airways, Turkish Airlines, United Airlines, British Airways, and other likes. The latest interline partner of Vistara is Delta Airlines that has started operating daily nonstop New York to Mumbai flights.
As per the interline agreement, passengers of Delta flights to India from USA can directly check in their bags to the destinations of Vistara's domestic network.
It is on the grapevine that British Airways may expand to Kolkata, Ahmedabad and Kochi through its codeshare on Vistara flights to these Indian cities. Reportedly, British Airways is mulling over plans to make its comeback to Kolkata which it stopped flying to in 2009 due to low yield.
Why Air Vistara for International Codesharing    
Air Vistara is the joint venture of Tata Sons, the pioneer in Indian aviation; and Singapore Airlines, one of the best airlines in the world. While JRD Tata, the chairman of Tata Sons was the maker of Air India; Singapore Airlines, at its nascent stage, had imbibed the best of Air India in the golden age of air travel. Hence, both Tata Sons and Singapore Airlines are believed to invest their collective best in operating and maintain Vistara Airlines.
The uncertain future of Air India, on the verge of disinvestment, seems to make way for Air Vistara's international expansion through codesharing and interlining. The sudden collapse of Jet Airways jeopardized travel for hundreds of thousands of passengers of its codeshare partners. The downfall of the cash-strapped Jet Airways has been a deterrent for major carriers to partnering with a disinvestment-bound airline.
Being a well-invested airline, Air Vistara is eyeing on doubling its fleet by March 2020. Currently, it operates over 1400 flights weekly to 34 destinations. The premium economy of Vistara is a competitive edge over Air India and an advantage to its partners – Delta Airlines, Air France, Lufthansa, British Airways, United Airlines and Emirates investing in premium economy on long-haul flights. Notably, Emirates' premium economy is scheduled to see the daylight in 2020.