Various international travel regulations gave a fillip to the demand for nonstop flights between USA and India during the pandemic. Starting 2023 onwards, the demand in this sector will shoot up as senior citizens and family travelers prefer convenience to costs these days. A one-way trip on most of the nonstop flights from USA to India takes 13 to 17 hours, which is 6 to 8 hours shorter than one-stop flights. Simple itineraries, thorough baggage check-in, and less jet lag are a few other advantages of traveling on long-haul routes without any international transit.
Usually, nonstop or direct flights cost a little more than two-stop or one-stop flights. However, you can save on USA to India direct flights tickets through IndianEagle.com, a trusted travel-booking partner of Indians in North America. Currently, nonstop Air India flights between USA and India make a larger pie of this segment. With its fleet being expanded and upgraded to international standards, Air India will be thriving as an unrivalled player in the nonstop/direct travel corridor.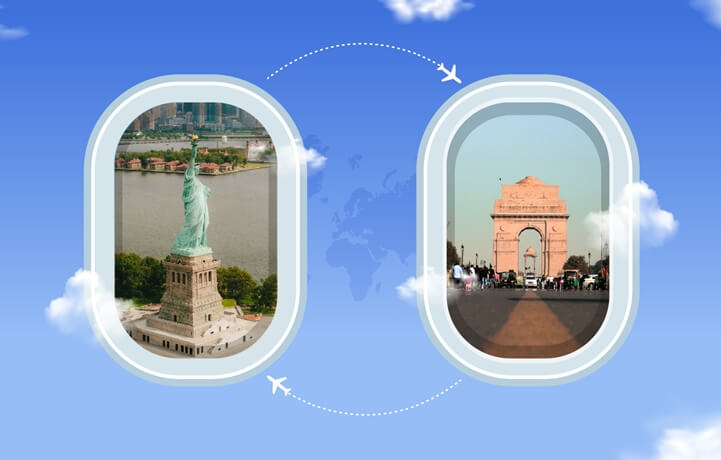 Nonstop Flights between USA and India:
Chicago ORD to Delhi by Air India
New York JFK to Delhi by Air India
New York JFK to Mumbai by Air India
San Francisco to Delhi by Air India
San Francisco to Mumbai by Air India
Washington DC to Delhi by Air India
Newark EWR to Mumbai by Air India
SFO to Bengaluru BLR by Air India
Newark (EWR) to Delhi (DEL) by United Airlines
San Francisco to Bengaluru by United Airlines (March 2023)
New York JFK to Delhi by American Airlines
Chicago ORD to Hyderabad by Air India (suspended)
Chicago ORD to Delhi by United Airlines (suspended through summer 2023)
Newark EWR to Mumbai by United Airlines (suspended)
San Francisco to Delhi by United Airlines (suspended)
New York JFK to Mumbai by Delta Airlines (suspended)
2023 will see more nonstop flights from New York to Mumbai, as Air India is all set to serve this one of the busiest routes in the US-India travel corridor in February. Delta flights to India were discontinued during the pandemic, just after one year of the airline's comeback to Mumbai in December 2019. In view of Delta Airlines' continued suspension of nonstop flights to Mumbai from USA, Air India is the only carrier to provide JFK to Mumbai direct flights starting February 14, 2023.
Among the USA to India nonstop flights, American Airlines flights to Delhi from NYC JFK are extended to Mumbai by codeshare partners – Vistara and IndiGo. A one-way trip on nonstop Air India flights from JFK to Mumbai will take 14 hours 10 minutes, whereas the travel time on American Airlines-IndiGo codeshare flights via Delhi is 21 hours 45 minutes.
Air India and United Airlines are the only carriers operating nonstop flights from Chicago to New Delhi, India. Air India flights from Chicago ORD to Delhi IGI Airport take 14 hours 10 minutes for a one-way trip. Chicago to Delhi nonstop flights on United Airlines take 15 hours 45 minutes for one-way travel. Chicago to Hyderabad nonstop flights continue to be suspended. IndianEagle.com books cheap one-stop flights between Chicago to HYD Airport round the year. 
As of today, San Francisco to India is the busiest and most popular route served by several major airlines. SFO is the only US airport having direct connectivity to New Delhi, Mumbai, and Bengaluru. Cheap Air India tickets for SFO to Delhi nonstop flights and direct SFO to Mumbai flights are available on IndianEagle.com. The San Francisco to Delhi route continues to see United flights suspended in the event of the Russian airspace restrictions. Starting from March 2023, United Airlines will get into competition with Air India flights on the SFO and BLR Airport route.
New Delhi is the most connected destination for nonstop flights from the United States. Washington DC, Chicago, Newark EWR, New York, and San Francisco have direct connectivity to Delhi IGI Airport. American Airlines, United, and Air India nonstop flights to New Delhi are in a head-to-head competition with the Middle East carriers operating one-stop flights between USA and Delhi. Here is the travel time that the below airlines will take for a one-way JFK to DEL flight on 14 January 2023:
Air India: 13 hrs 50 minutes (nonstop)
American Airlines: 15 hrs 20 minutes (nonstop)
Emirates: 17 hrs 10 minutes (layover 1 hr 35 minutes)
Qatar Airways: 18 hrs 15 minutes (layover 2hrs 25 minutes)
Etihad Airways: 18 hrs 50 minutes (layover 3 hrs)
Turkish Airlines: 19 hours (layover 3 hrs 35 minutes)
Seattle to India direct flights have an uncertain future, as American Airlines' plans for the Seattle to Bengaluru nonstop route have been shelved indefinitely. Since the route was announced, we had waited for the launch; but the pandemic pushed the launch from 2020 to 2022, and finally, American Airlines put this route on hold. However, you can grab the best low-fare deals for Seattle to India flights with short layovers from IndianEagle.com.