Premium Economy is the middle-of-the-road travel class between economy air travel and business class flights. It suits both, business travelers on a budget and economy travelers willing to pay a little more for added comfort. It costs a little more than standard economy flight tickets and lesser than business class fares.
With the tentative launch of Premium Economy in 2021, Emirates Airlines is all set to jump into the fray with other airlines. Until recent times, premium economy was all about standard economy seats with more legroom offered by few American and European airlines. However, Emirates is likely to redefine premium economy as a new air travel class on the lines of business class in terms of overall onboard hospitality.
Notably, the costs of Emirates' premium economy tickets may be more or less the same as Emirates' basic business class fares. If you can afford to pay a little extra fare for Emirates' Premium Economy experience, here's what you could expect: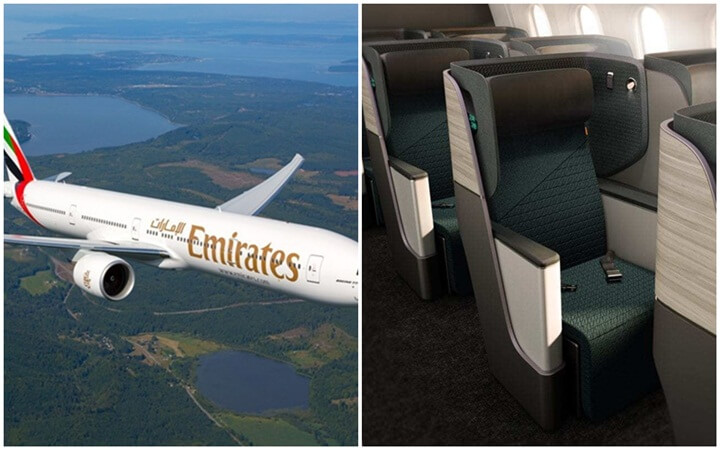 Emirates Premium Economy Cabins
Emirates' Premium Economy is expected to have "a better seat, better inflight entertainment and better inflight food " than those on cheap Emirates economy flights. Unlike the economy, Premium Economy will be a "quiet and comfortable zone" on Emirates' short-haul and long-haul flights.
Emirates' Premium Economy cabins will be fitted on Airbus A380s, the delivery of which is expected in 2021, and Boeing 777s. Premium Economy with its own lavatory will be located on the upper deck of Emirates' upcoming A380s without first class. A380s with first class will have Premium Economy cabins on the front of the lower deck. Boeing 777s in Emirates' fleet will feature Premium Economy just behind the business class.
Emirates Premium Economy Seats
Emirates' new Premium Economy class is likely to feature HAECO Eclipse seats. There is no much specification of Emirates' new premium economy seats, but that has not stopped aviation enthusiasts and Emirates' frequent flyers from making speculations. When Hong Kong-based HAECO unveiled its new Eclipse seats, it referred to a "yet unnamed Middle East-based airline" in its customer lineup at the launch ceremony.
Emirates CEO, Tim Clark said that the seats they were looking to place in Premium Economy cabins are of sleeperette kind with cozy space and sufficient legroom. He added that If Emirates were to live up to the market demand for international premium economy standards, the airline would need to offer travellers larger screens, personal USB ports and Power Sockets with the seats. Additionally, travelers may be given noise cancelling earphones and water bottles at their seats in Emirates' new Premium Economy class.
Also Check: Qatar Airways' Brand New Economy Class
Emirates Premium Economy Facilities
Emirates known for its quality inflight services in economy is said to lavish premium economy travelers with personal attention and make them drink to luxury. There will be separate cabin crews equipped with an app to serve Emirates' premium economy customers as per their preferences and choices. The app-based personalized customer service is what Emirates Airlines and other carriers are gradually catching on to.
What is unique about Emirates' premium economy facilities are priority boarding and generous check-in baggage allowance.
Apart from separate cabin crews and personalized service, the premium economy travelers will also get premium meals served in swanky ceramic cutlery. In premium economy cabins, Emirates could also provide amenity kits, and skincare products of topnotch brands in the restrooms on board. Although lounge access won't be available for free to Emirates' new premium economy class fliers; however, the lounge service will be provided for a little extra amount at Emirates' designated airports.
An alternative to Air India flights to India from USA (San Francisco, Chicago, Newark and Washington DC), Emirates' premium economy flights will be operated starting in 2021.
Brought to you by Indian Eagle Travel, a most trusted air travel booking partner for Indians in USA, this article is part of the continued series of US-India air travel news for those booking cheap flight tickets to India and looking for cheap business class airfare deals from USA cities.