Good news for travelers visiting or transiting through Abu Dhabi, the UAE capital. Yesterday, Abu Dhabi International Airport and Etihad Airways opened a new visa facility at Terminal 3 to facilitate the visa application process for both tourists and transit travelers within 15 to 30 minutes.
Located in the transit area of Abu Dhabi Airport's terminal 3, the new visa counter will also facilitate activation of the new 4-day or 96-hour transit visa for all foreign travelers, irrespective of their nationalities, transiting through Abu Dhabi.
The new visa counter at Abu Dhabi Airport (AUH) is a collaborative initiative by Abu Dhabi's Department of Culture and Tourism, and the Abu Dhabi General Directorate of Residence and Foreigners Affairs. The launch of the new visa facility and new 4-day transit visa is part of the 'Life in Abu Dhabi' program which was introduced in May 2017.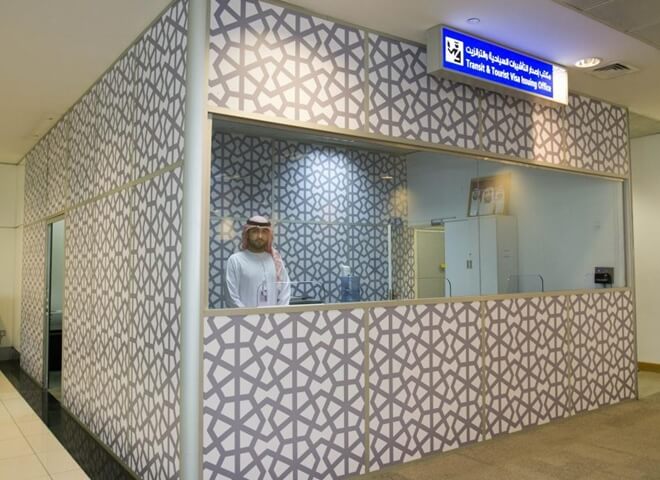 Usually a transit visa to Abu Dhabi is valid for 14 days from the time of one's arrival in the UAE. But, this visa must be arranged prior to one's arrival at Abu Dhabi Airport. To be more precise, if you apply for a 14-day transit visa to Abu Dhabi for your US to India flight transiting through Abu Dhabi, you need to have a confirmed air ticket for the onward travel to India. However, this is not the case about the new 4-day or 96-hour transit visa at Abu Dhabi.
Foreign tourists with planned trips in Abu Dhabi, and transit air travelers whose layover exceeds 4 hours can collect a 4-day transit visa for AED 300 ($82) from the newly opened visa counter at Terminal 3 of Abu Dhabi Int. Airport, provided they meet the eligibility criteria. The same visa can also be applied for online at the designated portal.
What is the best advantage of Abu Dhabi's 4-day transit visa is that it can be upgraded to a tourist visa at the newly opened visa counter at the airport if you plan to extend your stay in the UAE capital city.
Abu Dhabi's 96 hour transit visa within 30 minutes will benefit over 15 million travelers (as per the estimates in 2016), including the passengers of Etihad Airways US to India flights, who transit through Abu Dhabi Airport. Their requests for 4-day transit visas will be processed within 15 to 30 minutes.
Passengers of Etihad Airways flights will benefit the most from the new 96 hour visa to Abu Dhabi since Etihad Airways offers different stopover packages for different travel classes. For instance, Etihad Airways' Transit Stopover (from 6 to 12 hours) offers one round of golf including club rental or one-day access to the pool at Yas Links Golf Course for USD 40.

Abu Dhabi's 96 hour transit visa is a deliberate effort to attract visitors to the UAE. Qatar is a more pocket-friendly tourist destination than the UAE as Qatar offers visa-free entry for 180 days to 80 countries including the USA and India. Some Indians in America prefer Etihad Airways when it comes to booking their parents' travel, because of Etihad Airways' special services for senior citizens.
However, Indian Eagle books the cheapest flights from USA to India on both Etihad Airways and Qatar Airways via Abu Dhabi and Doha respectively. The lowest airfares to India, along with the best service, are guaranteed at Indian Eagle! Subscribe to our free newsletter for the latest air travel news, secret airfare deals and discount travel coupons.