Lufthansa's India network is on an expansion spree with two new additions to the airline's winter 2023 schedule. To reduce the capacity overload at Frankfurt, Lufthansa flights to Bengaluru from Munich will take off starting 03 November this year. The thrice weekly service will be operated on Wednesdays, Fridays and Sundays. Part of the airline's pre-pandemic network expansion, this new service will finally be launched before Diwali 2023. Lufthansa's service to Hyderabad will be resumed this winter after a period of pandemic-induced suspension.
The commencement of Lufthansa flights to Hyderabad and Bengaluru will coincide with the rolling out of Lufthansa's new Allegris cabins with innovative seat designs across all travel classes on Airbus 350s and B787 Dreamliner across. Allegris cabins in economy, premium economy, business, and first class will be equipped with a whopping 27,000 new seats promising a next level of comfort rather than luxury. In view of passengers' demand for more comfort, space and privacy, the new cabins are designed to offer upgraded entertainment screens in the regular economy, pod-like seats in the premium economy, seat temperature control in the business class, and a spacious double suite in the first class.
Lufthansa Economy with neighbor-free seat option
The Allegris seats on Lufthansa economy flights to India, USA and other destinations will see several upgrades; the most significant being bigger entertainment screens. The new 13.3-in monitor on the back of every economy seat is flexible enough to pivot out so that it provides a better viewing experience when the passenger in front reclines his/her seat. Charging outlets, USB A and C, are among the upgrades to the new Economy Class Classic Seats in Lufthansa's new Allegris cabins.
The ergonomically designed economy seats have adjustable headrest, common in economy these days, so that you can travel comfortably until arrival at your destination. Two rows of Lufthansa's Economy Class Classic Seats will provide an additional 7 cm of legroom for optimum comfort on long-haul flights. Extra convenience is guaranteed as the seatback pocket has more pouches even for smaller items. Giving attention to economy travelers' small needs, the airline provides a mobile device holder below the entertainment monitor. Bluetooth headphone connectivity is another significant addition in the standard economy.
"Once the new cabins are installed, you will be able to secure extra comfort and more personal space by blocking the seat next to yours in economy while or after booking your Lufthansa flights tickets on IndianEagle.com. The idea of a "neighbor-free seat" emerged during the pandemic when travelers with deep pockets wanted to ensure contactless travel above the clouds," said Sourav Agarwal, the Editor of Travel Beats.
Lufthansa's Premium Economy with pod-like seats
Lufthansa's Allegris cabins with new Premium Economy seats will set a new benchmark and may give competition to Air India's Premium Economy flights between USA and India. The pod-like premium economy seats on Lufthansa flights to USA and other major destinations will give you a business-class feel. Not just the headrest, but also the armrest and leg rest are adjustable so that you can have a comfortable seating position. In addition to USB ports and a 110V socket, each seat has a fold-out table that is spacious enough to keep a laptop or a book on.
The USP of the new Lufthansa Premium Economy Class is that you can recline your seat without intruding the space of the co-passenger behind you. Curtained from the Economy and the Business Class cabins, the Premium Economy has 15.6-in 4K entertainment monitors with discreet screen. You will be able to fly entertained in peace using a noise-cancelling headphone available on board. The space for your personal belongings includes a coat hook and a water bottle holder.
The seats on Lufthansa's premium economy flights to India/USA will be the traveler's personal feel-good area for working, dining and relaxing in the sky. The 99-cm seat pitch offers plenty of legroom, thereby ensuring an optimum level of comfort.
Lufthansa's Business Class with seven different seat types
The new Allegris cabins with seven different seat designs in business class will surely raise demand for Lufthansa's business class tickets and give the airline a competitive edge over its rivals. Each seat type comes with direct access to the aisle, adjustable lighting, lockable storage compartments, wireless charging facility, a noise-cancelling headphone, and a 10-inch tablet that will help travelers regulate seat temperature, lighting, and the inflight entertainment system to individualize their onboard experience.
Built-in seat temperature control and shoulder sink-in concept will be among the perks of flying in Lufthansa's new business class. You can individually control the seat heater or cooler to customize the temperature and set the warmth required for comfortable sleep above the clouds. If you tend to sleep your sides, the business class seats with "shoulder sink-in" foam are designed exclusively for your comfort. No other airlines have these industry-first features.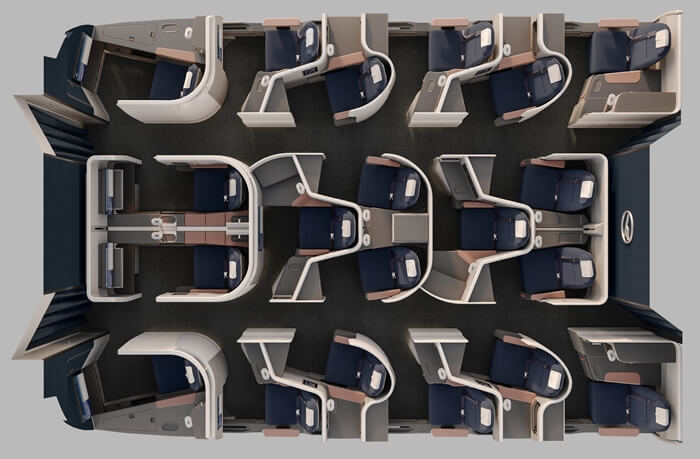 In the upcoming Allegris cabins, the front row has Lufthansa's Business Class Suites with closing doors. Designed like an oasis of absolute peace and privacy in the sky, the Business Class Suite with two adjacent seats offer ample space for two travelers to fly together comfortably. The suite is equipped with two 27-inch entertainment monitors. There is a mini bar stocked with various snacks and beverages. The suite is also ideal for your elderly parents' relaxed flight on a long-haul route.
Among the non-suite seats on cheap Lufthansa business class flights to India/USA, you can book a Business Class Privacy Seat to get the best of your unaccompanied travel. The Business Class Privacy Seat next to a window and with some distance from the aisle offers a great deal of privacy on board. The private window will poeticize your thoughts over views of the clouds floating across the vast expanse of blue. You can relax comfortably or work peacefully in this personal retreat.
Lufthansa's Business Class Privacy Seat with Baby is perfectly designed for travelers flying with a baby. This window seat in the last row close to the washroom with a changing table comes with a bassinet on the inner side and a higher partition. The new Allegris cabins have Business Class Extra Long Bed seats (2.2m) for those taller than 6.5 feet in height. The non-suite business class seats are equipped with 18-inch inflight entertainment screens.